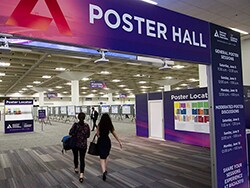 Treating obesity is seen by many clinicians as the medical equivalent of beating one's head against the wall. It's a time-consuming, emotionally fraught, stubborn, persistent process. And trying to treat it in the context of a 10- to 15-minute primary care visit feels like an impossibility.
But some of the new information gleaned from posters at this year's meeting of the American Diabetes Association may help.
Three key findings:
1. Keep those weight loss drugs going. Lifestyle interventions, boosted by use of antiobesity medications, absolutely work, a fact confirmed by numerous randomized controlled trials. But will they help patients who lose weight keep it off? A retrospective chart review[1] of over 400 patients treated at an academic weight management center concluded that 75% of patients achieved ≥ 5% weight loss at 1 year and 46% lost 10% of weight or more. Weight loss amounts were essentially the same in patients with and without diabetes. The vast majority, almost 90% of those who lost 5%, and 75% of those who lost 10% or more, maintained that loss at 2 years. Almost all of these patients were on at least one weight loss medication at 2 years. The most commonly used drugs were metformin (71.5%), phentermine (23.3%), and topiramate (19.9%).
2. Older adults can benefit from bariatric surgery. A prospective study[2] with patients who had undergone bariatric surgery found that younger and older (> 65 years) adults experienced similar weight loss with the procedure. But the metabolic effects were better in the older adults, who saw rises in high-density lipoprotein (HDL) and a decrease in the triglyceride/HDL ratio. While type 2 diabetes was more common in the older group, they experienced larger reductions in A1c and achieved statistically significant reductions in the number of oral antidiabetic medications they were taking. So if 60 is the new 40, maybe we need to be more willing to consider bariatric surgery in this over-60 population.
3. Suggest that patients restrict the window in which they eat each day. There is increasing evidence that time-restricted eating (TRE) can be one effective strategy in weight loss. What if someone simply limited the hours in the day in which they consumed food, reducing it from 15 hours per day to 8? Could suggesting that a patient only eat between the hours of 9 AM and 5 PM, rather than the timeworn advice to simply eat less, be effective? A small randomized clinical trial[3] of 21 overweight, nondiabetic adults examined the effect of TRE on body composition and glycemic measures. The TRE group—whose goal was an 8-hour eating window but whose average window was actually 10.4 hours—saw statistically significant reductions in weight (though this meant losses in both lean and fat mass), fasting glucose, visceral fat, and fasting triglyceride levels. Granted, it's a very small study, but it adds to increasing evidence that narrowing the daily window for eating can result in weight loss as well as improvements in multiple health indicators, including insulin resistance and cardiovascular disease.[4,5,6]
Follow Medscape on Facebook, Twitter, Instagram, and YouTube
Medscape Family Medicine © 2019 WebMD, LLC

Any views expressed above are the author's own and do not necessarily reflect the views of WebMD or Medscape.
Cite this: Three Cool Things To Know About Obesity: ADA Poster Pearls - Medscape - Jun 10, 2019.