The number of measles cases has topped 1000 (1001) in the United States since January 1, according to a June 5 statement from Health & Human Services (HHS) Secretary Alex Azar.
The last time the number of yearly measles cases was higher was in 1992, when there were 2126 confirmed cases.
Increasing Vaccination Key Strategy
Azar stressed the importance of vaccination to prevent the spread of measles, especially in the face of rampant misinformation among some groups and communities.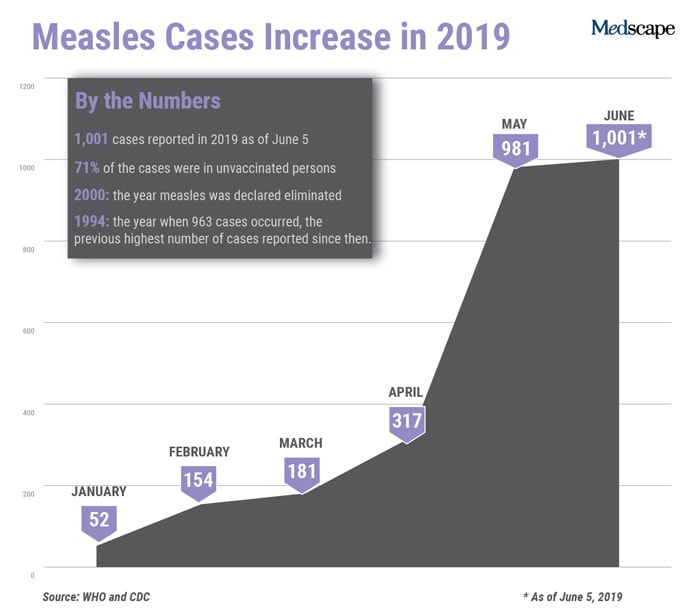 "The Department of Health and Human Services has been deeply engaged in promoting the safety and effectiveness of vaccines, amid concerning signs that there are pockets of undervaccination around the country. The 1,000th case of a preventable disease like measles is a troubling reminder of how important that work is to the public health of the nation.
"The Centers for Disease Control and Prevention (CDC), alongside others across HHS, will continue our efforts to support local health departments and healthcare providers in responding to this situation, with the ultimate goal of stopping the outbreak and the spread of misinformation about vaccines, and increasing the public's confidence in vaccines to help all Americans live healthier lives, safe from vaccine-preventable diseases," Azar said in the statement.
"We cannot say this enough," he added. "Vaccines are a safe and highly effective public health tool that can prevent this disease and end the current outbreak."
CDC Using Multipronged Approach
The CDC has put into place an Incident Management Structure as part of the National Center for Immunization and Respiratory Diseases to respond to outbreaks of measles and educate healthcare providers about guidelines related to measles recognition and prevention.
The efforts are placing special emphasis on areas in the United States where lack of vaccination has aided the spread of measles, such as Brooklyn, Queens, and Rockland counties, in New York, where a large number of children in Orthodox Jewish communities remain unvaccinated.
In response to the current situation, the CDC has:
Implemented an Incident Management Structure within the National Center for Immunization and Respiratory Diseases to respond to the measles outbreaks;

Reinforced to healthcare providers the guidelines for recognition and prevention of measles;

Created a toolkit with physician resources about measles and vaccines and has put in place a plan for addressing vaccine hesitancy that addresses misinformation;

Begun reaching out to rabbinical, camp, and medical associations to disseminate easy-to-understand, consistent, and reliable vaccine information through trusted sources;

Dispatched a field team to Rockland County, New York, to assist with case identification and contact tracing;

Conducted ongoing work with local communities to develop culturally appropriate ways to communicate information about resources for affected New Yorkers;

Conducted 73 air travel contact investigations for measles and located 1500 individuals with measles exposure that occurred during travel since January 1, 2019; and

Posted an immunization program officer in Albany, New York.
More information about which individuals should receive the vaccine is available at: https://www.vaccines.gov/diseases/measles.
Follow Medscape on Facebook, Twitter, Instagram, and YouTube.
Medscape Medical News © 2019

Cite this: Troy Brown. Number of US Measles Cases Tops 1000 for First Time Since 1992 - Medscape - Jun 06, 2019.