CHICAGO — An investigational agent with a novel mechanism of action has shown promising activity in a cancer patient population that has a "high unmet need."
The product is enfortumab vedotin (EV, Seattle Genetics and Astellas), a novel antibody–drug conjugate, and the activity was shown in patients with advanced and metastatic urothelial cancer who had failed previous therapies.
Comprised of a monocloncal antibody that targets Nectin-4, an antigen expressed on 97% of urothelial cancers, the product also has a conjugate that releases a microtubule-disrupting agent that causes cell cycle arrest and apoptosis. The novel mechanism of action has already earned the product a Breakthrough Therapy Designation from the Food and Drug Administration (FDA) for use in locally advanced or metastatic urothelial cancer that has progressed during or following immune checkpoint inhibitor therapy.
The new results come from the phase 2 EV-201 study, presented here at the American Society of Clinical Oncology annual meeting.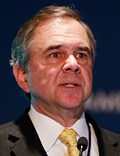 Study presenter Daniel P. Petrylak, MD, professor of medicine (medical oncology) and urology at Yale Cancer Center, New Haven, Connecticut, emphasized that there is a "high unmet need" patients with advanced and metastatic urothelial cancer. Although there has been a flurry of new drug approvals for this patient population, with five immune checkpoint inhibitor drugs approved in recent years, the majority of these patients (75-80%) progress after receiving immunotherapy.
In that context, enfortumab vedotin is the "first novel therapeutic to demonstrate substantial clinical activity" in patients who have progressed after platinum chemotherapy and immunotherapies, he said.
Noting the high response rate and manageable safety profile, Petrylak said the data "support submission to the FDA for accelerated approval" and, should it clear that hurdle, the drug "has the potential to become a new standard of care" in this underserved patient population.
Commenting for ASCO, Robert Dreicer, MD, deputy director of the University of Virginia Cancer Center in Charlottesville, pointed out in a press conference that metastatic urothelial cancer is "pretty common" but there are "very limited therapeutics."
Consequently, "new therapies are badly needed," he added.
Dreicer underlined that, although EV-201 is a phase 2 study, "the reality is, with frontline chemotherapy, which is the best we have," the median survival is 13 months, compared with almost 12 months achieved in the current analysis.
"In my mind, I look at this data as an effective therapy, and I would support accelerated approval," Dreicer said, adding that he hopes the FDA "shares" that view. He said the new drug is "an important development for our patients."
At the press conference, Petrylak noted that a phase 3 trial in urothelial cancer is planned, and — as the target of enfortumab vedotin is expressed in a number of different tumor types — phase 2 studies are being designed in breast cancer and gastric cancer.
Study Details
In describing the study, Petrylak explained that EV-201 consists of two cohorts, but that only the first cohort has completed enrollment and is available for analysis.
It consists of 128 patients with urothelial cancer who had previously been treated with platinum-based chemotherapy and programmed death (PD)/programmed death ligand 1 (PD-L1) inhibitors and had locally advanced or metastatic disease.
They were assigned to intravenous enfortumab vedotin 1.25 mg/kg on days 1, 8, and 15 of each 28-day cycle.
The median age of the patients was 69 years, and 70% were male. Unusually, the primary tumor location was the upper urinary tract in 35% of patients, while the tumor was located in the bladder or another location in the remaining 65%.
The median number of prior therapies was three, and patients did not receive prior treatment for at least 2 weeks before enrollment.
Among the 125 patients who finally received enfortumab vedotin, the objective response rate, as assessed by blinded independent central review, was 44%, consisting of a complete response in 12% and a partial response in 32%.
Stable disease was observed in 28% of patients, whereas 18% progressed and 10% were not evaluable, the majority due to study discontinuation prior to the first assessment.
Among patients whose cancer had metastasized to the liver, the objective response rate (ORR) was 38%; the ORR was 41% in those who had not responded to a checkpoint inhibitor.
Petrylak said that, overall, 84% of patients had a measurable change in tumor measurement on independent review.
The median duration of objective response was 7.6 months, and is ongoing in 44% of patients. The median progression-free survival was 5.8 months, and median overall survival was 11.7 months.
The most common adverse events of any grade were fatigue (50%), alopecia (49%), decreased appetite (44%), and dyspepsia and peripheral sensory neuropathy (40%). The most common grade 3 or higher events were neutropenia (8%), anemia (7%), fatigue in (6%), and maculopapular rash (4%).
Andrea Necchi, MD, PhD, Fondazione IRCCS Istituto Nazionale dei Tumori in Italy, the invited discussant for EV-201, said that prior treatment with checkpoint inhibitors may have caused some bias in the study, as it may have had a possible delayed treatment effect and conditioned patients before receiving enfortumab vedotin.
Nevertheless, he said that the outcome data are "so clear and so good," despite the caveat of them coming from a phase 2 trial, making their translation into phase 3 "highly critical" for the future of the compound.
Another outstanding question is whether the effect is "typical" for other drugs in the same class as enfortumab vedotin, as is the lack of biomarkers to help target the therapy to patient subpopulations.
Necchi also noted that EV-201 included individuals only from the US and Japan, and would like to see studies such as this one include Europeans and other nationalities.
He said that, despite the limitations, "what we know so far is that the possible additive effect on progression-free survival" of enfortumab vedotin following immunotherapy "is demonstrated."
Necchi therefore believes that, following failure on immunotherapy, enfortumab vedotin, and potentially other compounds in the same class, are "best positioned" to be the "next-in-line" standard of care in advanced and metastatic urothelial cancer.
This study was funded by Seattle Genetics and Astellas Pharma.
Petrylak reports consulting or advisory roles with Bayer, Bellicum Pharmaceuticals, Dendreon, Johnson & Johnson, Exelixis, Ferring, Millennium, Medivation, Pfizer, Roche, Sanofi, Tyme, Astellas Pharma, AstraZeneca, and Lilly. He reports expert testimony for Celgene and Sanofi; stock and other ownership interests in Bellicum Pharmaceuticals and Tyme; research funding from Progenics, Johnson & Johnson, Dendreon, Sanofi, Endocyte, Genentech, Merck, Astellas Medivation, Novartis, Agensys, AstraZeneca, Bayer, Lilly, Innocrin Pharma, MedImmune, Millennium, Pfizer, Roche, Sotio, Seattle Genetics, and Clovis Oncology.
Necchi reports employment with Bayer (I); stock and other ownership interests with Bayer (I); honoraria from AstraZeneca, Foundation Medicine, Janssen, Merck, and Roche; consulting or advisory roles with AstraZeneca, Bayer, Bristol-Myers Squibb, Clovis Oncology, Incyte, Janssen, Merck Sharp & Dohme, Rainier Therapeutics, Roche, and Seattle Genetics/Astellas. He reports research funding from AstraZeneca (Inst) and Merck Sharp & Dohme (Inst); travel, accommodations, and expenses from AstraZeneca, Janssen, Merck Sharp & Dohme, and Roche; and other relationships with Bayer (I).
American Society of Clinical Oncology (ASCO) 2019 Annual Meeting: Abstract LBA4505. Presented June 3, 2019.
For more from Medscape Oncology, follow us on Twitter: @MedscapeOnc
Medscape Medical News © 2019

Cite this: Novel Drug for Advanced Urothelial Cancer: Enfortumab Vedotin - Medscape - Jun 05, 2019.