SAN FRANCISCO — Although Charles Bonnet Syndrome (CBS) is considered to be a rare hallucinatory disorder, new research suggests that it may become more common, highlighting the need for clinicians to recognize its symptoms and avoid misdiagnosis.
In CBS, patients with no history of mental illness report visual hallucinations often traced to physical causes, such as vision loss. A rarer version, sometimes known as Charles Bonnet Syndrome Plus, involves auditory hallucinations, again traced to a physical reason.
Three case report studies of patients with variations of CBS were presented during one poster session here at the American Psychiatric Association (APA) 2019 Annual Meeting.
In the first report, a 96-year-old woman with no history of drug or alcohol abuse presented to primary care with intermittent visual hallucinations. She had undergone bilateral cataract surgeries with interocular lens replacement and was receiving ongoing treatment for open-angle glaucoma and age-related senile cataracts.
In the second study, a 78-year-old man reported hearing voices and music that weren't actually there. It was discovered that he had undergone an earlier cochlear implantation because of hearing loss.
In the third report, a 67-year-old man presented with a new onset of both auditory and visual hallucinations. He reported hearing "choir members singing songs" and sometimes seeing people in a room. However, both occurrences never happened at the same time.
He was found to have vision and hearing difficulties, as well as mild neurocognitive impairment and major depressive disorder (MDD). His symptoms did not improve after use of an antipsychotic.
"Since this illness can occur in association with…illnesses such as dementia and [MDD], it is important to be vigilant not to misdiagnose these patients, especially since benefit with psychopharmacotherapy/antipsychotics is limited," the investigators write.
Tied to "Graying of America"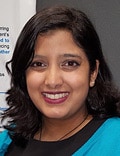 Presenter of the first report Pooja Raha Sarkar, a fourth-year medical student at Touro College of Osteopathic Medicine in Middletown, New York, told Medscape Medical News that with the so-called "graying of America," cases of this condition may become more prevalent.
"With aging populations and people living longer, and with people having increased quality of life in the setting of vision loss, I think this is absolutely something people will be seeing a lot more of," Sarkar said.
CBS was first described in 1760 by Swiss philosopher Charles Bonnet. The main version of the condition is defined by the onset of distressing visual hallucinations in patients with vision deficits but without mental illness.
"We typically see [this condition] in patients with limited vision, usually caused by macular degeneration or stroke," Sarkar said.
She presented the case report of the older woman "because if a patient comes to you with visual hallucinations, people often think that there is a psychiatric cause," such as schizophrenia.
When a patient presents with these symptoms, it often triggers "exhaustive evaluation and neuroimaging to decipher the underlying etiology," the authors write.
"In the psychiatric community, many people are aware of this syndrome and some have said, 'Oh yes, we get consulted on this quite a bit.' But in our case, she presented in a primary care setting and we were able to catch this before she was referred out to psychiatry, which prevented a longer workup," said Sarkar.
"I think it's useful for psychiatrists and primary care doctors to know more about this condition because we're both kind of on the frontlines," she added. "When all three fields of ophthalmology, primary care medicine, and psychiatry have awareness of this, it's going to help them work better together."
Altered Perception
According to her daughter, the woman in the report had been "seeing things" for several weeks. The hallucinations "were episodic and binocular," occurred especially in the evening, often occurred in the left side of her field of vision, and included seeing furniture inverted on the ceiling as well as dogs and unknown men walking around her room.
She did not have any accompanying auditory hallucinations and denied any history of psychiatric illness. "They weren't particularly alarming to her but they did cause her discomfort and distress because she didn't know what was happening," Sarkar said.
After her cataract surgeries, the woman had been going to an ophthalmologist regularly for follow-up examinations and to receive timolol drops to treat her glaucoma.
"Following an unremarkable diagnostic CT exam, and based on clinical history, as well as normal physical findings, a diagnosis of [CBS] was made," the researchers write.
Although the patient was told that no treatment was available, she was relieved to learn that her condition was benign and she learned to live with the hallucinations, especially because they did not affect her activities of daily living.
Sarkar noted that CBS remains "poorly understood," although awareness of the condition is increasing in the literature.
She added that previous research has suggested that symptoms may improve if some vision is restored through surgery or treatment. "I'm also a big fan of psychotherapy," to help a patient come to terms with what is happening to them, she said.
Out of Tune
The second case report, presented by Alok K. Singh, MD, St. John's Episcopal Hospital in Far Rockaway, New York, described a patient with auditory CBS "or Musical Ear Syndrome (MES), also termed musical hallucinosis."
"Current literature attributes the biologic basis for the development of musical hallucinations to sensory impairment, specifically disinhibition of cortical regions responsible for story auditory memory. The hallucinations that patients perceive are in fact manifestations of pre-formed auditory memory neurons synapsing with one another," they write.
Prior to presenting with complaints of hearing voices and music, the patient had undergone cochlear implantation in his right ear because of bilateral sensorineural hearing loss.
Brain CTs showed mucosal thickening in the left maxillary sinus and mild generalized cerebral atrophy. Other results from routine lab tests were "unremarkable," the researchers report.
Interestingly, treatment with the acetylcholinesterase inhibitor donepezil led to an 8-week decrease in scores from 15 to 6 on the Brief Psychiatric Rating Scale, a decrease from 4 to 2 on the Clinical Global Impression Scale (CGIS) severity subscale, and an increase from 0 to 1 on the CGIS improvement subscale. The patient also showed a reduction in the intensity and frequency of the musical hallucinations.
CBS "should be considered in patients endorsing auditory hallucinations with hearing loss and where the etiology is not clearly due to a psychiatric condition," the investigators write.
Although their patient showed improvement after receiving treatment with donepezil, "the role of acetylcholine requires further elucidation," the researchers add.
Imperfect Harmony
Sindhura Kompella, MD, Aventura Hospital and Medical Center, Miami, Florida, presented the third case report. It described a 67-year-old white male military veteran who reported hearing an "unknown person or group of choir members singing songs that are especially bothersome at night." He also had separate visual hallucinations of unknown people.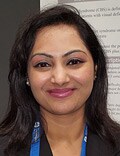 The patient's personal medical history included diabetic retinopathy, bilateral sensorineural hearing loss, and hypertension. He had recently started taking an SSRI, Celexa (citalopram), for depression and donepezil for memory problems. He did not show symptoms of paranoia, obsessive-compulsive disorder, or posttraumatic stress disorder.
Although non-contrast head CT scans were "unremarkable with diffuse mild atrophy," the patient showed severe impairment on the Rey Auditory Verbal Learning and Trial Making tests.
He was diagnosed with CBS Plus, "which is the presentation of auditory hallucinations with visual defects or some kind of bilateral deafness," Kompella told Medscape Medical News.
The patient wasn't monitored to see whether use of donepezil was beneficial for CBS, since he had implemented use a year before. Although use of an antipsychotic did not alleviate his symptoms, "his insight improved with reassurance," the researchers write.
"We don't yet know what the pathophysiology may be, but we think what's behind [CBS] is a normal reaction to something that's not there. That's why you do the reassurance rather than an antipsychotic," Kompella said. "We tried an antipsychotic in this case because of his other symptoms, but it actually deteriorated the patient. So we need to be more vigilant in these types of cases."
Kompella added that although she knows of only a handful of cases of CBS plus, cases of "regular" CBS are actually quite common in older individuals. "They rarely come to the hospital because they are aware that it's a hallucination and they reassure themselves," Kompella said.
She noted that although visual hallucinations of a person talking is common in psychosis, it's usually just visual or just auditory in CBS; or if both, such as in their case, the visual and auditory parts don't occur at the same time.
"So it's important to ask the right questions and to do a thorough history gathering," said Kompella.
Explanation, Reassurance, Psychoeducation
Commenting on the findings by Medscape Medical News, Philip Muskin, MD, psychiatrist at NewYork-Presbyterian/Columbia University Irving Medical Center in New York City, said there's still a lot that's unknown about CBS and its variants.
"It's a very rare phenomenon and I'd say the average psychiatrist has not seen a case. If you're working in a tertiary care center, you're more likely to see this because people are more likely to be referred there," he said.
Muskin, who is the outgoing secretary of the APA and was not involved with the current cases, noted that many people have experienced "ear worms," when a certain song keeps running through the brain.
"It's when you can't get a song out of your head. Or it could be by choice: singing to yourself in your head and not out loud. That's a form of hallucination when you think about it. Or you visualize something, like with visual imagery that we use with pain control. When I put someone in a trance and create a visual image, such as a pool of water, some of the people I work with actually see the pool of water in the mind's eye," Muskin said.
"But you're not psychotic with these experiences and neither are people with Charles Bonnet Syndrome," he added. When a person's vision deteriorates, "it does something to the brain. But these people don't meet the agreed-upon criteria for [psychosis]. They haven't had a loss of reality."
He added that ophthalmologists often ask older patients if they're experiencing any "floaters," tiny shadows on the retina caused by age-related changes to the eye, and that almost everyone has seen remnants of a camera's flash for a short period after a picture is taken. However, patients are not concerned about these experiences because there's a clear cause.
"The most important thing about Charles Bonnet for me is the person is not crazy, likely not going to respond to an antipsychotic, and may be helped by empathy and explanation. I've seen a few patients with musical hallucinations who weren't particularly upset, although they thought it was unusual," said Muskin.
After a patient hears an explanation for their condition, "reassurance and psychoeducation is important," Muskin concluded. "It's saying, 'yes, something is going on in your brain that is not normal but you're not abnormal.' "
American Psychiatric Association (APA) 2019 Annual Meeting: Poster abstracts P1-62, 71, and 82. Presented May 18, 2019.
Follow Deborah Brauser on Twitter: @MedscapeDeb
For more Medscape Neurology news, join us on Facebook and Twitter
Medscape Medical News © 2019

Cite this: Hallucinations May Point to Rare, Non-Psychotic Condition - Medscape - Jun 05, 2019.