Another 41 confirmed cases of measles were reported in the last week, bringing this year's total to 981, according to a report from the Centers for Disease Control and Prevention (CDC) and a CDC spokesperson.
This is the highest number of cases in the United States since 1992; 2126 cases were reported that year, a CDC spokesperson told Medscape Medical News. In 1994, 963 cases were reported, he said.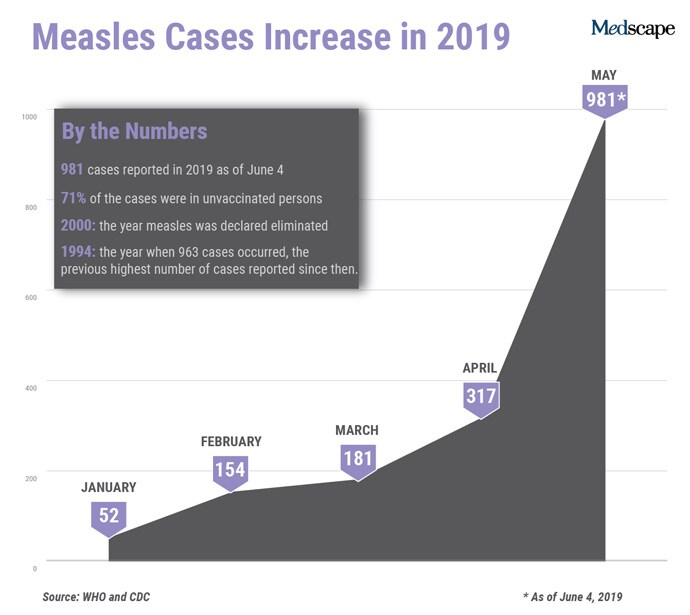 The extremely contagious disease was confirmed in 26 states from January 1 to May 31, 2019: Arizona, California, Colorado, Connecticut, Florida, Georgia, Illinois, Indiana, Iowa, Kentucky, Maine, Maryland, Massachusetts, Michigan, Missouri, New Mexico, Nevada, New Hampshire, New Jersey, New York, Oklahoma, Oregon, Pennsylvania, Texas, Tennessee, and Washington.
Measles was declared eliminated in the United States in 2000.
Outbreaks Continue
In New York state, outbreaks continue in Rockland County as well as in Brooklyn and Queens. As of June 2, 2019, 255 confirmed reported cases were confirmed in Rockland County; 78% of cases occurred in unvaccinated individuals.
In Brooklyn and Queens counties, 566 confirmed cases have been reported from September 2018 to June 3, 2019, with most of those among members of the Orthodox Jewish community. Almost three quarters (73%) of infected individuals were unvaccinated.
In Michigan, 44 cases were reported from March 13 to May 17, 2019; 40 of those cases occurred in Oakland County, one in Wayne County, and one in the city of Detroit.
As of May 29, 47 cases were reported in California. In Georgia, six cases were reported as of April 29. Five cases were reported in Maryland as of May 9.
In Washington state, there have been 81 reported cases as of June 3; 71 of those occurred in an outbreak that ended in May, and 63 of the 81 cases occurred in unvaccinated individuals.
Follow Medscape on Facebook, Twitter, Instagram, and YouTube.
Medscape Medical News © 2019

Cite this: Troy Brown. Measles Cases Continue to Rise, Highest Since 1992 - Medscape - Jun 04, 2019.