CHICAGO — A young medical oncology trainee took center stage this year at the annual meeting of the American Society of Clinical Oncology (ASCO). He was introduced to the huge audience at the opening ceremony by the society's president.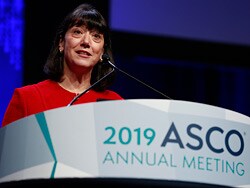 "The story he is about to tell you is a true reflection of this year's theme of 'Caring for Every Patient, Learning from Every Patient,' " said Monica Bertagnolli, MD, current ASCO president.
It also illustrates the point that it is important to know what is important for the patient, a theme that was elaborated upon later in the session.
"I feel so honored to stand here among the giants and trailblazers of oncology and to start this opening session with a simple human story," said Edmond Ang, MBBCh, who is currently doing a fellowship in breast cancer and early phase clinical research at Auckland City Hospital in New Zealand.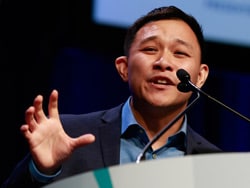 "This story happened about 10 years ago, but I can still vividly recall standing at the bedside of the patient with a sea of eyes staring down at me — it was a moment of great shame, fear, and anxiety," he said.
"I was barely 5 months into my career as a junior doctor," he recalled of his time working in the gynecologic oncology ward in a hospital in Malaysian Borneo. "By that stage, the aspirations and the idealism of a young doctor had faded away," he said, crushed by long hours and a heavy workload.
"I was the 'chemoboy,' which has no Western equivalent," he said. This involved the all-encompassing responsibility for the care of patients undergoing chemotherapy, he explained. "I would take the prescription to my supervisor for signing off, then to the pharmacy for making up, and in the meantime pre-assessing the patient, checking their bloods, setting up the intravenous line, then back to the pharmacy to pick up the chemo, administer the premeds and the chemo, and dealing with any complications along the way.
"During the weekends, there would be no on-call pharmacist, so as junior doctors we would have to reconstitute some of these basic drugs with very little training. Also, we didn't have infusion pumps, so we got quite good at calculating the flow rates for the chemo delivery," he said.
"To add to the stress of it all, there was a rather stern consultant overseeing us, who was not known to be particularly nice towards the junior doctors," Ang said.
"On the morning of the day in question, I had done everything that I was supposed to do, and I thought that I had done a pretty good job," Ang continued. "Instead, I was being reprimanded by the chief in front of the whole entourage on the ward round. The problem was, the chemotherapy infusion that was supposed to go in over 4 hours had gone in over the course of only 1 hour," he said. "I was really perplexed, because I thought I had calculated correctly.
"I stood there totally demolished, feeling like the lowest life-form in the galaxy.
"Then, when the entourage had moved on further down the ward, the patient said: 'I'm sorry, I'm really sorry doctor. When you left the room this morning, I turned up the infusion up to free flow.'
" 'You have to understand,' she explained. 'I have been in this hospital ward for 2 weeks, I have a young family in my village, and I am desperate to go home,' she said, adding that the journey home would be at least 6 hours, through the Borneo tropical rainforest and across a river.
"I took her hand and said, 'It's okay, let's make sure you are fine and I will do my best to let you go home as soon as I can — but please don't ever do that again.'
"It's been a decade since I was a chemoboy, but allow me to leave you with a few thoughts — I want to say thank you to our patients for being our greatest teachers...." Ang said.
"For our professional career is not merely made up of the degree we have or the number of publications we have — I believe that the core of professional life is the encounters that we have with our patients," he said. "I am the product of hundreds of stories like chemoboy that continue to instruct the way I practice, and the voices of my patients continue to guide me."
What is Important to Patients
This theme of what is important to patients was also highlighted at the opening ceremony by the guest speaker, Atul Gawande, MD, a surgeon at Boston's Brigham and Women's Hospital and a best-selling author whose books include "Being Mortal."
Discussing the difficult moment that many oncologists have to face, when the cancer patient is no longer responding to therapy and the discussion turns to what to do next, Gawande highlighted the role of palliative care. The aim, explained to him by a palliative care nurse that he was shadowing, is to "use medicine to give the patient the best possible day today" without worrying too much about tomorrow or the future.
This will mean different things for different patients, he emphasized.
One male patient told him that "as long as he can eat chocolate ice cream and watch football on television, then I am happy with that, but once I can no longer do that, then let me go."
Gawande also recounted the story of another cancer patient, who was his daughter's piano teacher. After reaching a point where there were no therapeutic options but a chance of a clinical trial with an experimental therapy, she instead chose to come home with palliative care, which gave her another 6 weeks with her beloved piano students. She had no children of her own, and had formed strong bonds with her students.
A combination of morphine, gabapentin, and Ritalin allowed her to control her pain but remain functioning, and she held lessons and had two piano recitals. Gawande showed a photo of her standing at the piano, beaming with pride at her students.
This is what palliative care can do, he emphasized. By asking the patient what is important to them, what their priorities are, and using medicine to help them achieve those goals, it may be possible to restore "a life worth living," if only for a little while longer.
2019 American Society of Clinical Oncology (ASCO) Annual Meeting: Opening Ceremony. Presented June 1, 2019.
For more Medscape Oncology news, join us on Facebook and Twitter.
Medscape Medical News © 2019

Cite this: Zosia Chustecka. 'Chemoboy' Takes Center Stage at ASCO Meeting - Medscape - Jun 01, 2019.