The forced separations of immigrant children and parents at the US-Mexico border was all over the news in the spring of 2018. Thousands of kids, some as young as 6 months of age, had been separated from their parents; the exact numbers are uncertain, a result of incomplete record-keeping. Numerous elected officials and some professional organizations, such as the American Academy of Pediatrics (AAP), demanded an end to the practice, and lawsuits were filed.
A federal judge ruled that the practice be stopped and children reunited with their parents. Gradually, the issue fell out of the news.
Until December 2018, when two young children died in the custody of US Customs and Border Protection (CBP). Investigations by news outlets uncovered that many children in CBP custody were not receiving health exams within 24 hours of being detained, as required by law, and were not being transferred to special children's shelters within the mandated 3 days. An analysis of government data published in late May 2019 found that as many as half of unaccompanied children have been detained for longer than 72 hours. On May 20, a 16-year-old Guatemalan child died after spending 6 days in CBP custody, making him the sixth migrant child to die in federal custody. The facility, described by migrants interviewed after the teen's death, was reported to be overcrowded and unsanitary.
Colleen Kraft, MD, a pediatrician in Mission Viejo, California, served as AAP president through much of this tumultuous period. She recently recounted her many visits to detention facilities and her advocacy efforts on behalf of AAP to a rapt group of rising pediatrician leaders at the International Pediatric Association (IPA) 2019 biennial conference held in Panama City, Panama, March 17-21, 2019. Although historically the IPA conference focuses on the problems facing children in low-income countries and humanitarian settings, this issue in the United States, a high-income country whose children historically do not garner the attention of this worldwide body of child advocates, was an agenda item at this year's meeting.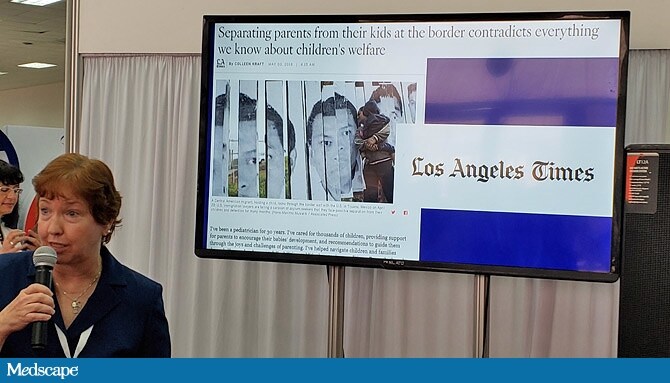 Kraft recounted her first visit to a child detention facility in early 2018. A room full of children, some younger than 3 years, was absolutely quiet—there was no babbling, laughing, or playing—save for the relentless, inconsolable sobs of a single child. In an opinion piece published shortly after that distressing visit and widely circulated by pediatricians and advocates, Kraft added her voice to the rising chorus calling on the government to stop this practice.
The US Senate launched hearings to investigate the care of children entering the United States. Two physician whistleblowers, who had been conducting inspections of family detention centers since 2014, submitted written testimony exhaustively detailing their concerns about both mental and physical risks to children posed by these facilities. Their letter concluded that detention "will directly result in harm to children." The separation policy was indeed officially halted in the summer of 2018. But in a mandated court filing in April 2019, the government noted that it may take as long as 2 years to identify the estimated thousands of children who have been separated from their parents at the border.
Kraft shared her experiences and discussed CBP processes and the rights of detained children, information she urged every clinician to know. Although most US clinicians won't encounter a child directly affected by the parent-child separations at the border, Kraft reminds clinicians that 1 in 4 children in the United States live in a family with at least one immigrant member. "We have immigrant and refugee populations of children all over the country, which is why the issue is so important to the AAP," Kraft told Medscape.
Cite this: The Border Is Everywhere: Proactive Tips for Care of Immigrant Kids - Medscape - May 31, 2019.