Disorders Linked With Increased Permeability
Many experts agree that the disorders most strongly correlated with increased intestinal permeability and barrier dysfunction are inflammatory bowel disease (IBD), irritable bowel syndrome (IBS), and celiac disease.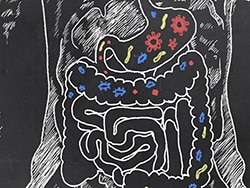 Some evidence suggests that increased intestinal permeability may have a pathogenic role as well. The first study to posit this theory was conducted in 1986[5] and looked at first-degree relatives of people with Crohn disease.

"[The researchers] found that a subset of these first-degree relatives had increased intestinal permeability, but they were completely healthy," said Turner. "What we don't know is if they were at greater risk of developing disease than the first-degree relatives who didn't have barrier defects."
Later studies[6,7] showed that the presence of increased intestinal permeability can predict relapse in patients with Crohn disease who are in remission.
Celiac disease[8,9,10] and diarrhea-predominant IBS[11,12] also have persuasive evidence of correlation with increased intestinal permeability, and patients with both of these conditions have shown improvements in intestinal barrier function after adhering to a gluten-free diet.[13,14]
Outside of gastrointestinal disorders, systemic conditions such as graft-versus-host disease[15] and type 1 diabetes[16] have been linked to intestinal barrier defects. Infections from bacteria such as Escherichia coli[17,18] and Clostridium difficile,[19,20]alcohol use,[21] and chemotherapy[22] are also known disrupters of gut barrier function.
Things become somewhat murkier when it comes to such conditions as autism, eczema, and depression, among others, according to Turner.
"There are a lot of data swirling around. The problem is that it's difficult to sort out cause and effect."
That's why there is little guidance on how to apply these data clinically. For now, Turner advises simply treating patients with IBD, IBS, and celiac disease according to best current practices.
"If patients have some other underlying disease that is associated with a barrier defect, it is best to treat that disease," said Turner. "And if the barrier defect is caused by disease, the barrier will be restored with successful therapy."
Medscape Gastroenterology © 2019 WebMD, LLC

Any views expressed above are the author's own and do not necessarily reflect the views of WebMD or Medscape.
Cite this: Is 'Leaky Gut' the Root of All Ills? - Medscape - May 23, 2019.