SAN FRANCISCO — Listening to music appears to reduce the need for medication to treat agitation in psychiatric inpatients, new research suggests.
Investigators at SUNY Upstate Medical University in Syracuse, New York found offering music as an option for agitation not only reduced the need for antipsychotics, it also cut the length of hospital stay.
"We're trying to reduce the number of anti-agitation medications that patients on an acute inpatient psychiatric unit are exposed to. There are a lot of side effects associated with these medications," lead author Trevor Scudamore, MD, resident, Department of Psychiatry, SUNY Upstate Medical University, told Medscape Medical News
The findings were presented here at the American Psychiatric Association (APA) 2019 annual meeting.
Research shows that music can be therapeutic for patients with various psychiatric conditions, including depression, autism, schizophrenia, and dementia.
Agitation is typically treated with an as-needed medication (PRN) such as haloperidol or olanzapine. Side effects of such medications can include dizziness, confusion, balance problems, gastrointestinal symptoms, and sleep issues.
The new two-phase study lasted 6 months. During the first 3 months, researchers established a baseline level of agitation/anxiety in patients admitted to a psychiatric unit at the Upstate University Hospital in Syracuse, and a baseline of their medication use. For the second phase of the study, they documented changes in medications after introducing a music option.
Music Playlist
This option allowed patients who felt anxious or overwhelmed to listen to music on an iPad through wireless headphones for 30 minutes instead of receiving medication. Patients could choose from a preset playlist with multiple music genres, including classical, hip hop, and top 40 hits.
The study included 172 adult patients who received medications PRN during the 6-month study period. Of these, 101 received these medications after the music therapy option was implemented.
The subjects ranged in age from 18 to 82 years (mean 41 years). The most common diagnoses among study subjects were substance abuse (61%), depression (50.6%), psychosis (28.5%) and trauma (26.2%).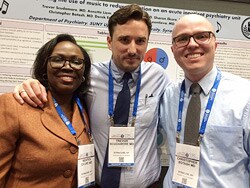 There were patients who used the music intervention regularly, a few requesting it every day, while others used it only once or twice, said coauthor Christopher Botash, MD, also a resident in SUNY Upstate's Department of Psychiatry.
Although all patients were notified about the music option upon admission, "unfortunately, we weren't able to gather reliable data on the absolute numbers of patients who utilized the music because there was no way to track this type of administration," said Botash.
Researchers used pharmacy records to determine medication use for anxiety/agitation. The information was displayed as 30-day averages by individual medication type for the 6 months of the study. Medications included intramuscular and sublingual as well as oral formulations.
The most commonly prescribed antipsychotics for agitation were olanzapine and haloperidol. Administration of both these mediations was reduced following introduction of the music intervention: Haloperidol decreased from an average of 101 to 87.9 administrations per month; olanzapine decreased from an average of 101.4 to 81.9 administrations per month.
The researchers didn't specifically look at dosing of the medications. "This was partly because dosing adjustments are also made based on a patient's weight or BMI and not just their level of anxiety or agitation," said Botash.
One limitation of the study: the 3-months encompassing the post-music introduction "were much busier months for us" than the previous three months, said Botash.
Even with having 101 patients after the music vs 71 before, haloperidol and olanzapine use still decreased, he said. The median length of stay on the unit decreased from 6.5 days to 5.0 days during the study. Researchers credit the music option for this decease.
"We don't have another confounder to explain that; this was really the only change we made on the unit during that time," said Botash.
Positive Feedback
A total of 31 patients completed a survey rating the calming effect of the music. Of these, 96% provided positive feedback.
"That means that they strongly agreed or agreed on a 5-point Likert scale that they had a calming effect from this music intervention," said Botash.
Many patients reported that they enjoyed having more choice in their treatment while on the psychiatric unit, he said.
Nurses were asked to rate agitation severity before and after the intervention using the Overt Agitation Severity Scale (OASS) and to complete a survey. The results here were inconclusive because of an inadequate number of completed surveys, said Botash.
"This is likely because nursing staff were already busy and found it hard to fill out the paperwork," he noted, adding that nursing staff had to attend to multiple tasks — including ensuring patient safety and appropriate documentation, in addition to the surveys.
However, over half of the nurses who did respond reported that the music helped calm patients, although some noted more intrusive behavior at the nursing station where patients had to pick up the iPad.
The researchers plan to explore how to better integrate a music intervention into care on the psychiatric unit.
"In [the] future, we would want to allow patients to tell us their music preferences beforehand so we could have something cued up," said Botash.
Having more iPads may also help. Right now, there's only one.
Future work may also include examining whether music works better to calm patients with a particular psychiatric diagnosis, said Scudamore.
Terrific Alternative
Commenting on the study for Medscape Medical News, Lloyd I. Sederer, MD, distinguished psychiatric advisor to the New York State Office of Mental Health and an adjunct professor at Columbia University in New York City, said music "is a terrific alternative for people on an inpatient unit."
When psychiatric patients become upset, "there has to be a better alternative to administering an additional dose of medication," said Sederer, describing music intervention as a "type of calming time out."
Mind-body interventions such as meditation and mindfulness are other non-drug calming strategies. Mindfulness has become "standard practice" in some areas of the military, said Sederer.
Another useful quieting technique is slow breathing, often used by yoga practitioners. "It works through the vagus nerve to reduce heart rate, blood pressure, and cortisol," said Sederer.
The study authors and Sederer have disclosed no relevant financial relationships.
American Psychiatric Association (APA) 2019: Abstract 176 (Session 2). Presented May 18, 2019.
For more Medscape Psychiatry news, join us on Facebook and Twitter
Medscape Medical News © 2019

Cite this: Music Cuts Need for Antipsychotics in Agitated Inpatients - Medscape - May 20, 2019.