PHILADELPHIA — Despite previous research suggesting the calcium channel blocker isradipine (DynaCirc, Novartis) may slow progression of Parkinson's disease (PD), results of a new phase 3 placebo-controlled study suggest this is not the case.
Due to the early promise of isradipine, a dihydropyridine calcium channel antagonist, researchers had high hopes that this would be the first disease modifying drug for PD.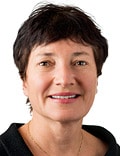 "I'm obviously very disappointed" by the negative results, study investigator Tanya Simuni, MD, chief of movement disorders in the Department of Neurology at Northwestern University's Feinberg School of Medicine in Chicago, told Medscape Medical News.
But Simuni has no regrets about carrying out the study because "it was the only way to definitively demonstrate" whether isradipine delays PD progression.
"As much as I'm disappointed by the lack of benefit of this drug, I'm absolutely confident in the results," she emphasized, "and I believe that the study was conducted at the highest level of scientific rigor."
The findings will be presented here at the American Academy of Neurology (AAN) 2019 Annual Meeting.
Highest Level of Evidence
Calcium channels stimulate the mitochondria of dopaminergic neurons. This can ultimately lead to neuronal death and to PD.
Epidemiologic data demonstrate an association between use of calcium channel blockers and reduced risk of PD.
A 2008 study published in Neurology that included over 7000 men and women showed that long-term users of calcium channel blockers who were using the drugs to treat hypertension had a 23% lower risk of PD vs those who did not take these medications.
The study did not show this effect in patients taking angiotensin-converting enzyme (ACE) inhibitors or beta-blockers.
Over the last several years, numerous lines of research seemed to suggest that calcium channel blockers were neuroprotective. For instance, multiple animal models demonstrated the neuroprotective effect of isradipine at doses that were "translatable" to patients, said Simuni.
In addition, epidemiologic data has shown an association between use of calcium channel blockers and reduced risk of PD.
A phase 2 trial showed isradipine 10 mg daily was safe and well-tolerated in early PD. This study was not powered to demonstrate efficacy, but was designed to select a dose in order to move ahead in the current phase 3 study, said Simuni.
"We went into this study with the highest level of evidence. The preclinical data were very strong."
The new 36-month phase 3 study, called STEADY-PD, was a parallel group, placebo-controlled analysis of isradipine 10 mg daily in 336 patients with early PD.
Isradipine was chosen as the study drug for a number of reasons, said Simuni. It is commercially available and thus long-term safety was already documented; therefore, preclinical validation was not necessary.
In addition, among existing dihydropyridine calcium channel blockers, isradipine has the "highest affinity" to the channel in the brain that investigators were trying to block, and the lowest effect on peripheral channels, said Simuni.
No Better Than Placebo
In the phase 3 trial, study participants (mean age, 62 years) were 68% male, 91% white. The mean Unified Parkinson Disease Rating Scale Part I-III (UPDRS I-III) score was 23.1.
The primary outcome was change from baseline in the UPDRS I-III score measured in the "on" state (the medication is working) at month 36.
The analysis showed that the adjusted change in mean UPDRS I-III at study end was 2.99 points in the isradipine group and 3.26 points in the placebo group, with treatment effect of 0.27 points (95% confidence interval, -2.5 to 3.0; P = .85).
"We did not demonstrate a statistically significant separation of the group treated with active therapy vs placebo. There is no rationale or indication to recommend isradipine to slow progression of Parkinson's disease," said Simuni.
Investigators also looked at a number of prespecified secondary outcome measures, including time to initiation of dopaminergic medications, and changes in motor scores, quality of life, and cognitive assessments.
"Unfortunately, none of those variables showed significant separation between active therapy and placebo," Simuni added.
Statistical adjustment for use of symptomatic therapy did not affect the comparison, results showed.
Overall, the drug was well tolerated. There was a higher rate of dizziness and edema among active drug users, but these are "known potential side effects" of this class of agents, said Simuni.
These side effects didn't affect study participation; approximately 95% of participants completed the study.
"This was a remarkably high retention rate that was seen not only in the placebo group but also in the active drug group, which is pretty unprecedented. So we don't believe that drop-out or intolerance to the drug impacted our analysis," said Simuni.
She also noted that the study used validated measures of clinical efficacy but she questioned whether these clinical outcome measures are "good enough."
The investigators did not use biomarkers of disease progression because "as of today" there are no such biomarkers, said Simuni. She emphasized that researchers don't have a way to show that isradipine sufficiently blocked the relevant channel in the brain.
Administered Too Late?
One possible reason for the negative results was that the drug was administered too late in the course of the disease. Although study subjects had early PD, Simuni said the intervention may need to be administered even earlier.
She noted that patients newly diagnosed with PD have already lost 50%-60% of their dopaminergic neurons.
Another reason the drug may not have had an effect was that the dose (10 mg daily) was too low. But Simuni noted that this dose is the "highest that was safe and tolerable" in previous studies.
It might be possible to develop a more potent drug that targets the relevant channel, but this would require additional funding and commitment.
"I believe that the science is solid," said Simuni. "I don't think that the negative results of this study take away the concept of the potential neuroprotective effect" of this class of calcium channel antagonists.
Why does isradipine work in animals but not in humans? While targeting the pathway of interest with the drug might be sufficient in mouse models, this may not "by itself " be enough to prevent progression of disease in humans, said Simuni.
"We might need to move to the concept of the cocktail drug approach," she said.
The investigators are now carrying out post hoc analyses to determine if any subgroups responded to the drug. They're also examining DNA samples from a subset of subjects to see if these reveal any predictors of response, said Simuni.
While she's disappointed in the results, she said the findings provide physicians and patients with a "definitive answer."
"We're not in the 'gray zone' anymore," she said.
The Search Continues
Commenting on the findings for Medscape Medical News, Michael S. Okun, MD, chair of the Department of Neurology at University of Florida Health in Gainesville and medical director of the Parkinson's Foundation, said "although the results were disappointing, it's important for clinicians to clearly relay this information to their patients."
While "vigorous" basic and translational research suggested that isradipine, "an approved and on-the-shelf" blood pressure drug, may slow progression of PD, the new study does not support this, said Okun, who was not involved with the current study.
"It will be interesting to explore the disconnect between the animal models and the disappointing human results," he said.
Also commenting on the findings, Anna DePold Hohler, MD, Chair of Neurology at St. Elizabeth's Medical Center in Boston, Massachusetts, described the study as "rigorous and well designed."
"PD is indeed a complex disease," she explained, "and we are still looking for medications that make a true impact on slowing progression of the disease."
The study was funded by the National Institute of Neurological Disorders and Stroke. Simuni reports she has received personal compensation for consulting, serving on a scientific advisory board, speaking, or other activities with Acadia, Adamas, Teva, AbbVie, Anavex, Allergan, Accorda, Neuroderm, Photopharmics, Revance, Sanofi, Sunovion, Voyager, US World Meds, and the Michael J. Fox Foundation, Denali, Neurocrine, and Takeda. Simuni has received research support from Biogen, Roche, Neuroderm, Sanofi, Sun Pharma, NINDS, the Michael J. Fox Foundation, and the Parkinson Foundation. Okun and Hohler have disclosed no relevant financial relationships.
American Academy of Neurology (AAN) 2019 Annual Meeting: Abstract to be presented May 7, 2019.
For more Medscape Neurology news, join us on Facebook and Twitter
Medscape Medical News © 2019

Cite this: Blood Pressure Drug Disappoints in Slowing Parkinson's - Medscape - May 02, 2019.