Is Nursing Too Good for Men to Pass Up?
An ambitious goal to increase the proportion of men in nursing to 20% by the year 2020 was set by the American Association for Men in Nursing (AAMN) in 2015.
Let's check in on that target.
Although still a female-dominated profession, the numbers of men in nursing have slowly inched upward. In the 1960s, men made up just 2% of the nursing workforce, and the latest statistics show that 13.7% of registered nurses are men.[1] This is encouraging news.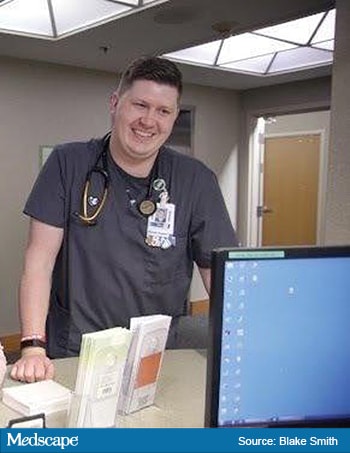 On paper, nursing is a great career, with job openings in all 50 states, good pay and benefits, and plenty of advanced education and promotion possibilities. Job prospects loom large as a huge wave of nurses (estimated at 20% over the next 2 years) are retiring.[2] Recognizing that inclusiveness and diversity of gender, race, ethnicity, and age are critical to the future of nursing, the profession has refocused its efforts to welcome men.[3]

Current AAMN president Blake Smith says, "I tell men, if you have a passion to do something bigger than yourself, go into nursing." Most male nurses (91%) would encourage other men to consider a nursing career.[2]
So, why do some men still hesitate to jump on the nursing bandwagon? Is it the pay, the work, the image, the sexual stigma and stereotypes, or simply a lack of awareness that the nursing profession has rolled out the welcome mat for men?
The Pay
Nursing wages overall have not suffered the same stagnation as some traditional "male" jobs, such as manufacturing or farming.[4] The financial recession of 2008 brought more men into nursing when healthcare was one of the few occupations still experiencing steady growth.[5] Nursing salaries quickly got the attention of men who had been laid off from their first careers with little prospect of being rehired, so by 2013, the proportion of men in nursing had risen to 10.7% nationwide.[5] The ability to immediately earn good wages upon graduation, rather than starting at minimum wage, made nursing attractive to men seeking financial stability.[5]
In the Medscape RN/LPN Compensation Report, 2018,[6] 8% of the respondents were men. They reported earning the same base rate of pay as women, yet they were paid an average of $4000 (about 5%) more annually than women in similar positions. Some explanations for the disparity were evident. Men tended to gravitate toward jobs in urban settings and inpatient facilities—both of which garner higher pay. Men also were more likely to augment their base pay with overtime work, on-call hours, high-differential shifts, or charge nurse duties.[6]
A nursing salary survey from Nurse.com[7] found that annual pay averaged $79,688 for men in nursing versus $73,090 for women. This survey revealed another possible explanation for the gender pay gap: Men are more likely than women to negotiate their salaries.[7]
Some specialties, such as the certified registered nurse anesthetist (CRNA) role, disproportionately attract men (up to 41% of entrants to CRNA programs are men[8]). This is perhaps because it's a skill-oriented role, and CRNAs earn the highest salaries in nursing, as well—an average of $162,000 annually.
The bottom line on pay? Overall, nursing compensation appears to be a draw, rather than a drawback, for men.
The Work
Nursing is synonymous with feminine caring in the minds of the public.[9] But definitions of caring—one of which is moments of shared vulnerability between nurses and patients—mention nothing about needing to be a woman or how caring must be conveyed.[9] Caring by nurses is a gender-free act, although men may differ from women in how they show it.[10]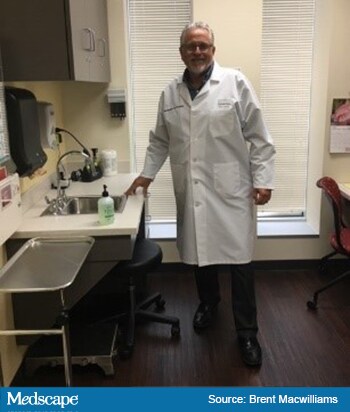 Professor Brent MacWilliams, past president of AAMN, believes that men do express caring, but in subtly different ways. He points to male socialization toward pragmatic problem solving rather than first discussing the problem, which he suggests is a more feminine approach. "The male nurse will start your IV in what he thinks is the best site for you, and the female nurse will ask you what you think of the site first. Both are caring."

A trickier issue for men to work around is touch, which is inevitable in the course of nursing care but somewhat of a minefield for men. Societal customs have normalized the use of touch by women as a caring behavior but have sexualized touch by men.[11] Touch during intimate care (eg, personal hygiene, urinary catheterization) can create anxiety in both patients and nurses, with the danger of misinterpreting touch as being sexual in nature.[11] Can men in this #MeToo, post–Harvey Weinstein era become confident professionals who use intimate touch on the job without fearing accusation or reprisal? No "safe" scenario exists; this ever-present danger isn't limited to touching female patients—it includes male patients, too.[12]
Unfortunately, little guidance is provided to nursing students, regardless of gender, on the appropriate use of touch.[9,11] Men in nursing must devise their own techniques for dealing with the need for intimate touch during nursing care, such as gloving for all touching and touching less sensitive areas before intimate areas.[9]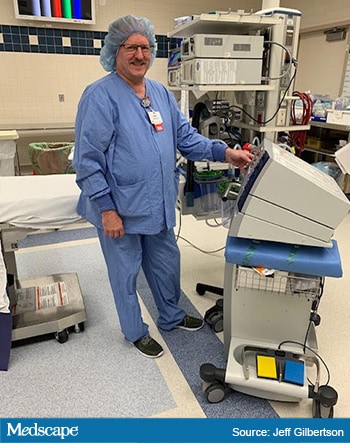 It's not a minor issue. The conundrum surrounding touch may prompt men to gravitate toward low-touch, high-tech nursing care settings.[13] Touch, and intimate touch in particular, may underpin the residual ambivalence about men in nursing. Nurse Robert Vaughn, RN, reports sometimes introducing himself to patients who express discomfort and ask for a female nurse.[14] Jeff Gilbertson, RN, an operating room nurse, recalls that when he sought a position as a certified sexual assault nurse examiner, his application was rejected because he was a man.

The bottom line on nursing work? Men continue to face challenges in the provision of direct nursing care, a consequence of long-standing societal beliefs about nursing being "women's work." Why intimate touch is a problem for men in nursing but not for men in medicine, however, isn't apparent.[14]
The Image
The public image of the male nurse is changing, but men still experience some of the same problematic stereotypes as their female counterparts. Both are subject to "sexy nurse" and "physician's subordinate" stereotypes. If you search on Amazon using the term "male nurse," you'll find books and videos featuring wide shoulders and smoldering eyes with titles such as, "Confessions of a Male Nurse" or "Thrilled to Be Examined." Television shows, such as Grey's Anatomy and Nurse Jackie portray male nurses as powerless, emasculated, and even sexually deviant, when not mistaken for doctors.[15]
MacWilliams explains how stereotypes have been perpetuated by the "Focker factor." In the 2000 film Meet the Parents, Greg Focker (portrayed by Ben Stiller) was a male nurse alternately suspected of being gay, a failed physician, and just all-around suspicious because of his career choice. MacWilliams notes, "All the biases are there and accurately portrayed, even though they're basically wrong."
If the stereotypes were limited to pop culture, they might be easier to ignore. Yet some men feel stigmatized not only by Hollywood but also by the public (their patients) and even their colleagues. It's a problem that begins before a man has cracked his first nursing textbook.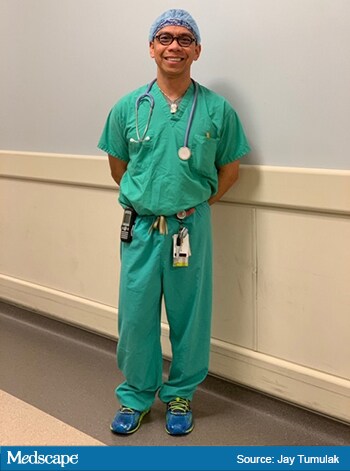 Gender considerations can dissuade men from applying to nursing programs in the first place.[16] Jay Tumulak, CRNA, assistant professor at Marquette University, explains, "Men are stigmatized as being 'sissies' if they go into nursing. People see women as more nurturing than men, but that's a false premise that stops men from pursuing a career in nursing."

MacWilliams has observed that young men who express interest in a science-based career are often steered toward pharmacy studies, whereas young women are directed toward nursing. "I see this all the time in high school counseling. We need those who coach young men to realize there are other options."
Male nursing students report feeling discriminated against and stereotyped as being lazy or choosing a nursing career for the "wrong reasons."[17] Typical nursing course curricula neglect the contributions of men to the history of nursing, a history that could otherwise increase men's confidence in their career choice. Some faculty hesitate to assign female patients to male students, and men often experience gender-related biases in obstetric and pediatric rotations. As it is, male nursing students' attrition rates far outstrip those of women.[18]
The pattern doesn't end with graduation. Stubborn stereotypes characterizing nursing as a female-only profession continue to hound men as they embark on their new careers. In a recent study,[19] 44% of male nurses agreed that they had experienced discrimination as a nurse, and 31% reported experiencing social isolation. Male nurses are also invariably mistaken for physicians and compelled to explain to complete strangers why they aren't doctors instead of nurses.[19]
The bottom line on image? How men are viewed in nursing still needs work if the profession aspires to be gender-neutral.
What It's Like to Be a Man in Nursing
In "'Forget About the Stigma': Male Nurses Explain Why Nursing Is a Job of the Future for Men,"[20] a dozen male nurses (including former bankers, handymen, and truck drivers) describe their experiences as men in a female-dominated profession, and their views about their chosen careers are mainly positive. Men enjoy the variety of work available in the nursing profession beyond the bedside. Nurses can also be advanced practitioners, surgical assistants, educators, technicians, or administrators.
This doesn't mean these men have never experienced role-related stress in the practice of nursing. Male nurses report being asked to lift heavy patients or step into angry interactions—"he-man" and "enforcer" roles that don't feel much like nursing."[2,18] Even in the ICU, with its higher male nurse presence and task-focused orientation, some men face role ambiguity and gender isolation.[21]
It might help if men had more role models in both nursing education and in early nursing practice.[18] In Men In Nursing: History, Challenges, and Opportunities, author Chad O'Lynn wrote about his experiences in nursing school: "My gender isolation was overwhelming. I never saw a male registered nurse on any of the units where I had my clinical experiences; I certainly had no opportunity to work with one."[22]
On the other hand, some men perceive advantages to their positions as men in a female-dominated work setting. Some have observed that physicians treat male nurses better than female nurses. Being a male nurse also can be an icebreaker with patients and families who express curiosity about men's career choices and experiences.[23]
Gilbertson has observed that men are often promoted more quickly than their female colleagues. He readily associated being male with an opportunity he took to become an assistant head nurse. This is the so-called glass escalator effect, which paradoxically offers advantages to men over women.[24]
A Career Reset Button For Men
Nurse and blogger Martin Robbins, RN, wrote that, at age 27, when working as a security guard, he became increasingly worried that life was passing him by.[23] He jokes that an "insane jealousy" of the cool uniforms and sunglasses worn by paramedics prompted him to consider a career change, but he was afraid that he wouldn't pass the physical examination. At his mother's wise suggestion, he chose a career in nursing instead.[23] Nursing was also the second career for the aforementioned MacWilliams, a former Alaskan crab fisherman.
Going into nursing right out of high school can be a tough sell to young men. Men are more likely to enter nursing after becoming dissatisfied with their initial career choice. They are older, more mature, and more insightful, and the stigma associated with nursing doesn't bother them as much as it might have at 18 years.[11] They simply want a satisfying career that offers job and financial security, and nursing checks those boxes.
Accelerated second-degree nursing programs are a useful strategy to recruit more men into nursing. Jay Tumulak agrees. "Men just want to get going, so an accelerated BSN program is very appealing," he said. "They want to get out and start earning."
Men in nursing have varied motivations to pursue a nursing career. Peter Stach, RN, explains his decision: "My mother is a nurse, but for some reason it had never occurred to me to become a nurse until I had a conversation with another man, a former EMT who became a nurse, and something just clicked."[1] Blake Smith notes that "millennials will tell you they weren't even aware of nursing as an option." Edward Bennett, RN, a recent nursing school graduate and black male nurse, says he wants to correct misconceptions by showing men who are considering nursing that they will work with their hands, think critically, and advocate for others—all aspects of desirable professions for men.[25]
Bringing Men Into the Fold
Increasing the number of men in nursing hinges on changing the public image of men in a caring profession and widening the educational options. Recruitment efforts should endorse realistic portrayals of male nurses. Nursing schools should arrange student experiences so that men can see themselves as nurses rather than "gendered nurses"[26] and help faculty improve their interactions with male students. Advertising of accelerated second-degree nursing programs should target men, being careful to reflect gender and racial diversity.[5,16] Curricula should include specific instruction on caring and touch. Schools and hospital employers need well-planned mentorship programs for men to facilitate the transition to practice. MacWilliams urges career counselors to do their part: "Plant the seed early. Start with career fairs as early as middle school, and show boys what men in nursing really look like."
Medscape Nurses © 2019 WebMD, LLC

Any views expressed above are the author's own and do not necessarily reflect the views of WebMD or Medscape.
Cite this: Wanted: More Men in Nursing - Medscape - Apr 22, 2019.