ORLANDO, Florida — New safety and efficacy data from an extension of the ENLIGHTEN-2 trial show that the favorable weight profile shown by the combination of olanzapine (Zyprexa, Lilly) and samidorphan (ALKS 3831, Alkermes) for the treatment of schizophrenia continued to 52 weeks.
In addition, metabolic parameters remained stable, interim results for the ENLIGHTEN-2 EXT study show.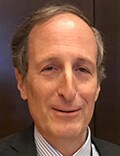 "Olanzapine is one of the most effective antipsychotics that we have, but its use has been limited by the weight gain and waist circumference increases that are associated with it. This new combination combines the efficacy of olanzapine, and the weight gain that is induced by olanzapine is mitigated by the addition of samidorphan," said René S. Kahn, MD, PhD, chair of the Department of Psychiatry at the Icahn School of Medicine at Mount Sinai, New York City.
"The 1-year follow-up data which I presented show no additional weight gain, apart from the weight gain that occurs during the first 6 weeks of treatment. After this, there is no additional weight gain for almost a year and a half, which is very reassuring. The weight gain plateaus after 6 weeks, so at 6 weeks you get an increase, and then it's essentially a flat line. We saw this for the first 24 weeks of ENLIGHTEN-2, and now in the additional follow-up open-label study, of 52 weeks' duration, we are seeing the same thing, a total absence of weight gain," Kahn told Medscape Medical News.
The findings were presented here at the Congress of the Schizophrenia International Research Society (SIRS) 2019.
Durable Effect
In December 2018, Medscape Medical News reported topline results from ENLIGHTEN-2. In the multicenter trial, which included 561 adult patients with stable schizophrenia, those who received olanzapine plus samidorphan once daily showed significantly less weight gain at 6 months compared with those who received olanzapine alone.
In addition, significantly fewer patients in the olanzapine/samidorphan group gained 10% or more of their baseline body weight.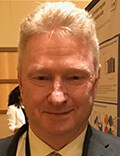 "The differences in weight between the olanzapine/samidorphan combination and olanzapine started from about 4 weeks and became significant after 6 weeks," David McDonnell, MD, senior clinical director, Alkermes Pharma Ireland, Dublin, told Medscape Medical News.
"The weight stays basically the same, and there is very little effect on metabolic parameters, and now that we have the data from the extension study, we see that the trend continues for 52 weeks," McDonnell added.
Patients who finished ENLIGHTEN-2 were allowed to enter the open-label extension study (ENLIGHTEN-2-EXT) and to continue treatment with olanzapine/samidorphan. Patients who had been assigned to receive olanzapine only in ENLIGHTEN-2 were able to switch to the combination therapy.
The data, from 265 patients, show that in addition to weight, metabolic parameters remained stable over the extension study period.
Change from baseline to week 52 during treatment with olanzapine/samidorphan was 0.07% for hemoglobin A1c; 2.5 mg/dL for fasting glucose, and 2.10 μIU/mL for fasting insulin.
Overall changes in fasting HDL, LDL, total cholesterol, and triglycerides were small and remained stable with long-term treatment. Triglyceride levels increased initially but then came back toward normal, as did HDL cholesterol levels.
"I think our concern was that perhaps the long-term effects of the olanzapine/samidorphan combination would wear off, but the samidorphan does seem to be that olanzapine-induced weight gain, and the metabolic changes do not seem to be getting worse," McDonnell said.
"We know that if you treat with olanzapine long term, you do continue to get weight gain, and eventually, that increase in weight gain does cause metabolic abnormalities. The hope for this new product is that it will actually in the long term not only have a benefit on weight but also on the metabolic parameters."
Problem Solved?
Commenting on the study for Medscape Medical News, Deanna L. Kelly, PharmD, professor of psychiatry, University of Maryland School of Medicine, Baltimore, said the evidence shows that olanzapine is one of the most effective antipsychotics available.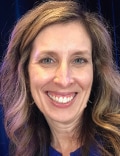 "Unfortunately," said Kelly, "all the weight gain associated with it, the diabetes risk, and all of the metabolic side effects really limited its use, and so while we were very excited about it, while the efficacy was really great and we had a lot of confidence in olanzapine, once we started to see these side effects, we really had to go to other treatments, and this is especially so in our younger and our first-episode patients.
"So now that samidorphan looks like it can attenuate the weight gain and cut it at least in half, as these data suggest, that's going to provide another option to bring back olanzapine," she said.
The study was funded by Alkermes. Kahn has financial relationships with Alkermes, Merck, Minerva Neuroscience, Lundbeck, Otsuka, Teva, and Janssen. McDonnell is an employee of Alkermes. Kelly has served as a consultant for Lundbeck and Alkermes and has been an advisor for HLS Therapeutics.
Congress of the Schizophrenia International Research Society (SIRS) 2019: Abstract S137. Presented April 13, 2019.
For more Medscape Psychiatry news, join us on Facebook and Twitter
Medscape Medical News © 2019

Cite this: More Evidence Schizophrenia Combo Therapy Blunts Weight Gain - Medscape - Apr 15, 2019.