ORLANDO, Florida — A gluten-free diet may reduce symptoms in a particular subset of patients with schizophrenia, early research suggests.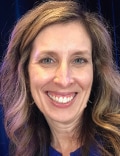 In a small pilot study, investigators found individuals with schizophrenia who have elevated serum antibodies to gluten, specifically antigliadin antibodies (AGA IgG) and who were put on a gluten-free-diet for 5 weeks showed greater improvement in negative symptoms compared with their counterparts who ate a diet containing gluten.
"With a gluten-free diet, we do have the potential to improve psychiatric symptoms, particularly negative symptoms, which is a symptom domain with a high unmet clinical need," said lead investigator Deanna L. Kelly, PharmD, professor of psychiatry, University of Maryland School of Medicine, Baltimore.
"We don't have anything for negative symptoms, so this could be a treatment for people if they have these antigliadin antibodies," Kelly said.
The findings were presented here at the first annual Congress of the Schizophrenia International Research Society (SIRS) 2019.
30% Gluten Intolerant
Elevated AGA IgG may be present in about 30% of all patients with schizophrenia. The antigliadin antibody is not related to the antibodies seen in celiac disease, which affects roughly 1% of the overall population.
This subgroup of schizophrenia patients with elevated AGA IgG has significantly lower positive schizophrenia symptoms than patients with no AGA IgG. They also have higher levels of kynurenine, which has been linked to schizophrenia pathology, Kelly noted.
Strategies for treatment of schizophrenia have basically been a one-size-fits-all approach.
Kelly and her team set out to determine whether a gluten-free diet would improve psychiatric symptoms in this subgroup of patients with elevated AGA IgG.
"We had done a 2-week gluten-free trial in two people who had elevated AGA IgG and schizophrenia, and we noted robust symptom improvements, particularly in the domain of negative symptoms, so we wanted to do a feasibility study and enroll more patients," she told Medscape Medical News in an interview after her plenary session talk.
The researchers randomized seven patients to receive a gluten-free diet and nine patients to receive a diet containing gluten for 5 weeks.
All were inpatients, had elevated AGA (IgG > 20 U), had been on the same antipsychotic for at least 4 weeks prior to study entry, and had a Brief Psychiatric Rating Scale total score > 29. The cohort ranged in age from 18 to 64 years.
At the end of the 5 weeks, AGA IgG levels had decreased by 34% in the gluten-free group vs 16% in those who consumed a diet containing gluten.
Similarly, patients in the gluten-free group reported less abdominal pain, diarrhea, constipation, reflux, and indigestion, as noted on the Gastrointestinal Symptom Rating Scale. They also showed a greater improvement on the Clinical Global Impression scale, with an effect size (ES) of –0.75.
Negative Symptoms Reduced
There was no improvement in positive or depressive symptoms, no differences in side effects, extrapyramidal symptom ratings, or BMI. Fasting blood glucose slightly decreased in the gluten-free diet group (ES, –0.36).
However, results for negative symptoms told a different story.
As assessed by the change in the Scale for the Assessment of Negative Symptoms (SANS), the gluten-free diet group had less anhedonia (ES, –0.24), avolition (ES, –0.43), blunting (ES, –0.71), and alogia (ES, –0.12).
Only one of the nine patients who were on the gluten-containing diet experienced at least a 30% decrease in the SANS total score, compared with four of the seven patients on the gluten-free diet (P = .048).
The findings, Kelly said, add to a growing body of evidence that there is an association between inflammation and immune activity in schizophrenia and also suggest that more personalized treatments targeting diet modulation or immune activity and inflammation may play future roles in schizophrenia treatment.
The investigators are currently recruiting more patients for a larger, confirmatory study.
In future, all patients newly diagnosed with schizophrenia may undergo testing for AGA IgG.
"That's not the standard of care yet, but we are getting closer to considering testing. I think in the future, we will be," Kelly said.
Exciting Findings
Commenting on the findings for Medscape Medical News Dwight Dickinson, PhD, Clinical and Translational Neuroscience Branch, National Institute of Mental Health (NIMH), Bethesda, Maryland, said the study provides interesting insights into a potentially novel treatment.

"It doesn't involve taking drugs, and it looks like there's a subgroup of people who may benefit from a gluten-free diet, so I think it's actually very exciting. Also, I believe it builds on something that all of us know, which is that these illnesses are not single entities, that there's so much heterogeneity and doubtless different etiologies for schizophrenia.
"Dr. Kelly has identified a very interesting subgroup that may respond beneficially to a particular kind of intervention. It's good work, from a very impressive and thoughtful researcher," said Dickinson.
The study was funded by the NIMH. Kelly reports she served as a consultant for Lundbeck and Alkermes and has been an adviser for HLS Therapeutics. Dickinson has disclosed no relevant financial relationships.
Congress of the Schizophrenia International Research Society (SIRS) 2019: Plenary Session. Presented April 12, 2019.
For more Medscape Psychiatry news, join us on Facebook and Twitter
Medscape Medical News © 2019

Cite this: Fran Lowry. Gluten-Free Diet May Ease Schizophrenia Symptoms - Medscape - Apr 15, 2019.