Political leaders and media houses alike have a false sense that diabetes is not serious compared with other priorities, such as the opioid crisis or the recent focus and allocation of money to fight the ill effects of climate change.
To set the record straight, diabetes is the fifth leading nonaccidental cause of death in Canada for all ages.[1] The number of people with diabetes in Canada has doubled since 2000, and in 2019, the diabetes-related cost to Canada's healthcare system is expected to be more than $27 billion CAD.[2]
Diabetes 360°
Ahead of and during National Diabetes Awareness Month in November 2018, Diabetes Canada, the Canadian Medical Association, Canadian Indigenous Nurses Association, Canadian Nurses Association, Canadian Society of Endocrinology and Metabolism, Juvenile Diabetes Research Foundation, and Diabetes Québec released an open letter calling on Prime Minister Justin Trudeau to allocate funds for a nationwide diabetes strategy based on a framework called Diabetes 360°.
This framework is an evidence-based action plan developed by 120 diabetes, health, and academic experts and patient advocates, with government representation from nine provinces and a working group led by and focused on the unique needs of Indigenous Peoples.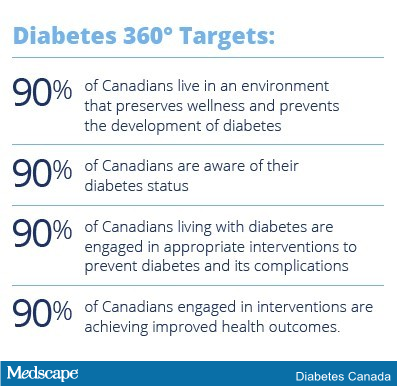 A Frightening Look Ahead
At around the same time that the Diabetes 360° framework was released, the Canadian government announced price on pollution as a strategy to fight climate change. The rationale and national importance of both strategies are virtually identical.
Both issues are dangerous and could be catastrophic if no action is taken. The complications associated with diabetes are piling up. It remains the leading cause of blindness, kidney failure leading to dialysis, amputations, heart attacks, and strokes in Canada.
As if this present danger was not terrifying enough, it is estimated that the type 2 diabetes epidemic will harm the health of future generations even more if it grows at its present rate, affecting younger Canadians because of the rise in childhood obesity.
Both are progressive and silent problems. Similar to the impact of slow climate change, which has led to global warming of 1.5°C above preindustrial levels,[3] diabetes and prediabetes appear insidiously, such that 30% of affected people—a whopping 7 million Canadians—don't even get diagnosed until a few years have gone by.
The Answer: A Nationwide Plan
The proposed climate plan is slated to be revenue-neutral, but the $150 million investment needed to implement the diabetes framework is predicted to result in a savings of $1 billion in healthcare costs in the first year. In addition, the negative impact of diabetes on jobs and businesses alike will be reduced, leading to improved workplace efficiencies, reduced absenteeism, and growth of the economy.
The latest United Nations climate report[3] states that climate change is a health emergency. Similarly, the International Diabetes Federation Atlas 2017 describes a tsunami-like burden of diabetes engulfing the globe, with Canada being the worst affected among the nations in the Organization for Economic Cooperation and Development.
Canada is where insulin was discovered, and it can lead globally once again by developing a cohesive, multilayered diabetes policy.
Follow Medscape on Facebook, Twitter, Instagram, and YouTube
Medscape Diabetes © 2019 WebMD, LLC

Any views expressed above are the author's own and do not necessarily reflect the views of WebMD or Medscape.
Cite this: Diabetes 360°: A Plan to Quell the 'Tsunami' of Diabetes - Medscape - Mar 25, 2019.