DENVER — As the US opioid epidemic rages on, new research shows some states have been hit much harder than others.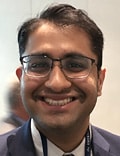 Using a large, government-funded database, investigators found that the nation's capital and the state of Massachusetts had the highest rates of inpatient and emergency department (ED) use for opioid-related causes in 2015, while Iowa had the lowest rates.
Arizona had the greatest increase in inpatient admissions from 2005 to 2015, whereas hospital admissions in Maryland declined.
"We wanted to determine if the opioid crisis was uniform throughout the entire country as a whole, or if there were any state-to-state differences," lead author Sahil Gupta, MD, Mayo Clinic, Jacksonville, Florida, told Medscape Medical News.
"The hope is that by honing in on why some states are more vulnerable than others, experts will be able to find better ways to cope with the crisis," Gupta said.
The findings were presented here at the American Academy of Pain Medicine (AAPM) 2019 Annual Meeting.
Lowest Rates in Iowa
Gupta and his colleagues used the Healthcare Cost and Utilization Project (HCUP), a publicly available, government-funded database.
The investigators looked at two things — the number of patients admitted to the hospital for opioid-related diagnoses, which they described as "inpatient use," and the number of patients admitted to the ED (described as "ED use") for an opioid-related diagnosis.
According to codes from the 10th edition of the International Classification of Diseases (ICD-10), there are about 140 diagnoses in the "opioid-related" category, Gupta said.
"For example, some of them could be 'opioid abuse with intoxication,' 'opioid dependent,' 'poisoning by opioids,' 'adverse effects of opioids,' to name just a few," he added.
After downloading and analyzing the HCUP database, the researchers found that the highest inpatient use was in Washington, DC, with a rate of 438 per 100,000 people being hospitalized in the district for opioid-related issues.
Massachusetts had the highest rate of ED use, at 545 per 100,000.
Iowa had the lowest rates for both inpatient and emergency department use. For inpatient use, the rate was 94.6 per 100,000; for ED use, it was 53.4 per 100,000.
Increasing Admissions
In addition, US inpatient admissions increased by 83% between 2005 and 2015.
The state experiencing the greatest increase during that 10-year period was Arizona, where the rate of inpatient admissions increased by 177%. In contrast, inpatient admissions in Maryland actually decreased by 1.3%.
ED use increased nationally by 134.5%, an increase that was led by Ohio (274%). Utah had the least growth in ED use, showing just a 66% increase.
Finding out the reasons for these differences was beyond the scope of the study — but the discrepancies may depend on many things, such as demographics, Gupta said.
"We have seen that people at low income levels are the ones who are affected the most. It also seemed in our study that females were more affected, and education level also played a part. People who were less educated were affected more than those who are higher educated," he said.
In addition, policies, healthcare education, or other healthcare programs could all be reasons for discrepancy in different states, he noted.
"This is a descriptive study. We are certainly trying to build on these data to find the reasons why one state is doing better than another, and the hope is that we will learn from the successes," Gupta said.
"Complex Problem"
Commenting on the findings by Medscape Medical News, Robert B. Bolash, MD, Cleveland Clinic, Ohio, said "healthcare resources continue to be consumed by the growth in patients with opioid use disorders" or by those who are suffering from the adverse effects of prescribed opioids.

"Dr. Gupta evaluated the heterogeneity in emergency department and inpatient admissions associated with the adverse effects of opioids across the US. While it's difficult to understand the exact reasons behind the regional variability, I would hypothesize that heterogeneous public health endeavors, prescription drug monitoring programs, and geographic variation in education surrounding opioids may contribute to this variability," said Bolash, who was not part of the study.
"Gupta showed that Ohio has the highest rate of emergency department utilization. And at the Ohio locations of Cleveland Clinic, we've observed a 42% increase in the number of hospital encounters with people diagnosed with endocarditis over the previous decade," he noted.
Given the variability that was found, "the authors challenge poor performing states to explore the policies of better performing states with fewer opioid-associated admissions when they create public health policies and employ successful strategies to combat opioid use disorders in their states," Bolash said.
"If opioid use disorders were a simple problem, we'd find one solution and adopt it across the country; but the problem is complex and no single intervention is likely to be successful in arresting or reversing this growing trend."
Gupta has disclosed no relevant financial relationships. Bolash reported financial relationships with Abbott/St. Jude, Jazz Pharmaceuticals, and Medtronic.
American Academy of Pain Medicine (AAPM) 2019 Annual Meeting: Abstract 119. Presented March 08, 2019.
For more Medscape Neurology news, join us on Facebook and Twitter
Medscape Medical News © 2019

Cite this: Fran Lowry. America's Opioid Epidemic: Hardest Hit States Identified - Medscape - Mar 11, 2019.