ATLANTA — Adding the Alzheimer drug memantine (Namenda, Allergan) to treatment with a selective serotonin reuptake inhibitor may improve depressive symptoms, executive function, and other outcomes in older patients with both depression and cognitive complaints, new research suggests.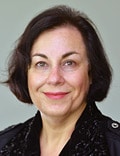 In a randomized controlled study, the combination treatment was superior to escitalopram (Lexapro, Allergan) alone on a number of measures, lead author Helen Lavretsky, MD, professor of psychiatry, University of California, Los Angeles, told Medscape Medical News.
"From day one, adding memantine was helpful for outcomes of depression, anxiety, apathy, and overall improvement, and was also helpful on cognitive outcomes at 12 months," she said.
The findings were presented here at the American Association of Geriatric Psychiatry (AAGP) 2019.
First Test of Memantine in Depression
This is the first study of the use memantine, an agent that targets glutamate neuronal transmission, to treat geriatric patients who are experiencing depression and cognitive impairment, said Lavretsky.
The 12-month study included 95 patients (mean age, 72 years) with depression who were taking escitalopram in daily doses of between 5 and 20 mg (mean dose, about 11 mg).
The participants' mean score on the Hamilton Depression Scale (HAM-D) was 17.8. They did not have dementia but had subjective cognitive complaints, and some met criteria for mild cognitive impairment.
"They knew something was wrong," said Lavretsky. "This was impairing enough to bring them in. They were depressed and had memory complaints."
The researchers randomly assigned these patients to also receive memantine at a mean dose of 19.3 mg (n = 48, 54% women) or matching placebo (n = 47, 53% women).
The memantine and placebo groups were similar with respect to multiple demographic, clinical, and cognitive variables at baseline.
The investigators measured depression using the HAM-D and the Montgomery-Åsberg Depression Rating Scale (MADRS).
They also assessed anxiety, using the Hamilton Anxiety Rating Scale (HAM-A), as well as apathy, executive dysfunction, memory, and other cognitive domains.
Clinically Useful
At 6 months, the researchers found differences on MADRS (P = .02) and HAM-A (P = .05) scores and apathy measures that favored the memantine group over the placebo group.
For MADRS, the memantine group "significantly separated from the placebo group, starting from week 4 of the study," noted Lavretsky. "For the duration of the study, on MADRS, the groups were significantly different in terms of improvement in depression."
Results on the HAM-D rating scale also favored memantine, but the difference from placebo was not statistically significant.
However, Lavretsky noted that the numbers needed to treat for the HAM-D and MADRS were "very similar," at 5.5 and 5.1, respectively.
There were no significant cognitive differences between the two groups at 24 weeks. However, at 48 weeks, there was a significant difference in both delayed recall and executive function favoring the memantine group.
The remission rate was higher in the memantine group compared with the placebo group (almost 70% vs 52%), but this did not reach statistical significance.
The dropout rates were similar in the two groups; only a handful discontinued the study.
Adverse events (AEs) were similar in the two groups. The most common AEs in both groups were sleepiness, concentration difficulties, constipation, and nausea.
These new results provide "totally useful" information for clinicians, said Lavretsky. "Many patient groups may benefit from this combination of memantine and escitalopram."
Well Designed, Well Conducted
Commenting on the findings for Medscape Medical News, AAGP President Rajesh R. Tampi, MD, chief of the Section for Geriatric Psychiatry at the Cleveland Clinic, Ohio, said the study was "well designed and well conducted."
Tampi, who is also professor at the Cleveland Clinic Lerner College of Medicine at Case Western Reserve University, was not involved with the current research.
"The data from this study indicate that the combination of memantine and escitalopram improves symptoms of depression somewhat better than in the escitalopram group alone and is as well tolerated as the escitalopram group alone," he said.
Tampi added that there were additional benefits on cognition at 48 weeks for the group that received combination therapy compared with the group that received escitalopram alone.
"The bottom line is that the combination of escitalopram and memantine may provide additional symptomatic and cognitive benefits to older adults with depression when compared to escitalopram alone," he said.
The study was funded by the National Institute of Mental Health. The researchers also received grants from the National Center for Complementary and Integrative Health, NIMS, Forrest/Allergan, the Prostate Cancer Research Instgitute, and the Alzheimer's Research and Prevention Foundation.
American Association for Geriatric Psychiatry (AAGP) 2019: Session 03. Presented March 4, 2019.
For more Medscape Psychiatry news, join us on Facebook and Twitter
Medscape Medical News © 2019

Cite this: Alzheimer Drug Plus SSRI May Cut Depression, Improve Cognition - Medscape - Mar 06, 2019.