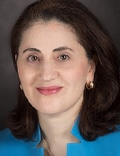 Liquid biopsies — where information on mutations is obtained from a blood draw — have been proposed as an alternative to tissue genotyping for some time, but now it looks as if they have finally arrived, at least for the management of lung cancer.
New results presented for the Guardant360 test (Guardant Health) from a trial in patients with newly diagnosed nonsmall cell lung cancer (NSCLC) show that more mutations were found using liquid biopsy, which also had a shorter turnaround time, than standard-of-care tissue genotyping.
"The results of this study have very exciting implications for clinical practice, especially in light of the expanding list of genomic biomarkers to be assessed," commented lead investigator Vassiliki Papadimitrakopoulou, MD, professor of medicine at the University of Texas MD Anderson Cancer Center, Houston.
She suggested that the Guardant360 test should now be part of the standard of care for newly diagnosed NSCLC.
The quick turnaround time is meaningful to patients and clinicians, she commented. "In my recent clinical experience, I can do an initial consult with a patient on a Monday and have them back in the office the following Monday to start treatment," she said in a statement. In contrast, results from tissue genotyping can take 2 to 3 weeks.
Papadimitrakopoulou was speaking at a media preview of the 2019 Annual Meeting of the American Association for Cancer Research (AACR), to be held March 29 to April 3 in Atlanta, Georgia.
She shared data from the Noninvasive Versus Invasive Lung Evaluation (NILE) study that will be presented at the meeting.
The results show "the power of the new approach," commented press briefing moderator John D. Carpten, PhD, director of the Institute of Translational Genomics at the Keck School of Medicine, University of Southern California. He is also program chair for the AACR annual meeting.
These results are exciting because they indicate that noninvasive approaches are feasible and meet standards that are minimally at the level of, if not superior to, more invasive approaches such as genotyping from actual tissue specimens, which would require a biopsy or surgical resection, he explained.
Study Details
The prospective NILE study enrolled 282 patients with untreated nonsquamous NSCLC undergoing standard-of-care tissue genotyping who also submitted a pretreatment blood sample for cell-free DNA (cfDNA) analysis. Patients were enrolled at 28 North American centers.
All 282 patient samples underwent physician's choice of standard-of-care tissue genotyping and cfDNA analysis using Guardant360.
Guardant360 is a CLIA-certified comprehensive 73-gene next generation sequence (NGS) panel that includes seven guideline-recommended predictive biomarkers (EGFR, ALK, ROS1, BRAF, RET, MET, ERBB2) — dubbed G7 biomarkers — and one prognostic marker (KRAS).
Papadimitrakopoulou reported that a G7 biomarker was identified in a significantly higher proportion of liquid biopsies (27.3% vs 21.3% for tissue genotyping; P < .0001).
This lower frequency in tissue detection was not because the tissues sampled had fewer mutations, but because there was not enough tissue for sequential sequencing, she said.
Data provided in the abstract show that liquid biopsy improved G7 detection frequency by 48%, from 60 to 89 patients, which included samples negative by tissue (7), not tested (16), or did not have enough sample for a tissue-based test (6).
Of 193 patients without a G7 biomarker by tissue or cfDNA, 24 patients (12.4%) had an activating KRAS mutation identified in the tissue alone; with cfDNA, KRAS-positivity increased from 24 to 92 patients.
Papadimitrakopoulou also noted that results from the liquid biopsy test for the four biomarkers with approved drugs for treatment (EGFR, ALK, ROS1, and BRAF) were concordant with tissue-based results for a 100% positive predictive value.
Approached for comment, lung cancer expert Alice T. Shaw, MD, PhD, of Massachusetts General Hospital, Boston, said: "These data extend previous work examining the utility of cfDNA profiling in patients with advanced NSCLC." She noted that several other companies are also developing liquid biopsy tests.
These new data are very consistent with a recent publication showing the potential utility of integrating plasma genotyping, including the Guardant360 assay, and standard tissue testing in the diagnostic workup of advanced NSCLC. In that study, researchers showed that a target was detected in tissue in 21% of patients, but when plasma testing was incorporated, that percentage increased to 36% (JAMA Oncol. 2019;5:173-180).
She also drew attention to another similar but smaller recent study from Luis Paz-Ares' group in Spain. This study also used Guardant360 and showed that plasma genotyping could identify actionable alterations in advanced NSCLC cases with insufficient tissue for standard genotyping (Ann Oncol. 2019;30:290-296).
Shorter Turnaround Time
Results from the NILE study also show that the turnaround time (TAT, defined as time from test order to final results) was significantly shorter for the liquid biopsy (median 9 vs 15 days for tissue-based testing; P < .0001).
In an AACR press release, Papadimitrakopoulou stressed the importance of getting patients on treatment as soon as possible and suggested that the Guardant360 should become part of the standard of care for patients with newly diagnosed NSCLC.
The large number of mutations that now need to be tested in patients with NSCLC put a strain on tissue testing, and there may be a limited amount of tissue obtained from a lung tissue biopsy.
How the tissue genotyping is performed depends on the ordering physician, the institution, and the target itself, Shaw told Medscape Medical News. Most institutions are now shifting towards using NGS as the standard multiplex assay for molecular profiling of tissue, she said.
Turnaround time with tissue NGS is 2 to 3 weeks — significantly longer than with the Guardant360 test, she pointed out. "This is a significant advantage of Guardant360 (assuming a target is identified)," she added, and indicated that she and her colleagues already use the test in clinical practice.
Shaw shared a typical case that unfolded just last week. In Shaw's own words: "An older frail woman was newly diagnosed with metastatic NSCLC at an outside hospital. The outside hospital performed the biopsy to establish the diagnosis and then sent the tissue to a commercial entity for multiplex testing (PD-L1, ALK, and ROS1 FISH, and NGS for mutations). The patient was very tenuous, so they transferred her to us.
"After 1 week, we learned that they could only perform PD-L1 testing (which was 0%) and there was insufficient tissue for FISH studies. After 2 weeks, we learned they couldn't even do the NGS testing. Fortunately, once I had heard there was insufficient tissue for FISH, I sent a blood sample for Guardant360.
"Guardant360 returned after 8 days and showed an activating EGFR mutation, so I was able to start her on an EGFR inhibitor in the hospital. She couldn't have tolerated another biopsy and she needed to start therapy as soon as possible.
"I think that all of these studies together strongly support the clinical utility of plasma genotyping, particularly in cases with insufficient tissue and also in cases where there is an urgent need to start therapy," Shaw told Medscape Medical News.
Caveat: Negative Test Needs Tissue Testing
A caveat to this endorsement is that Guardant360 does not do as well as a negative predictor. "Although Guardant360 has a very high positive predictive value (ie, a positive test is very reliable), its negative predictive value is not as high," Shaw said. "A negative test still requires confirmatory testing of tissue," she added.
Shaw explained that the low predictive value of Guardant360 is particularly true for detecting chromosomal rearrangements. For example, Shaw and her colleagues recently reported on a plasma analysis of patients with advanced ROS1-rearranged NSCLC. They showed that sensitivity for detecting the ROS1 rearrangement at relapse on crizotinib (Xalkori, Pfizer) was only 50% (J Thorac Oncol. Published online January 18, 2019).
"Guardant360 missed 50% of ROS1 rearrangements," Shaw said. "So if a patient has only plasma genotyping done and it is negative, that patient still requires tissue genotyping," she added.
The study was funded by Guardant Health. Papadimitrakopoulou serves on the advisory boards of Nektar Therapeutics, AstraZeneca, Arrys Therapeutics, Merck, LOXO Oncology, Araxes Pharma, F. Hoffmann-La Roche, Janssen Research Foundation, Bristol-Myers Squibb, Clovis Oncology, Eli Lilly, Novartis, Takeda, AbbVie, TRM Oncology, Tesaro, Exelixis, Nektar, Gritstone, and Arrys. She has received CME speaker fees from F. Hoffmann-La Roche and research support from Eli Lilly, Novartis, Merck, AstraZeneca, F. Hoffmann-La Roche, Nektar Therapeutics, Janssen, Bristol-Myers Squibb, Checkmate, and Incyte. Shaw receives honoraria from Pfizer, Roche, Genentech, Novartis, Guardant, and Foundation Medicine; serves in a consulting or advisory role for Pfizer, Roche, Genentech, Chugai, Novartis, Ariad/Takeda, Ignyta, Daiichi Sankyo, Taiho Pharmaceutical, EMD Serono, Loxo Oncology, Blueprint Medicines, KSQ Therapeutics, Natera, TP Therapeutics, and Bayer; and receives research funding from Pfizer, Roche, Genentech, Novartis, Ignyta, Ariad, and TP Therapeutics.
AACR annual meeting. To be presented April 2, 2019. Abstract 4460
For more from Medscape Oncology, follow us on Twitter
Medscape Medical News © 2019 WebMD, LLC

Send comments and news tips to news@medscape.net.
Cite this: It's Time to Use Liquid Biopsies for Newly Diagnosed NSCLC - Medscape - Mar 01, 2019.