Case Presentation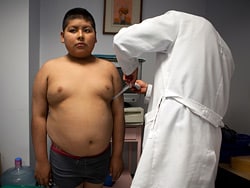 A 14-year-old boy who is obese (body mass index, 27.5 kg/m2) presents with severe hepatic steatosis, as shown on ultrasound imaging.

Relevant laboratory values are as follows:
Hypertransaminasemia alanine transaminase, 188 U/L

Aspartate aminotransferase, 85 U/L

Homeostasis model assessment of insulin resistance, 5.4

Triglycerides, 210 mg/dL (>95th percentile)

Low-density lipoprotein, 110 mg/dL (>95th percentile)

High-density lipoprotein, 28 mg/dL (<5th percentile)
These results indicate that this boy also has hyperinsulinemia and dyslipidemia.
On the basis of these results, and after excluding all other causes of fatty liver, a liver biopsy was performed; this is in accordance with guidelines issued by the European Society for Paediatric Gastroenterology, Hepatology, and Nutrition.[1]
The child was diagnosed with nonalcoholic steatohepatitis (NASH), as determined by a nonalcoholic fatty liver disease (NAFLD) Activity Score (NAS) of 7. Other notable findings included:
Steatosis, 3

Lobular inflammation, 2

Portal inflammation, 2

Ballooning, 2

Fibrosis, 1
Medscape Pediatrics © 2019 WebMD, LLC

Any views expressed above are the author's own and do not necessarily reflect the views of WebMD or Medscape.
Cite this: Antioxidants Hydroxytyrosol and Vitamin E for Pediatric NAFLD - Medscape - Feb 20, 2019.