HONOLULU — Patients with a large-core stroke can achieve functional independence after endovascular thrombectomy, but the likelihood of this progressively lessens with increased infarct volume and as more time elapses before treatment, a new study shows.
"There is hope for patients with large strokes," Amrou Sarraj, MD, associate professor of neurology at the University of Texas McGovern Medical School in Houston, told Medscape Medical News.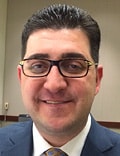 "We are showing that good outcome rates can be achieved in a reasonable number of patients with large-core strokes," said Sarraj, although that number is less than with smaller strokes.
The new results, presented here at the International Stroke Conference (ISC) 2019, are helping to plan and design future clinical trials, said Sarraj.
The safety and efficacy of endovascular thrombectomy have been established in multiple clinical trials, but these generally excluded patients with significant ischemic changes on computed tomography (CT) or CT perfusion, the researchers note.
Such changes are referred to as large-core strokes, typically defined as an ASPECT (Alberta Stroke Program Early CT) score of less than 6 and CT perfusion of > 50 cc.
Researchers used data from SELECT (Optimizing Patient's Selection for Endovascular Treatment in Acute Ischemic Stroke), a prospective, multicenter cohort study that looked at imaging selection prior to thrombectomy, and TREVO, a post-marketing registry for the Trevo Retriever.
All patients in SELECT received CT and CT perfusion, while not all patients in the TREVO registry received perfusion, a decision made at the discretion of the treating physician.
Functional Independence
The primary outcome in this new analysis was functional independence, defined as a modified Rankin Scale (mRS) score of 0 to 2 at 90 days. Safety outcomes included symptomatic intracerebral hemorrhage, neurologic worsening (defined as a decline of 4 or more on the National Institutes of Health Stroke Scale [NIHSS]), and mortality at 90 days.
The analysis was first carried out using SELECT data. The researchers then combined that with TREVO data to validate results.
The study included 187 patients with an ASPECT score of 0 to 5. Researchers separated these patients according to ischemic core volume on CT perfusion into small core (less than 50 cc), large core (50-100 cc) and very large core (over 100 cc). About 64% fell into the small core category, 27% into the large core group, and 9% into the very large core class.
Baseline characteristics of the SELECT and TREVO groups were very similar, including age (64 years), number with hypertension and diabetes, and NIHSS score, said Sarraj. The main difference was the proportion of patients who received intravenous thrombolytics (47% for TREVO vs 70% for SELECT; P = .02).
The analysis showed that with SELECT, 48% of those with small core had a good outcome compared with 20% for large core and 0% for very large core (P for trend = .031)
As for safety, the morality rate was 4% with small core, 30% for large core, and 50% for very large core strokes (P for trend= .009)
Results for symptomatic hemorrhage and neurologic worsening were also statistically significant for the trend.
When researchers combined data from SELECT and TREVO, 45%, 29% and 11% had a good outcome for small-core, large-core, and very large-core groups respectively (P for trend = .018).
The trend was also statistically significant for symptomatic hemorrhage, neurologic worsening, and mortality.
Sarraj presented statistical models with interactions between time/volume and outcome following thrombectomy for small-core, large-core, and very large-core stroke, data that confirmed the importance of both the size of the core and time to treatment.
Those who were treated earlier and had a smaller volume had the highest likelihood of a good outcome, but this decreased as volume increased and as time progressed.
There was a reduction in positive outcome of 5% per hour of delay in patients with a large-core stroke. Volume was even more significant, with a 27% reduction per 10 cc of volume, said Sarraj.
"It just makes sense that the larger the stroke, the worse the patients will do, and the later you treat the patients, the worse they will do, especially if the stroke is large," said Sarraj.
"In early trials, patients came late but they came with a small core; in this population, they were coming with a large core, and if it was late, their outcome was even worse."
Again, when SELECT was combined with TREVO, as time progressed and volumes increased, the likelihood of a good outcome was significantly reduced.
The analysis, Sarraj notes, did have a limitation: there were no medical management controls.
"We don't know how these patients would do with medical management only; they may still benefit," said Sarraj. "That's why we need randomized clinical trials in this population."
Results of this new analysis helped in the design of SELECT 2, a randomized clinical trial that will compare thrombectomy with medical management in patients with large-core stroke.
In light of the new results presented at ISC 2019, the SELECT 2 trial will have a volume cutoff of 100 cc. "We don't think that patients beyond 100 cc are the best candidates," said Sarraj.
SELECT 2 will take place at 20 sites in the US, Canada, Europe, and Asia. It will include patients with no disability at baseline, a stroke scale of more than 6, and if treated with thrombectomy, the patients must receive it within 24 hours from their stroke onset/last time known well.
Important Information
Commenting for Medscape Medical News, Ralph Sacco, MD, president of the American Academy of Neurology and chair of neurology at the University of Miami Miller School of Medicine in Florida, said the study "adds important observational information to help support more trials" that focus on large-core strokes.
"We need to do everything we can in patients with large-core infarcts to try to improve their outcomes," said Sacco. "This is still an uncharted area."
That 11% of patients with large-core strokes could still have a favorable outcome is "quite good," although the number of cases was small, said Sacco.
"I think it's promising that even patients with large-core infarcts can have a good outcome when we do endovascular mechanical thrombectomy," he said.
He noted that the intracerebral hemorrhage rate went up in patients with large-core strokes, as did neurologic worsening, and that the mortality rate in the combined analysis was about one third in those with the very large-core strokes.
"But these are cases where, if we did nothing, they would likely have a very poor outcome," said Sacco.
He agreed that information on the importance of time and volume provided by this new research will be important when selecting patients for thrombectomy.
Sarraj reports grant support from Stryker Neurovascular (SELECT & SELECT 2); serving on the Scientific Advisory board and serving as a consultant and speaker for Stryker Neurovascular ; being the UT-Memorial Hermann center principal investigator for the TREVO registry , the UT-Memorial Hermann center principal investigator for the DEFUSE 3 trial ; and serving on the ASSIST registry steering committee . Sacco has disclosed no relevant financial relationships.
International Stroke Conference (ISC) 2019. Abstract LB8.
Presented February 7, 2019.
For more Medscape Neurology news, join us on Facebook and Twitter .
Medscape Medical News © 2019

Cite this: Good Outcome Possible in Large-Core Stroke With Thrombectomy - Medscape - Feb 12, 2019.