Balancing Medicine and Marriage
Medical marriages have a lot of challenges. Experts, physicians, and their spouses all agree that medicine makes a lot of demands on doctors and by extension, their spouses.
Without conscious attention, medicine's long hours, stress, relocations, and training for decisiveness rather than negotiation can work to undermine a marriage.
"Medicine crowds everything out," says Dike Drummond, MD, a physician coach and CEO of TheHappyMD.com. "[After giving] empathy and compassion all day in your practice, you can come home and feel pretty tapped out. Doctors have to be very conscious about putting their intimate relationships in their priority structure rather than letting their role as 'doctor' wash everything out by default. If you don't have an 'off' switch, it's really hard to come home and put your spouse first."
A 2015 study of US physicians published in the British Medical Journal found that, despite the long and unpredictable hours, job demands, and potential conflicting personal and professional obligations, divorce is no more common among US physicians than in other healthcare professions and non-healthcare professions.[1] In fact, the prevalence of divorce among physicians (24.8%) was similar to that among pharmacists (22.9%) and dentists (25.5%) and substantially lower than that of nurses (33%), healthcare executives (30.9%), lawyers (26.9%), and other non-healthcare professionals (35%).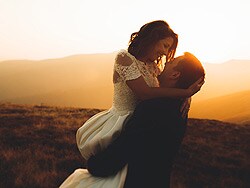 Divorce among physicians is less common than among non-healthcare workers and several health professions, according to the BMJ study. Female physicians have a substantially higher prevalence of divorce than male physicians, which may be partly attributable to a differential effect of hours worked on divorce.
What's more, 8 out of 10 physicians told Medscape they are "very happy" or "happy" in their marriage.[2] Medscape's Physician Lifestyle & Happiness Report 2019 shows little gender divide in this area: Male physicians were generally similar to female physicians in describing their marriage as "very good" (53% vs 50%), whereas female doctors were somewhat more likely than their male counterparts to call their marriage "good" or "fair" (46% vs 42%).
Medicine and Marriage: A Demanding Union
That doesn't mean that married life is sunshine and roses for physicians.
The demands medicine can impose on a relationship aren't felt exclusively by the physician partner. Lara McElderry, the wife of a trauma surgeon and mother of five, is so familiar with the challenges she launched MarriedtoDoctors.com, a weekly podcast on the subject. Within 13 months, the podcast had more than 100,000 downloads.
"It's funny," McElderry says of the community of listeners that subscribe to her podcast. "We all have such diverse backgrounds—different races, different religions, men, women, different countries—but we have these common and shared experiences that come with being married to a doctor."
Although the particulars of their situations may differ, she says her listeners know what it's like to feel socially isolated after relocating for their spouse's training or job, particularly if the move has disrupted their own career. They know the strain medical school debts can place on the family budget, the challenge of trying to plan around their spouse's schedule, and the burden of sometimes managing the lion's share of the work at home.
"It's easy to find yourself feeling very resentful," she says, "but I think the number one challenge is the loneliness. You may be in a new town or your spouse is working crazy hours, or they're around but they're sometimes distracted thinking about the next procedure or charting or the last patient they saw. You're disconnected."
Medscape Business of Medicine © 2019 WebMD, LLC

Any views expressed above are the author's own and do not necessarily reflect the views of WebMD or Medscape.
Cite this: Shelly Reese. Docs Reveal the Keys to a Happy Medical Marriage - Medscape - Feb 26, 2019.