As Democratic Virginia Gov. Ralph Northam weighed his political future after a racist photo on his 1984 medical school yearbook page surfaced last week, Eastern Virginia Medical School (EVMS) officials held a press conference in Norfolk Tuesday to address the school's investigation surrounding that photo and others that have since been brought to light.
Northam, a pediatric neurologist, came to politics late in life and is 1 year into his 4-year term.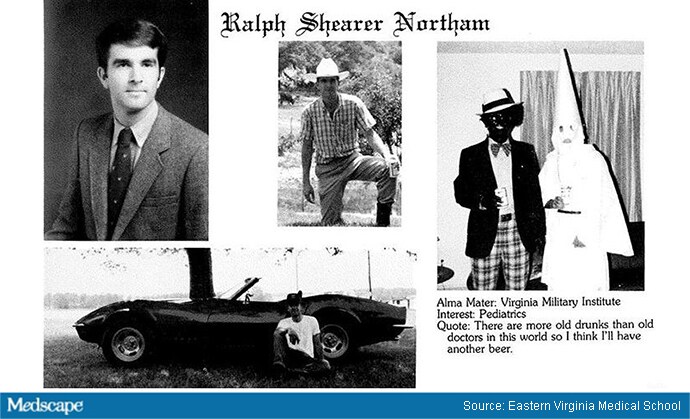 The photo on Northam's page pictured someone in blackface next to a person in a Ku Klux Klan hood and robe. After first apologizing for being one of the people in the photo, he said on Saturday that he was not either of the people in the photo, but admitted to once wearing blackface in a dance contest in his 20s to imitate Michael Jackson.
CNN and other news outlets have reported that that yearbook and others at EVMS contained some other racist or otherwise offensive photos.
Calls for Northam, 59, to resign have intensified. But questions have also arisen about how the photos came to be published in the first place.
Students Should Not Be Blamed
Richard Homan, MD, president and provost of EVMS, told reporters at the press conference that he had not had any conversations with the governor about the photos and did not know who was pictured in the photo on Northam's page. He said the medical school takes full responsibility for the publication of the yearbooks.
He apologized on behalf of the medical school for past EVMS yearbooks that have contained "shockingly abhorrent pictures that are antithetical to the values and principles of our professions.
"Some are shockingly racist, some are repugnant and others are unprofessional and inappropriate," he said.
But he said the buck stops with medical school leaders.
"This was the ultimate responsibility of our institution — EVMS — and not of the students," he said. Oversight, he said he has been told, was a blended mix of student and faculty and differed each year of the yearbook.
"It was bootstrapped from limited resources with faculty and students that were very closely knit," Homan said.
What's Next
Homan said EVMS has established a community advisory board to perform an independent assessment of the culture and operations of EVMS.
Gilbert Bland, the immediate past chair of the State Council of Higher Education for Virginia and president and chief executive officer of Urban League of Hampton Roads, Inc, will chair the board.
Among other board members is L.D. Britt, MD, MPH, chair of surgery at EVMS and former past president of the American College of Surgeons.
Richard Cullen, a former Virginia attorney general and US attorney in Virginia, from the law firm of McGuireWoods, also has been hired to conduct a detailed, third-party investigation.
The law firm and the advisory board will work together and a single report will be issued to the board and made available to the public, Homan said.
He added that there will be no more yearbooks since the last one published in 2013.
Diversity Efforts in Recent Years
Mekbib Gemeda, EVMS vice president for diversity and inclusion, described the ongoing diversity efforts at the medical school.
"I believe we have made significant efforts in the past 6 years at this institution to advance diversity and inclusion," he told reporters.
Among the efforts has been adoption of holistic review in the admissions process, training the admissions committee to look at all the qualities applicants bring to the institution beyond academic metrics.
"We doubled the number of minority students in our MD program in the past 2 years, reaching 20% of the last two classes," he added.
The school is also increasing pipeline efforts at high schools to attract particularly more African American students into medical professions, he said.
Everyone at the university from staff to leadership to faculty to trainees has been required to take implicit-bias training.
"Our board of visitors may be one of the few boards in the nation at medical schools that has undergone implicit-bias training," he said.
Asked by a reporter how many offensive, inappropriate, or racist photos had appeared in the EVMS yearbooks, Homan said he could not give a number, but he could say that "One is sufficient for me to be alarmed."
"I'm only in this chair as president and dean for a short time but I carry the torch of Hippocrates, of medical ethics, of compassion, of empathy, of integrity of our profession," Homan said. "And so when that is threatened, I have to take action as a physician, as every physician would do."
Homan and Gemeda are EVMS employees.
Medscape Medical News © 2019

Cite this: Gov. Northam's Medical School Addresses Racist Yearbook Photos - Medscape - Feb 05, 2019.