Cellulitis Mimics and Antibiotic Overuse
Overprescribing antibiotics for clinical syndromes perceived to have a bacterial cause is frequently encountered in daily clinical practice. The Centers for Disease Control and Prevention estimates that up to 50% and 75% of antibiotic prescriptions in hospitals and nursing facilities, respectively, are unnecessary.[1,2]
One third of patients admitted to the hospital for cellulitis are misdiagnosed with this condition, contributing not only to a significant amount of patient harm, but also to unnecessary healthcare spending.[3,4,5,6] Cellulitis typically presents as extremity erythema, usually involving the leg. A lack of reliable microbiologic and laboratory gold standards combined with bedside diagnostic uncertainty represent the major challenges in distinguishing cellulitis from noninfectious causes of extremity erythema (pseudocellulitis).[7] The latter include chronic venous stasis, lymphedema and lipodermatosclerosis.
For hospitalized patients, the decision to initiate antimicrobial therapy is usually made in the emergency department (ED). Determining what really led to the patient's subsequent improvement in the next couple of days (was it antibiotics, elevation, or both?), and hence the fate of the antibiotic prescription are perhaps the greatest challenge for clinicians uninvolved at the initial presentation.[8]
The following are some actual cases of cellulitis or "cellulitis mimics" that I've seen over the past 2 months. Establishing the correct diagnosis when confronted with these common clinical scenarios ensures that the correct treatment is prescribed (eg, wound care and/or dermatologic consultation) and that harms from unnecessary antibiotic use are minimized.
Case 1: Asymmetric Swelling and Tenderness
A 78-year-old woman presented to the ED with cellulitis unresponsive to oral antibiotic therapy. She had a 2-week history of progressive lower-extremity redness and swelling. Cephalexin was started by her primary care physician a week earlier. She denied fevers or significant extremity pain. Her medical history included hypertension, congestive heart failure, and type 2 diabetes mellitus.
On exam, she was afebrile, with bilateral moderately tender leg swelling and erythema, more significant on the left leg. Her white blood cell count was 9700/µL. She was started on vancomycin and ceftriaxone by the ED physician. On the next hospital day, she remained afebrile and her left leg was noted to be mildly tender and warm, with pitting edema. Some improvement was noted in the appearance of her legs (Figure 1.)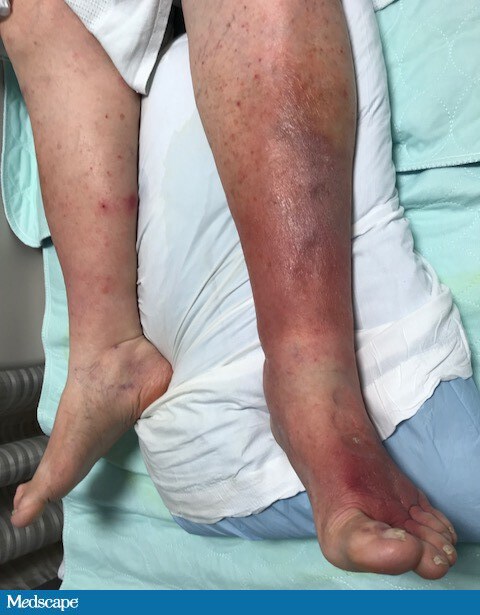 Medscape Infectious Diseases © 2019 WebMD, LLC

Any views expressed above are the author's own and do not necessarily reflect the views of WebMD or Medscape.
Cite this: Cellulitis or Cellulitis Mimic? How to Tell the Difference - Medscape - Jan 25, 2019.