Rheumatologists have several choices when it comes to monitoring disease activity in their patients with rheumatoid arthritis (RA). Medscape spoke with Susan M. Goodman, MD, a rheumatologist at the Hospital for Special Surgery in New York City, about her preferred RA measurement tools, the advantages of treat-to-target, and the need to inform patients of the associated risk for cardiovascular disease.
Picking the Right Tool for Measuring Disease Activity
Medscape: What should rheumatologists be considering when it comes to choosing an RA activity measure?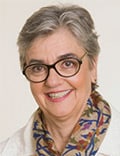 Susan M. Goodman, MD: The American College of Rheumatology recommends five different measures.[1] Several of them are rarely used. Two of them are very easy, including the RAPID3 (routine assessment of patient index data 3), which is a patient-reported measure. The RAPID3 is very user-friendly because patients typically fill it out in the waiting room and you have it when they come in. The objection to it is that it doesn't include objective measures like joint counts.
The other commonly used measure is the Clinical Disease Activity Index (CDAI), which also doesn't include joint counts. Like the RAPID3, it is very easy to use during the patient visit because it doesn't require lab measures. You can use the results, compare them with prior results, and then make the therapeutic decision.
I think the key is to simply find something that works for you and incorporate it into your practice on a regular basis so that you have a good track record of where your patients are in terms of changes in disease activity.
Medscape: This is especially important for treat-to-target, right?
Goodman: Exactly. All of this is predicated on the demonstrated outcomes achieved with a rigorous targeted approach. What that's demonstrated time and time again is that outcomes are much better for patients with less joint damage and fewer complications.
Medscape: Is there one measure that is better at achieving treat-to-target, or does the fact that all five are recommended mean that they are all good enough?
Goodman: They're all good. What's important is that you have a measure that you use consistently.
Medscape: Which one do you use?
Goodman: I usually use the RAPID3 or the CDAI. I go back and forth between those and frequently do both. They're on the same part of my medical record.
Medscape: Do you have to stick with the same one with the same patient, or can you alternate?
Goodman: It's usually better to stick with the same one. What you really want to demonstrate is that you made a difference in the patient's activity, so it is better to be consistent with any given patient.
Keeping Watch for Cardiovascular Disease
Medscape: What do we know about the risk for cardiovascular disease in patients with RA?
Goodman: The risk is substantial, and it's driven by sustained inflammation. One of the early things we learned, however, was that patients with RA who are treated to target and treated aggressively tend to have normalized inflammatory markers. Therefore, one of the surprising benefits of treat-to-target was that, if you looked in large datasets, you could see a normalization of cardiac risk.
Medscape: Is there anything that rheumatologists should consider when managing cardiovascular risk in patients with RA?
Goodman: The most important thing is that many times, their primary care physician will cede the management of all of their associated problems to the rheumatologists. I think it's important that it not slip through the cracks, whether it means just checking a lipid periodically or a hemoglobin A1c as a diabetes screen. Either way, it should be clear with patients if they are seeing two doctors, which many do, where each of these screens will take place.
Medscape: Do you tell patients they're at increased cardiovascular risk?
Goodman: Yes, I do, because I think it's important for them to know all the goals of therapy. Patients need to understand, as we do, that RA really is a systemic disease.
© 2019 WebMD, LLC

Cite this: What's the Right RA Disease Activity Measure for You? - Medscape - Feb 05, 2019.