Lara Kollab, 27, who had been an internal medicine resident at the Cleveland Clinic in Ohio, was fired after anti-Semitic comments posted on her social media accounts were discovered.
The comments span from 2011-2017, according to the Times of Israel, and included a January 2, 2012 tweet in which she said she would "purposely give all the yahood (sic) the wrong meds." Yahud is the Arabic word for Jews.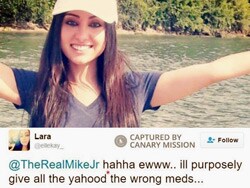 Medscape Medical News was not able to independently verify the tweets, as her Twitter account and other social media accounts are no longer available. Attempts to reach Kollab were unsuccessful.
In other tweets, Kollab, who was a first-year resident when she was fired, allegedly called Jewish people "dogs," the Times of Israel reported.
In October 2012, she wrote that the "Holocaust was 'exaggerated and the victimization of the jews (ignoring the others killed) is overdone,' and that she was having 'a REALLY hard time feeling bad about Holocaust seeing as the ppl who were in it now kill my ppl,' " the Times of Israel reported.
The Times report added that in December 2012, Kollab responded to a tweet that said "Peace won't come by killing every Zionist. There has to be diplomacy" by writing: "After repeated failed diplomacy, our aim is to defeat the Zionist state through force."
Tweets were reportedly discovered and published by Canary Mission, a group that claims to expose comments that "promote hatred of the USA, Israel, and Jews on North American college campuses."
On Leave Since September
The Cleveland Clinic said in a statement, "This individual was employed as a supervised, first-year resident at our hospital from July to September 2018. When we learned of the social media post, we took immediate action, conducted an internal review and placed her on administrative leave. Her departure was related to those posts and she has not worked at Cleveland Clinic since September.
"For first-year residents, multiple safeguards and direct supervision are required for patient care and prescribing medicine. In addition, there have been no reports of any patient harm related to her work during the time she was here. In no way do these beliefs reflect those of our organization."
Comments Crossed a Line
Art Caplan, PhD, director of the Division of Medical Ethics at New York University's Langone Medical Center in New York City, told Medscape Medical News that the firing is justified because the comments crossed a line.
"I think you can have hate views, political views, radical views, strange views. There's nothing that would prohibit that on the part of a doctor or lawyer or, for that matter, even a professor," Caplan said. "But for a doctor there's a line you can't cross and that is to threaten to harm your patients — by giving them inadequate medicine or inappropriate medicine. And she did that."
The comments broke two core tenets, he said: Do no harm and put patients' interests before your own.
"That, to me, is grounds not just for firing her, but when you threaten a patient or a group of your patients, then I think your license should be called into question," he said.
Caplan added that Ohio's medical board should assess the threats and review her records and her practice and also assess whether there was evidence of mental illness, he said.
The Cleveland Plain Dealer reports that Kollab cannot use her medical training certificate, issued last July, unless she is working for the Cleveland Clinic.
Kollab graduated from medical school at Touro College, a private college of osteopathic medicine in New York City, which also denounced her comments on Twitter.
"Touro College is appalled by the anti-Semitic comments reportedly made by Lara Kollab, a graduate of the Touro College of Osteopathic Medicine," the school posted. "The mission of Touro College is to educate, perpetuate and enrich the historic Jewish tradition of tolerance and dignity."
Medscape Medical News © 2019

Cite this: Cleveland Clinic Resident Fired After Anti-Semitic Tweets - Medscape - Jan 04, 2019.