A new radioactive tracer molecule that binds to the Alzheimer's protein tau has been developed that may help in diagnosis and monitoring of the disease, as well as in the development of new drugs for the condition.
The compound, known as 18F-RO-948, being developed by Roche, is the subject of two articles published in the December issue of the Journal of Nuclear Medicine.
"This is a second generation radiopharmaceutical that binds to the tau protein found in Alzheimer's patients," lead author of one of the articles, Dean Wong, MD, PhD, Johns Hopkins University School of Medicine, Baltimore, Maryland, commented to Medscape Medical News.
"Tau accumulation seems to correlate better with cognitive impairment than amyloid, and it is therefore thought to be a better predictor of cognitive decline," he said.
Wong explained that a first generation tau radiotracer has been available for some time but that compound has high off-target binding; that is, it also binds to other areas of the brain not associated with Alzheimer's.
"This new compound is much more specific for tau, and so will allow much more specific imaging of the extent of the disease," he said.
The Roche compound joins another second generation tau radiotracer developed by Merck. Wong described the two compounds as complementary to each other "with different strengths and weaknesses."
"The development of his compound will help in understanding the pathophysiology of Alzheimer's progression and help identify different subtypes of the disease. It will also help in the development of new anti-tau drugs by monitoring if they are reaching their target and assessing their effectiveness," he said.
"These compounds could also help the earlier diagnosis of Alzheimer's," he added. "In future, they could form the basis of a screening test in high risk individuals."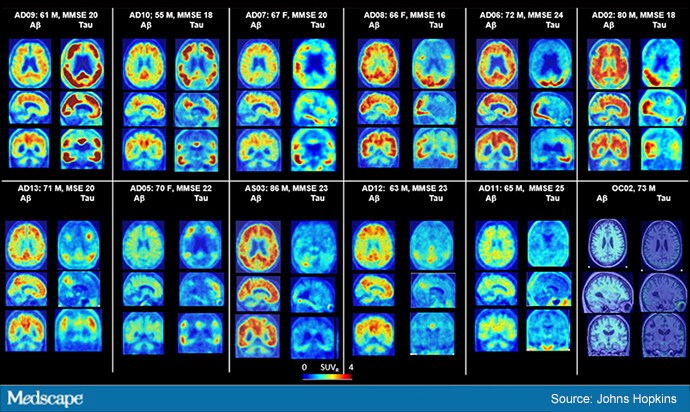 In the first article, the researchers led by Wong recruited 12 patients with Alzheimer's disease, seven younger healthy controls, and five older healthy controls for brain PET scans. An additional six older healthy controls were recruited for full-body scanning.
The study was divided into three parts. In the first part, three designated tau tracers were tested, 11C-RO-963, 11C-RO-643, and 18F-RO-948, and 18F-RO-948 showed the best results.
In the second part of the study, researchers tested 18F-RO-948 with additional brain imaging in five patients with Alzheimer's and five older controls, with follow-up of previously seen patients to evaluate the potential progression of tau protein tangling after an average span of approximately 16 months.
The third part of the study examined six older control patients who underwent whole-body scanning. Researchers looked at 80 different regions of the brain to evaluate how well the tracers were taken up by the brain, how well they penetrated the tissue, and how specifically they bound to the tau protein.
They found that healthy brains retained little to no tracer, whereas the brains of those with Alzheimer's showed tau to be in regions of the brain consistent with previously reported postmortem data on filamentous tangles.
"18F-RO-948 is a promising radiotracer for imaging tau pathology in Alzheimer's disease," the investigators write. "The tracer shows good brain uptake, has no apparent brain-penetrant radiolabeled metabolites, has a good kinetic profile, shows little or no retention in cognitively normal controls and a distribution in Alzheimer's subjects consistent with published postmortem data.
"It is our hope that tools such as 18F-RO-948 will allow us to gain a better understanding of the pathophysiology of Alzheimer's and, in the context of drug development, select patients for clinical trials, confirm the mechanism of action of drugs targeting pathologic tau, and monitor the effects of disease-modifying therapies regardless of whether they target tau directly," they conclude.
In the second article, the team examined the detailed quantification of 18F-RO-948 tau binding in 11 patients with Alzheimer's disease, five young cognitively normal controls, and five older cognitively normal controls, and verified that the compound showed reproducible results.
The study was funded by F. Hoffmann-La Roche. Wong has reported no relevant financial relationships.
J Nucl Med. 2018;59:1869-1876, 1877-1884.
Medscape Medical News © 2018 WebMD, LLC

Send comments and news tips to news@medscape.net.
Cite this: Tau Tracer May Aid Diagnosis in Alzheimer's - Medscape - Dec 27, 2018.