Clinical Presentation
A 74-year-old man presents with a 2-month history of painless diplopia. The patient reports that while the diplopia is improved in the morning, it becomes progressively worse throughout the day. The patient also notes ptosis of the left upper eyelid, which he stated began around the time the diplopia developed. He initially denied symptoms of jaw claudication, scalp tenderness, headache, generalized weakness, and difficulty swallowing.
The patient's medical history is significant for hypertension, cataracts, and basal cell carcinoma of the skin; his surgical history is significant for inguinal hernia repair, bilateral refractive surgery (LASIK), and blepharoplasty for ptosis of the eyelids. There is a positive family history of hypertension. The patient's social history is positive for cigarette smoking.
On examination, the patient's uncorrected visual acuity was 20/100 in the right eye and 20/25 in the left eye.
Intraocular pressure measured 9 mm Hg in the right eye and 10 mm Hg in the left eye. His pupils were equal and reacted briskly with no relative afferent pupillary defect. All extraocular movements were normal.
Amsler grid testing showed distortions in the right eye but none in the left eye. Color vision testing with Ishihara pseudoisochromatic plates was 10/10 in each eye. The slit lamp exam revealed nuclear sclerosis in both lenses and 2-3 mm of ptosis of the left upper eyelid. The funduscopic exam was normal in each eye.
An MRI of the brain and orbits is shown in the Figure.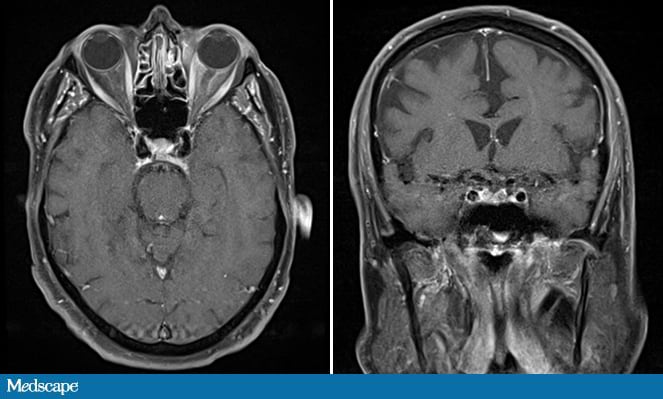 Figure. T1-weighted MRI of brain with contrast shows no compressive nerve lesions (axial view shown on left; coronal view shown on right).
Medscape Ophthalmology © 2019 WebMD, LLC

Any views expressed above are the author's own and do not necessarily reflect the views of WebMD or Medscape.
Cite this: Variable Diplopia and Upper Eyelid Ptosis in a 74-Year-Old Man - Medscape - Jan 02, 2019.