Women with depression or posttraumatic stress disorder (PTSD) or who have experienced a traumatic brain injury (TBI) are at increased risk for subsequent dementia, new research suggests.
A cohort study of more than 100,000 female veterans showed that those who had one of these "military-related risk factors" at baseline were 50% to 80% more likely to develop dementia 4 years later than women without PTSD, TBI, or depression.
The findings were even more dire for those who had two or more of these risk factors, such as TBI with depression. For those women, the risk for developing dementia was doubled.
"These 'military-related risk factors' aren't unique to the military, but military veterans have a probably 3 to 5 [times] greater chance of these exposures," lead author Kristine Yaffe, MD, San Francisco Veterans Affairs (VA) Medical Center and Departments of Psychiatry, Neurology, and Epidemiology & Biostatistics at the University of California, San Francisco, told Medscape Medical News.
"This is the first study that I'm aware of looking at older women veterans and trying to understand what the risks are for getting dementia. And we think the findings are quite robust and important," she added.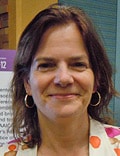 Yaffe noted that the results may also be generalizable to nonveteran women.
"I think the biology is not different whether you're a veteran or not. The difference here is just in the exposure. If you're a military veteran, your chances are much higher you'll be exposed" to these risk factors, she said.
The findings were published online November 12 in Neurology.
Disparity in the Field
Although past research has shown a significant link between dementia and TBI, PTSD, or depression, these studies "have been conducted almost exclusively among men," the investigators write.
"This is a considerable disparity in the field, especially because more women are joining the military and female veterans may be at greater risk for certain psychiatric conditions compared to male veterans," they add.
"It turns out that there is very little known about women veterans, particularly the older women. They just haven't been asked to be part of research in any topic really," said Yaffe.
For the current study, "we actually identified every female veteran who was 55 or older and who was getting their care at the VA," she reported.
The investigators then assessed records from the National Patient Care Databases and the Vital Status File database for 109,140 female veterans who sought care from a US VA medical center between October 2004 and September 2015.
All of the included study participants (mean age, 68.5 years) completed at least one follow-up visit and were assessed at baseline for TBI, PTSD, depression, and comorbid conditions on the basis of International Classification of Diseases, Ninth Revision, Clinical Modification (ICD-9-CM) codes.
At baseline, 488 of the women had TBI only, 1363 had PTSD only, 20,410 had depression only, 5044 had more than one military-related risk factor, and 81,835 had none of these risk factors.
ICD-9-CM codes from the 2016 version of the VA Dementia Steering Committee were used to determine dementia prevalence at baseline and dementia incidence at follow-up.
Increased Dementia Risk
During a mean follow-up of 4.0 years, 4% of the study participants developed dementia.
After adjusting for demographics and comorbid conditions such as diabetes mellitus, hypertension, and alcohol and tobacco use, there was a significantly greater risk for developing dementia in the women with vs without the following conditions:
PTSD: adjusted hazard ratio (HR), 1.78; 95% confidence interval [CI], 1.34 – 2.36;

Depression: HR, 1.67; 95% CI, 1.55 – 1.80; or

TBI: HR, 1.49; 95% CI, 1.01 – 2.20.
The investigators note that the finding that having a TBI increased dementia risk by 50% parallels "estimates from our prior study of male veterans in which TBI was similarly associated with a 60% increase in the risk of dementia."
As for the almost 80% increased risk for dementia in the women with PTSD, "this is consistent with other investigations in male veterans that report an increase in risk of 80% to 100%," the researchers write.
"There is [also] a robust body of evidence to support depression as a risk factor for developing dementia with studies in both community-based populations of women and (mostly male) veterans," they add.
Yaffe noted that although their findings showed the highest risk for PTSD, followed by depression, and then TBI, "a ratio of 1.5 vs 1.8 may not be statistically different from one another. All three of the risk factors are important — and they often go together."
The rates of incident dementia in those with TBI, depression, or PTSD only were 5.7%, 5.2%, and 3.9%, respectively, compared with 3.4% of the women who had no military-related risk factors (all comparisons, P < .001).
The incident dementia rate was 3.9% in the women who had more than one military-related risk factor; and their adjusted HR for dementia was 2.15 compared with those with none of the risk factors (95% CI, 1.84 – 2.51).
"These findings highlight the need for increased screening of TBI, PTSD, and depression in older women, especially female veterans," the investigators write.
"If women have a history of PTSD or depression, they probably should be followed more closely and given periodic screening for their memory and other cognitive aspects as they get older," Yaffe added.
In addition, these risk factors "are something we can maybe do something about. Certainly you can try to prevent traumatic brain injury with helmets and seat belts, and hopefully you can try to better treat PTSD and depression. And maybe all of this could actually decrease risk of dementia," she said.
She noted that the study isn't saying that an individual with one of these risk factors will definitively develop dementia. "It means that it increases your risk but it's not a 1-to-1 correlation," said Yaffe.
"Clear Need for More Studies"
In an accompanying editorial, Andrea L.C. Schneider, MD, PhD, and Geoffrey Ling, MD, PhD, from the Department of Neurology at Johns Hopkins University School of Medicine, Baltimore, Maryland and the Uniformed Services University of the Health Sciences, Bethesda, Maryland, note that although the study provides new evidence, it "also highlights that there is a clear need for more studies."
They also point out that the "important findings" need to be confirmed and that causality needs to be determined.
"Future studies will need to include both men and women to assess directly for possible interaction by sex in associations between TBI, PTSD, and depression and dementia risk. Indeed, animal studies suggest sex differences in response to TBI and sex differences in the neurobiology of PTSD and depression," they write.
"Given this, it is possible that neuropsychiatric conditions may be differentially associated with dementia risk in men vs in women," they add.
The editorialists note that the study also relied only on ICD-9-CM codes to define the military-related risk factors and dementia — and that these codes are less sensitive than diagnostic interviews.
"It follows that a higher number of encounters with the health care system would make an individual have more opportunities to receive a diagnosis," they write.
Overall, "a great deal more remains to be learned about the associations, underlying mechanisms, and possible sex differences in associations relating neuropsychiatric conditions…with dementia, both in military veteran populations and in general populations," write Schneider and Ling.
"But importantly, the study by Yaffe et al. suggests that associations of TBI, PTSD, and depression with increased risk of dementia also occur in female military veterans and are not unique to male military veterans," they conclude.
The study was funded by grants from the Department of Defense and the National Institute on Aging (NIA). Dr Yaffe reports currently serving on the Data Safety Monitoring Board for Takeda Inc and an NIA-sponsored study. She is also a member of the Beeson Scientific Advisory Board. The other six study authors and Dr Schneider have disclosed no relevant financial relationships. Dr Ling currently serves on the Mackey-White Health Committee for National Football League (NFL) Players Association and is a member of the NFL Health Foundation Board of Directors, the NIH National Center for Advancing Transitional Sciences Advisory Council, and the Veterans Administration National Research Advisory Council.
Neurology. Published online November 12, 2018. Abstract. Editorial
Follow Deborah Brauser on Twitter: @MedscapeDeb
For more Medscape Neurology news, join us on Facebook and Twitter
Medscape Medical News © 2018

Cite this: Depression, PTSD in Women Tied to Subsequent Dementia - Medscape - Dec 14, 2018.