Opioid overdoses and deaths, free tuition at NYU, the severity of the past flu season, political battles over the Affordable Care Act (ACA), and a fiery tweet from the National Rifle Association (NRA) goading doctors to "stay in their lane" were among the many stories in 2018 that consistently struck a chord with physicians.
There were also stories of inspiration and heroics that resonated as well, including a physician who defibrillated a juror in his own malpractice trial and a nurse alone in a rural clinic in Australia who treated himself for a heart attack.
A Medscape survey taken from November 20 to December 9 asked readers several questions about which stories or topics from a list Medscape provided most inspired, excited, frustrated, or had the most impact on them. Among 1789 survey respondents, 1704 were physicians.
Stories That Inspired
The juror defibrillation story was the top choice for stories that inspired physicians this year (52% chose it) and was closely followed by clinicians joining the "march for our lives" to protest gun violence and call for more research in the wake of the Parkland, Florida, mass shooting that left 17 dead in February (chosen by 50%).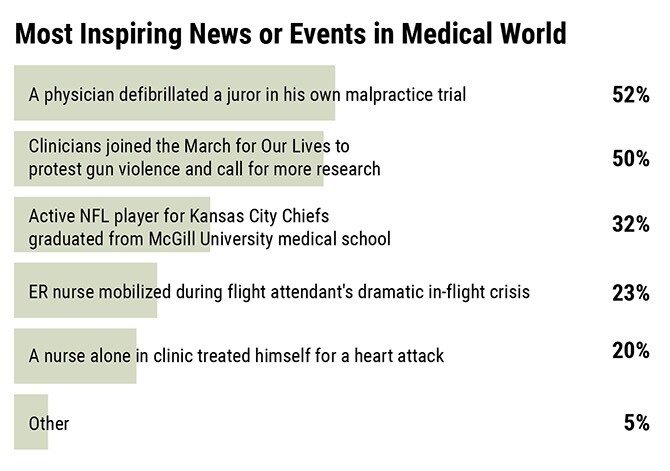 The story that excited the most physicians this year (54%) was the announcement by New York University that it would offer free tuition to all current and future medical students, followed by a report from a major trial that showed chemotherapy was found not to be needed for most patients with early breast cancer (29.8%).
Other topics that responders mentioned excited them included more attention to maternal mortality, more pressure to reform maintenance of certification, and advances in immunotherapy in oncology.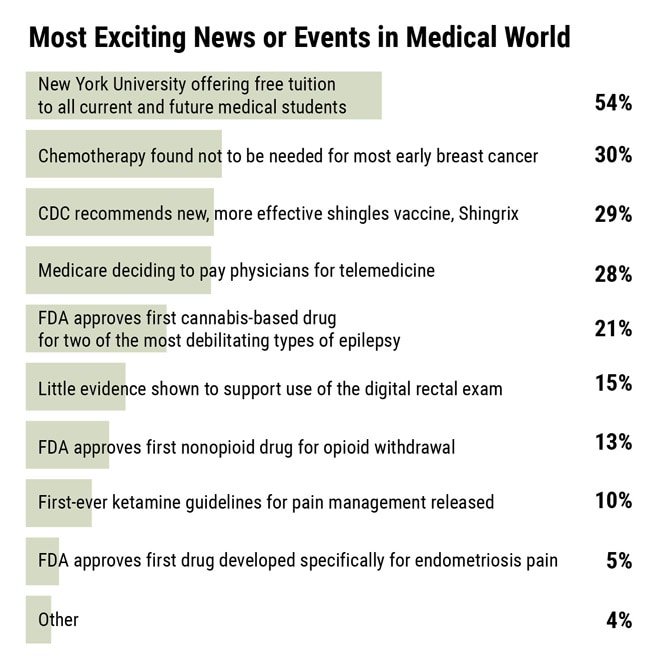 Opioid Crisis Weighs Heavily
Physicians rated the opioid crisis high in categories of frustration as well as excitement as the FDA approved the first nonopioid drug for opioid withdrawal, lofexidine hydrochloride, in May.
However, the alarming increase in overdoses, fueled mostly by opioid abuse, and the increase in suicides, which together were tied to a dip in life expectancy this year, were the leading topic of frustration, according to 56% of responders. Next in frustrating news were the reports of drug shortages that had become a "public health crisis."
One commenter wrote: "In the most advanced country in the world medically, it is unconscionable to think we do not have access to medicine for our patients when we need it."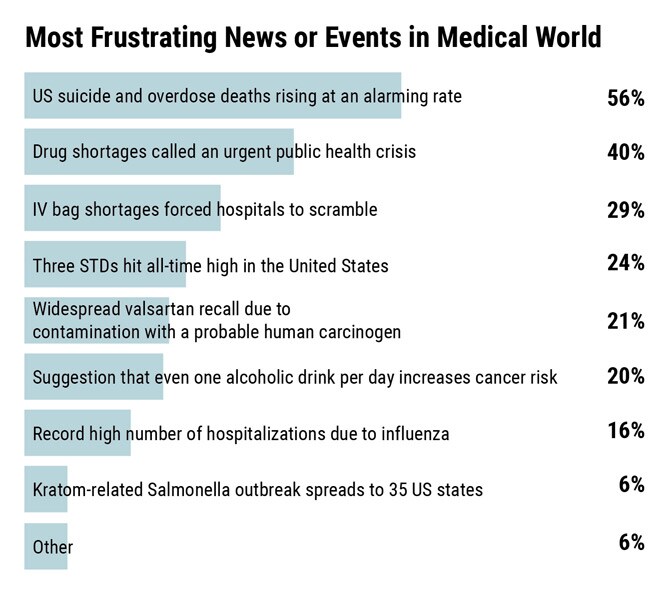 Stories Physicians Will Remember Most
As to what topic physicians would remember most from this year, opioids again topped the list, with 49% saying the story that will stick with them most is new legislation passed to combat the opioid crisis (chosen by 48.59%), followed by the surgeon general's recommendation that more people carry naloxone (33%).
One commenter suggested, however, there are racial underpinnings in the attention given to the crisis. The commenter listed this frustration: "Acting like the opioid crisis is tremendous because white people are dying. When brown/black people die from alarming rates it is NEVER deemed a crisis let alone a problem. You send black/brown people to jail for this same crisis and white people get treatment."
Another responder wrote, "Opioid crisis, suicide, and overdoses continue to skyrocket, costing more lives than multiple years of war - with woefully insufficient services available for addicts."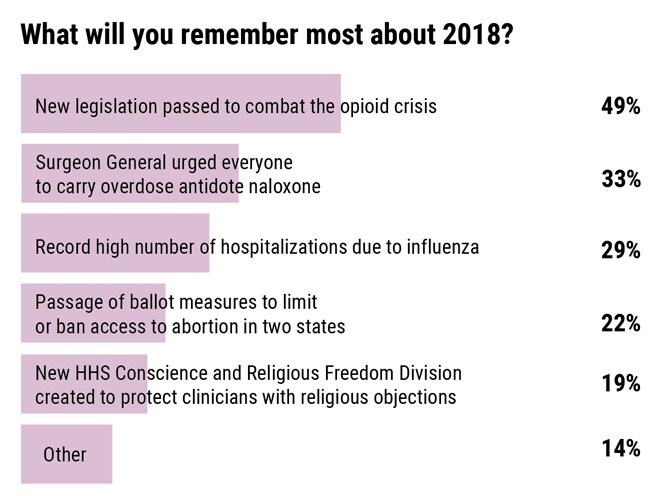 Studies That Surprised or Shocked
The study or event that surprised the most physicians was the news that daily aspirin failed to cut cardiovascular risk (63% of physicians said it was the most surprising news.)
Next highest was the suggestion that even one alcoholic drink per day increases cancer risk (chosen most surprising by 41%).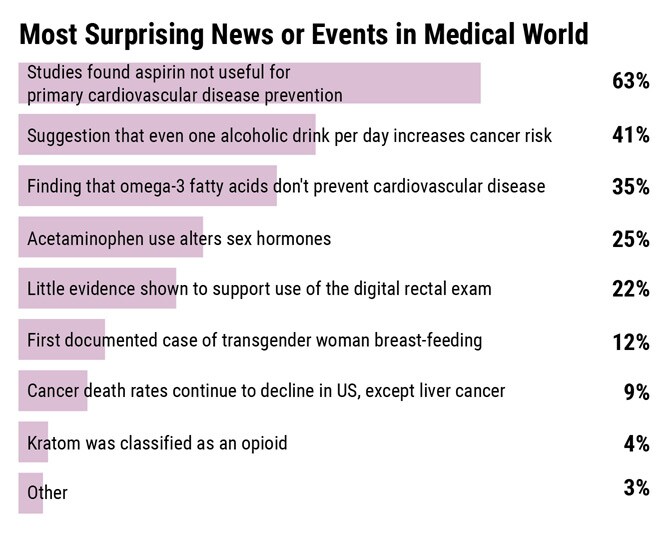 The story the most responders found shocking was the news that mysterious symptoms in US diplomats in Cuba were deemed neurologic injury (41% found it most shocking.) The next most shocking (according to 40% of responders) was former Centers for Disease Control and Prevention Director Tom Frieden, MD, being arrested and charged with sexual assault in August.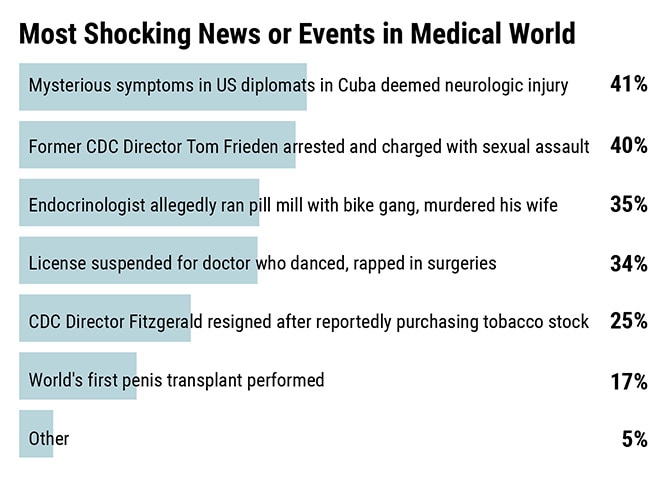 Whose Lane Is It Anyway?
Gun violence continued to fuel arguments in medicine, and for some physicians, the thing that they will remember most from 2018, mentioned among many of the categories in the survey, is the November 7 tweet from the NRA (in response to a gun violence position paper from the American College of Physicians) that read: "Someone should tell self-important anti-gun doctors to stay in their lane."
A tweetstorm followed that would see least 145 tweets per hour being posted using #ThisIsOurLane, according to Hashtags.org, which tracks use of hashtags on Twitter.
Emergency department physician Elizabeth Meade, MD, responded to the original story, "My 'lane' is the ER when kids come in shot in the face. When we tell parents they won't walk or are going to die. We're not anti-gun, we are anti-preventable death."
ACA
Physicians saw action this year on the ACA in both positive and negative lights.
Responses characterized the action as both the "failure of Congress to repeal the ACA" and the "assault on" or "attempts to gut" the ACA.
One commenter said, "Congress did absolutely nothing in fixing the affordable care act. Everything seems worse under current administration."
Another referred to the "relative harms of the ACA" as the thing they will remember most this year.
Readers were also asked to name the news that most affected their specialty.
One reader responded: "The government's continued failure to support more medical school spots while making up for the shortage of prescribers with nurse practitioners, pharmacists, and anyone else remotely connected with healthcare."
Others pointed to last year's particularly bad influenza season and the 80,000 deaths associated with it. The death toll for children in the 2017-2018 season was a record 180.
One of the responders wrote, "Last year's flu vaccine was not that effective therefore most of my patients did not want to take this year's flu vaccine."
Gene Editing
Several mentioned gene editing as having a large impact this year.
Commenters pointed to the reports of the associate professor in China who claimed to have edited the genes of twins and defended the ethics of his work.
Some in the medical community hailed it as a landmark achievement, while others, including medical ethicist and Medscape contributor Art Caplan, PhD, called it "stupendously immoral."
Although some physicians responded that nothing inspired or excited them or nothing was memorable in 2018, some responses offered a more positive way forward.
Among them was this one: "I see acts of heroism and selflessness every day in medicine that inspire me. If we all do what we vowed to do, we can be each other's inspiration each and every day."
Medscape Medical News © 2018

Cite this: Opioids, ACA, and 'My Lane' Stoked Physicians' Interest in 2018 - Medscape - Dec 13, 2018.