SAN ANTONIO — Radiotherapy for the treatment of "minimal" positive axillary lymph nodes in patients with early-stage breast cancer was comparable in efficacy and was associated with a significantly lower rate of the feared side effect of lymphedema compared to surgery, new 10-year data from a major randomized trial indicate.

The findings come from the European AMAROS (After Mapping of the Axilla Radiotherapy Or Surgery) study.
The trialists followed 1425 patients with clinically node-negative breast cancer and minimal nodal involvement (one to three nodes) whose results of sentinel lymph node biopsy were positive. The patients were randomly assigned to receive either axillary surgery or radiotherapy.
At 10 years, 1.82% (11 of 681 patients) of the radiotherapy group had experienced an axillary recurrence, compared with 0.93% (seven of 744 patients) of the axillary lymph node dissection group (hazard ratio, 1.71; P = .37).
For both groups of patients, this is an "extremely low" rate of lymph node recurrence, which was the primary endpoint, said principal investigator Emiel Rutgers, MD, PhD, a surgical oncologist at the Netherlands Cancer Institute in Amsterdam.
Rutgers was presenting the results here at the San Antonio Breast Cancer Symposium (SABCS) 2018.
Study discussant Wendy Woodward, MD, a radiation oncologist at the MD Anderson Cancer Center in Houston, Texas, agreed about the axillary recurrence rates. "The rate of axillary failure was very low," she said.
There were also no significant differences between treatment arms for disease-free survival and overall survival.
Both treatment approaches provide "excellent and comparable" locoregional control, summarized Rutgers.
The trial, which had a noninferiority design, is an endorsement of radiotherapy, which "can be considered standard procedure," said Rutgers.
That endorsement is boosted by the lower rates of lymphedema in the group that received radiotherapy.
At 5 years, 29.4% of the surgery group had lymphedema (determined by observation or treatment), vs 14.6% of the radiotherapy group (P < .0001).
Notably, also at 5 years, 18.2% of the surgery group had undergone treatment for lymphedema, vs only 6.6% of the radiotherapy group (P < .0001).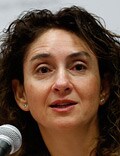 This is "the beauty of de-escalation" — reducing morbidity without compromising outcomes, said Virginia Kaklamani, MD, of UT Health San Antonio, who moderated the press briefing.
She recalled the days when complete axillary dissection was commonplace.
"Taking 20, 30, and sometimes 40 lymph nodes out, we don't need to do that anymore," Kaklamani commented.
Those days should be mostly gone, suggested Rutgers. Axillary clearance surgery (ie, full node dissection) is now a "rare operation" at his institution, he added.
More on Evidence
The new era of lymph node management has been established, said Rutgers, by two major trials, the American Z0011 trial, and the current study, AMAROS.
The Z0011 trial, from the American College of Surgeons Oncology Group, showed that in early-stage breast cancer in which one or two nodes were positive, sentinel lymph node dissection alone did not result in inferior survival, compared with full axillary lymph node dissection, as reported by Medscape Medical News.
In his own clinic, Rutgers combines the knowledge from both trials. "We mix up AMAROS and Z11," he said. For women with minimal involvement and smaller nodal metastases, "we do nothing," he said, referring to guidance from the American study.
However, larger and high-grade nodal tumors are treated with radiation or surgery when there are two or more, he explained, referring to evidence from his own trial.
In the AMAROS trial, most patients in both treatment arms had larger metastases in their lymph nodes upon sentinel node biopsy (59.4% in the surgery arm and 61.5% in the radiation arm), and even higher percentages had grade 2 or 3 nodal tumors (73.6% in the surgery arm and 75.1% in the radiation arm).
Most patients in AMAROS were also treated with chemotherapy (about 60% in both groups of patients) and hormonal therapy (about 77% in both groups).
There was one result in the new trial that did not favor the radiotherapy arm and which was called out by Woodward in her discussion — the 20-year rate of contralateral breast cancers (21 events [28%] of all second primaries after radiotherapy vs 11 events [19.3%] of all second primaries for the surgery arm).
"There was an increase in contralateral breast cancer, but I agree with the presenter that this is unlikely due to radiation," she said, pointing out that the radiation field does not extend to the opposite breast.
The AMAROS trial was supported by the European Organization for Research and Treatment of Cancer Charitable Trust. Dr Rutgers, Dr Woodward, and Dr Kaklamani have disclosed no relevant financial relationships.
SABCS 2018. Abstract GS4-01, presented December 6, 2018.
Follow Medscape senior journalist Nick Mulcahy on Twitter: @MulcahyNick.
For more from Medscape Oncology, follow us on Twitter: @MedscapeOnc.
Medscape Medical News © 2018

Cite this: 'The Beauty of De-escalation' for Breast Cancer Nodal Tx - Medscape - Dec 11, 2018.