SAN DIEGO — In the MAIA study, adding the monoclonal antibody daratumumab (Darzalex, Janssen) to standard therapy significantly extended progression-free survival (PFS) in patients newly diagnosed with multiple myeloma who were ineligible for stem cell transplant.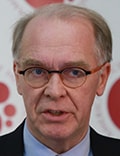 As compared to standard therapy with lenalidomide (Revlimid, Celgene) and dexamethasone (Rd), the addition of daratumumab to lenalidomide and dexamethasone (D-Rd) significantly reduced the risk for diesease progression or death by 44%.
The estimated 30-month PFS was 71% with the triplet vs 56% with Rd.
"These results support daratumumab and lenalidomide as a new standard of care for patients with transplant-ineligible newly diagnosed multiple myeloma," said lead author Thierry Facon, MD, of Hôpital Claude Huriez in Lille, France.
He noted that daratumumab and lenalidomide induced significantly deeper responses; more than three times as many patients who received the combination were free of minimal residual disease (MRD).
The new results bring daratumumab into the frontline setting; to this point, the drug has been used in heavily pretreated patients.
Facon presented his findings here at the American Society of Hematology (ASH) 2018.
Triplets Superior
Approached for comment, Jens Hillengass, MD, chief of myeloma and professor of oncology at Roswell Park Comprehensive Cancer Center, Buffalo, New York, emphasized that this is a "very important clinical trial that adds to the body of evidence that supports bringing monoclonal antibodies into frontline treatment for patients with multiple myeloma.
"They have shown significant efficacy with good tolerability," he told Medscape Medical News. "The latter is especially important in patients not eligible for high-dose chemotherapy."
The major limitation of this study, especially for physicians practicing in the United States, is that the comparison arm was lenalidomide and dexamethasone and not bortezomib (Velcade, Millennium), lenalidomide, and dexamethasone. That triplet is more commonly used in the United States, Hillengrass commented, because the SWOG S0777 trial showed that the addition of bortezomib improved efficacy compared to lenalidomide and dexamethasone alone.
"While of course different trials with different study populations must not be compared, the standard arm of both trials performed similarly with regards to median progression-free survival," he said.
"In both trials, the triplet combinations were significantly better," he added.
Other factors, including comorbidities and route of administration (intravenous vs subcutaneous), have to be taken into account when considering the benefits and downsides of the two regimens, he commented.
Superior in All Endpoints
In the Maia study, Facon and colleagues randomly assigned 737 patients who had been newly diagnosed with multiple myeloma and who were ineligible to undergo transplant to receive lenalidomide 25 mg orally on days 1 to 21 of each 28-day cycle and dexamethasone 40 mg once a week with or without daratumumab.
Daratumumab was administered at a dosage of 16 mg/kg weekly for the first 8 weeks (cycles 1 and 2), then every other week for 16 weeks (cycles 3 to 6), and then every 4 weeks (cycle 7 and beyond) until disease progression or unacceptable toxicity.
Of note, the median age of the patients in this trial was 73 years (range, 45 to 90 years). Only 1% of patients were aged <65 years, and 44% of patients were aged ≥75 years. Facon pointed out that the proportion of patients aged ≥75 years was much higher than in any previous trial in this population.
The prespecified interim analysis occurred after 239 PFS events, with a median follow-up of 28 months. For the primary endpoint of PFS survival, the hazard ratio (HR) was 0.55 (P < .0001). The median PFS for the Rd arm was 31.9 months. The primary endpoint was not reached in the D-Rd arm.
The addition of daratumumab resulted in deeper responses, Facon noted. The rate for complete response or better was 47.6% in the D-Rd arm vs 24.7% in the Rd arm (odds ratio [OR], 2.75; P < .0001).
A very good partial response or better was achieved in 79.3% of patients in the D-Rd arm vs 53.1% in the Rd arm (OR, 3.4; P < .0001).
To date, 19% of patients have died (HR for overall survival, 0.78). Follow-up is ongoing.
The safety profile was consistent with that seen in other studies, but the triplet regimen was associated with a higher rate of neutropenia (57% for D-Rd vs 42% for Rd), diarrhea (57% vs 46%), fatigue (40% vs 28%), and pneumonia (23% vs 13%).
The study was supported by Janssen Research and Development, LLC. Dr Facon reports having served on the boards of directors or advisory committees for Sanofi, Celgene, Janssen, Takeda, Amgen, Karyopharm, and Oncopeptides. Several coauthors have disclosed relationships with industry. Dr Hillengass has disclosed no relevant financial relationships.
American Society of Hematology (ASH) 2018. Abstract LBA-2, presented December 4, 2018.
Medscape Medical News © 2018

Cite this: Daratumumab Plus Len/Dex: New Standard of Care in Myeloma? - Medscape - Dec 06, 2018.