CHICAGO — Mechanically unloading the left ventricle (LV) and then delaying percutaneous coronary intervention (PCI) instead of performing immediate reperfusion for patients with ST-segment elevation myocardial infarction (STEMI) is feasible, a small pilot study suggests, but experts question whether it's advantageous.
In the randomized Door to Unload (DTU) trial, 50 adults with anterior STEMI referred for PCI were assigned to undergo LV unloading with the Impella CP support device (Abiomed) and reperfusion after a 30-minute delay or to unloading with the device followed by immediate reperfusion.
The primary safety outcome, a composite of major adverse cardiovascular and cerebrovascular events (MACCE) at 30 days, did not differ between the two groups. There were also no differences in increased infarct size at 30 days, based on cardiac magnetic resonance (CMR) imaging.
In addition, there were no significant between-group differences in overall myocardial salvage index (MSI) at 3 to 5 days. However, among the 29 patients who had ST-elevation of at least 7 mm, MSI was significantly higher in the delayed-reperfusion group.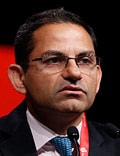 The trial "demonstrates for the first time that LV unloading using the Impella device with a 30-minute delay before reperfusion is safe and feasible within a relatively short door-to-balloon time, and there were no prohibitive safety signals that would preclude moving on to a larger pivotal study," lead author Navin Kapur, MD, Tufts Medical Center, Boston, told theheart.org | Medscape Cardiology.
He presented the findings during a late-breaking science session here at the American Heart Association Scientific Sessions 2018, which were simultaneously published online November 11 in Circulation.
Although invited discussant Holger Thiele, MD, Leipzig University Hospital, Germany, agreed that the results showed the delaying process is feasible, he had several concerns.
"There is a lack of a standard-of-care control group. Thus, the primary efficacy end point of infarct size cannot be reliably compared," Thiele said. "Also, based on the small sample size, there's no reliable information available on safety."
Pilot Trial vs Pivotal Trial
"New approaches to reduce infarct size may decrease the incidence of heart failure and improve survival after acute myocardial infarction," the researchers write.
They add that preclinical models have shown that LV unloading prior to reperfusion, compared with reperfusion alone, limits post-MI infarct size.
In addition, preclinical development of the DTU concept has shown that "trans-valvular LV unloading limits myocardial ischemia by enhancing microcirculatory blood flow and then promotes a cardioprotective shift in myocardial biology," Kapur said.
For the current pilot study, the researchers enrolled 50 adults from 14 centers in the United States. All had a first-time anterior STEMI without cardiogenic shock and all were referred for PCI 1 to 6 hours after symptom onset.
The participants were randomly assigned to 30 minutes of mechanical LV unloading followed by primary PCI (n = 25; 84% men; mean age, 61 years) or initiation of mechanical LV unloading followed immediately by PCI (n = 25; 68% men; mean age, 59 years). The same unloading device was used in both groups and was explanted after at least 3 hours of support.
Asked by theheart.org | Medscape Cardiology why the researchers didn't use a standard-of-care group or at least a group that didn't use the same device, Kapur said that this first pilot trial was designed to answer one specific question: How important is the delay to unloading?
"Can we put in the heart pump and then open up the artery as soon as possible or do we have to wait 30 minutes to actually see a reduction in infarct size? The study was built around whether it's safe and feasible to do that, but the study would not be powered to adequately address that question when comparing these two arms against the standard of care," he said.
However, "the lessons we learned from this pilot will be implemented in a DTU-STEMI pivotal trial, which will compare the standard of care — door to balloon without LV unloading — with LV unloading with the Impella device for 30 minutes before delayed reperfusion," Kapur said.
He reported that feasibility in the current study was measured by successful enrollment and protocol completion, and that safety and efficacy were measured by rates of MACCE and increased infarct size. MACCE included CV mortality, reinfarction, stroke, and major vascular events at 30 days.
Similar Findings
All patients completed both treatment protocols, including those in the delayed-reperfusion group, who completed 30 minutes of LV unloading before undergoing PCI. Their mean door-to-balloon (DTB) time was 97 minutes compared with 73 minutes for the immediate-reperfusion group (P < .01).
Interestingly, the mean ischemic time from symptom onset to unload time was 176 minutes for the delayed group and 200 minutes for the immediate group, whereas the unload to PCI time was 34 minutes and 11 minutes, respectively, meaning the total ischemic time was similar between the groups (210 vs 211 minutes). There were no bail-out PCIs.
The total composite 30-day MACCE rate was 10% for the entire study population and did not differ between the groups (12% vs 8%). The rate also didn't differ significantly between the groups for "traditional 30-day MACCE" (4% vs 8%) or other individual MACCE components, such as CV mortality (4% vs 4%).
Increased infarct size at 30 days was 13% of total LV mass vs 15%, respectively, which was not significantly different.
"It's important to note that our goal was to determine whether or not a delay would increase infarct size. We did not see that with the delay, so we met our primary efficacy end point," Kapur told meeting attendees.
Among all participants, the mean MSI at 3 to 5 days was 52%. This rate also did not differ significantly between the groups (52% vs 48%).
The only statistical difference in MSI between the two groups was among the participants who had a "larger area of myocardium at risk" (ST-elevation, ≥7mm), the researchers report (56% vs 39%; P = .04).
"A randomized controlled trial testing whether a Door to Unload strategy improves infarct size in anterior STEMI is [now] required," the researchers write. Kapur reported that the upcoming STEMI pivotal trial will be designed to do just that.
"Very Curious" About Future Data
After the presentation, Thiele, who was not involved with the research, told attendees that the pilot trial had some design issues.
"They had unload with immediate reperfusion and unload with delayed reperfusion 30 minutes later. However, there was a lack of a PCI control group with radial access, which is standard of care for patients with STEMI," he said.
In addition, there were no adjustments for losses during follow-up or for missing CMR data, he noted.
Thiele later reiterated to theheart.org | Medscape Cardiology that his main concern is that the study did not include a standard-of-care control group.
"To be honest, I'm a little surprised that they didn't include that," he said. "Also, it isn't very likely that there will be a difference in infarct size based on total ischemic time, which is exactly the same between the two groups," he said.
"Based on the data, there's no severe signal of safety concern, so maybe they can go for another larger trial just to show that it may reduce infarct size. Hopefully we will get those data — I'm very curious to see them," said Thiele.
Provides Groundwork
In an accompanying editorial, Manish Patel, MD, Duke University Medical Center, Durham, North Carolina, writes that the researchers "should be congratulated for carrying out an important and difficult-to-perform" study.
However, he notes that it was "by randomized chance that the ischemic time from symptom onset to unloading was 24 minutes longer in the immediate-reperfusion group making the total ischemic time in the two arms, even after unloading and delayed reperfusion, similar."
Because of this, "it is not possible to make any substantive interpretations around the infarct size associated with delay," writes Patel. He also notes that "the critical lack" of a standard-of-care control group limits the safety information reported.
"Nevertheless, this research group has provided the groundwork for a more pivotal study that should inform practice, a study in which they have indicated a standard of care control arm would be recruited," he writes.
"It is only with continued efforts such as those described by Kapur and colleagues that we will have science catch up to the technological advances so that clinicians and their patients can have confidence to hopefully increase the utilization and meet the promise of the advances in percutaneous support devices," Patel concludes.
The study was funded by Abiomed. Kapur has received research funding from Abiomed, CardiacAssist, and Maquet Cardiovascular. Thiele reported no relevant financial relationships. Patel has received research grants from Bayer, Janssen, AstraZeneca, and Heartflow, and had been on advisory boards for Bayer and Janssen.
American Heart Association (AHA) Scientific Sessions 2018: Abstract 19578. Presented November 11, 2018.
Circulation. Published online November 11, 2018. Full text, Editorial
Follow Deborah Brauser on Twitter: @MedscapeDeb For more from theheart.org | Medscape Cardiology, follow us on Twitter and Facebook.
Medscape Medical News © 2018

Cite this: Door to Unload: LV Unloading, Delayed Reperfusion Safe in STEMI - Medscape - Nov 28, 2018.