Editor's Note
William S. Gould, MD, is a retired family physician from Gold Bar, Washington, and a veteran of the US Army. Dr Gould responded to a recent series of articles on physician suicide posted by Medscape. The following are his thoughts and opinions and do not necessarily reflect those of Medscape or WebMD.
Ending Medical Residency Suicides
Medscape recently reported, "The suicides of a fourth-year radiology student at New York University's (NYU's) Langone Medical Center, in New York City, and a psychiatry resident at NYU Langone Health, which occurred within a week of each other, have sparked a wave of emotions and a renewed search for answers." They also reported that "US physicians have the highest suicide rate of any profession, with one completed suicide every day."
Let me try to understand: Our medical elite are scratching their heads about these needless tragedies? Here's a hint: Medical schools and residency programs tolerate behavior by administrators and academic physicians that is killing—figuratively and literally—the cream of our country's young people. The programs distort psyches and generate maladaptive behavioral patterns that persist throughout life.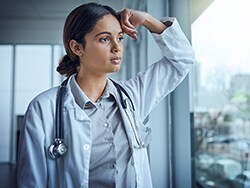 I've been in medicine for more than 40 years and have treated 120,000 patients in the United States, on six medical missions to Vietnam, and over 5 months in the war-torn Darfur province of Sudan. I have undergraduate and graduate degrees from Penn State University, Harvard University, the University of Pennsylvania Medical School, and Cambridge University, and spent 6 months as a visiting professor of medicine in China. Therefore, I feel comfortable commenting on physician education.
This is what I've learned: Our medical educational practices are medieval. Despite what we have ascertained about effective leadership, the system often remains one of bullying, arrogance, and disrespect. It seems that among some people in academia, there is a derisive, hostile mind-set, and it has rendered a corpus of burned-out physicians who are far from the healers—technically and spiritually—that you'd want caring for your family.
My medical school was humane, though all of us graduated thoroughly exhausted, mentally and physically ill-prepared to lurch days later into the miserable years of residency. My training program was touted as the most caring and exclusive in the nation for my specialty. I despised every minute of the 110 hours per week at the hospital, but not because of the schedule, for as a former Army Ranger, I was used to days without sleep. I understood that learning of such complexity required an enormous, selfless investment of hours.
What derailed the experience, and has left me so bitter decades later, was the haughtiness, impatience, and general lack of caring strutted by the majority of administrators and instructors. We were subtly taught to wear condescension as a badge of honor. Failure to absorb that lesson brought you to the attention of the "authorities."
Medscape Business of Medicine © 2018 WebMD, LLC

Any views expressed above are the author's own and do not necessarily reflect the views of WebMD or Medscape.
Cite this: William S. Gould. Ending Resident Suicides Starts With More Humane Training - Medscape - Dec 10, 2018.