Clinical Presentation
An 8-month-old girl presented to the pediatric ophthalmology clinic with redness and swelling of the left upper eyelid. She had woken up the day before with the swelling, and it appeared to be worse on the day of presentation. She seemed to be able to see well, was not in discomfort, and was eating well, but she was a little fussy. Her parents reported a low-grade fever and a recent upper respiratory infection, but she was otherwise healthy. She was not in pain. There was no history of trauma.
Physical exam demonstrated fix-and-follow vision in each eye. Externally, she had erythema and warmth of the left upper eyelid, but it was not tender to touch (Figure).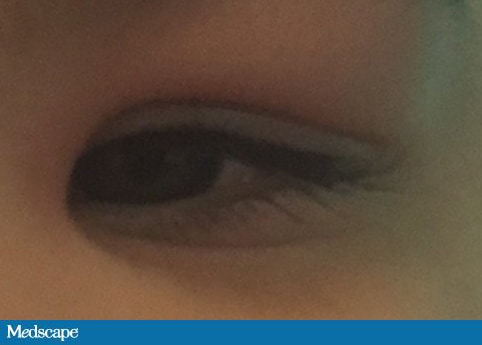 Figure. External examination of the patient's left eye.
She had full motility, no pain with eye movement, and no discharge or tearing. Exam of the anterior segment with a slit lamp was normal. Dilated exam was normal in both eyes.
Medscape Ophthalmology © 2018 WebMD, LLC

Any views expressed above are the author's own and do not necessarily reflect the views of WebMD or Medscape.
Cite this: The Baby With a Swollen Eyelid - Medscape - Nov 19, 2018.