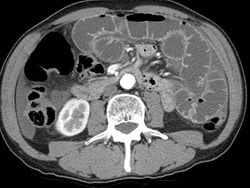 "Borborygmus" or "borborygmi" is the Greek term to identify what we commonly call "bowel sounds." The word probably originated because saying it out loud resembles the sound of the gurgling bowel.
Although these sounds must originate in the digestive tract, the actual site is unknown. Computerized abdominal auscultation reveals two likely areas:
The right lower quadrant, compatible with the sounds originating from the ileocecal valve; and

The epigastrium, suggesting passage of food and air through the pylorus.[7]
Ileus, characterized by the absence of bowel sounds, occurs as a result of hypomotility of the intestinal tract in the absence of mechanical bowel obstruction. Postoperative ileus is typical after abdominal surgery.
Medscape Family Medicine © 2018 WebMD, LLC

Any views expressed above are the author's own and do not necessarily reflect the views of WebMD or Medscape.
Cite this: Obscure Medical Terms: How Well Do You 'Speak Medicine'? - Medscape - Nov 09, 2018.