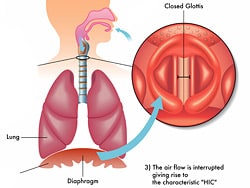 No medical expertise is needed to recognize hiccups, which are a common part of life. Persistent, prolonged episodes are much less common and a more serious phenomenon that has been associated with significant morbidity and even death. The cause of hiccups in children and infants is rarely found. Brief episodes in adults are usually benign and self-limited. Surgeons know that persistent hiccups after abdominal surgery can be a sign of a subphrenic abscess.
Typically, no treatment is required. A comprehensive review found no evidence for the effectiveness of either pharmacologic or nonpharmacologic (acupuncture) therapy.[3] The ICD-10 code for hiccough or singultus is R06.6, which describes a hiccup as "an involuntary contraction (myoclonic jerk) of the diaphragm that may repeat several times per minute."[3]
Medscape Family Medicine © 2018 WebMD, LLC

Any views expressed above are the author's own and do not necessarily reflect the views of WebMD or Medscape.
Cite this: Obscure Medical Terms: How Well Do You 'Speak Medicine'? - Medscape - Nov 09, 2018.