Enthesitis in the Achilles tendon is common in patients with rheumatoid arthritis and is easily detected using ultrasound, new data show.
Being aware of this can mean that patients are diagnosed earlier and treated more effectively, which can improve quality of life, said Marina Fornaro, MD, from Instituto de Rehabilitación Psicofísica in Buenos Aires, Argentina.
This inflammation is a common feature of spondyloarthritis, but we suspected it is also common in patients with rheumatoid arthritis, she said at the American College of Rheumatology 2018 Annual Meeting in Chicago.
About 90% of patients with rheumatoid arthritis develop ankle symptoms as their disease progresses, but enthesitis can be missed because it is not a disorder specific to patients with rheumatoid arthritis, Fornaro reported.
Still, "we know there are high scores for Achilles enthesitis that have been described in patients with rheumatoid arthritis in literature," she noted.
Rheumatoid synovitis can involve synovial sheaths and tendons and lead to an entheseal reaction. "The degree of synovial inflammation may be correlated with the damage and the disability resulting from inflammatory activity, particularly in patients with longer disease duration," she explained.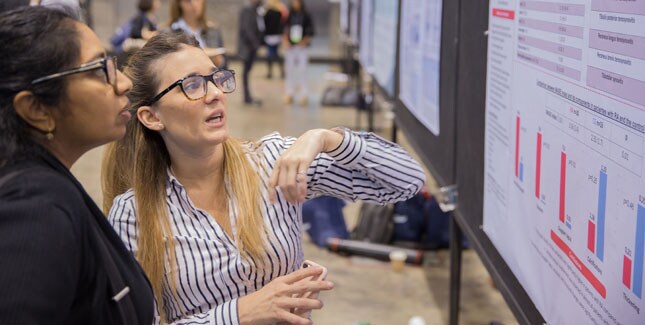 Several studies have assessed which region of the Achilles tendon is affected by enthesitis in patients with spondyloarthritis. Fornaro and her colleagues wanted to do the same for patients with rheumatoid arthritis.
Fornaro and her colleagues used ultrasound to assess 60 ankles in 30 patients with rheumatoid arthritis and 36 ankles in 18 healthy athletes. Disease duration ranged from 5.9 to 14.5 years in patients with rheumatoid arthritis, 30% of whom had foot and ankle pain at the time of testing. Mean age of the study participants was 58 years.
Two experienced rheumatologists used the Madrid Sonographic Enthesitis Index (MASEI) to evaluate bursitis, calcification, erosion, thickening of the Achilles tendon, structural change, power Doppler blood flow, and echogenicity in the study participants.
Table. Mean Achilles Tendon Scores
Measure
Rheumatoid Arthritis Group
Athlete Group
P Value
MASEI score
3.56
2.33
.01
MASEI subitems
Structural changes
0.66
0.20
≤.01
Erosion
0.80
0.02
≤.01
Power Doppler blood flow
0.30
0.02
.03
All patients with rheumatoid arthritis had at least one Achilles tendon lesion, and the most common abnormalities were in the tibialis posterior tenosynovitis and the peroneus longus tenosynovitis.
Ultrasound examination was more sensitive and specific than clinical examination for the detection of enthesitis in the Achilles tendon, Fornaro told Medscape Medical News. "We found Achilles enthesitis in almost all patients with rheumatoid arthritis."
When a patient has been diagnosed, physiotherapists can initiate rehabilitation exercises to help correct the problem, she added. And with correction of disorders of alignment, mechanical stress can be can significantly reduced in these patients.
Fornaro has disclosed no relevant financial relationships.
American College of Rheumatology (ACR) 2018 Annual Meeting: Abstract 535. Presented October 21, 2018
Follow Medscape Rheumatology on Twitter @MedscapeRheum and Ingrid Hein @ingridhein
Medscape Medical News © 2018

Cite this: Achilles Tendon Damage Prevalent in Rheumatoid Arthritis - Medscape - Oct 31, 2018.