MUNICH — Another trial has shown that de-escalating therapy does not work in patients with good prognosis human papillomavirus-positive (HPV+) oropharyngeal squamous cell carcinoma or throat cancers.
Results from the De-ESCALaTE HPV study show that using the targeted drug cetuximab with radiotherapy does not improve side effects and, more importantly, has worse survival compared with the standard of care — chemotherapy with cisplatin and radiotherapy.
The finding echoes the results from the US National Cancer Institute's Radiation Therapy Oncology Group (RTOG) 1016 trial, the top-line results of which were released earlier this year, and details of which were presented this week at the American Society of Radiation Oncology (ASTRO) 2018 meeting.

"Do not change your clinical practice of using cisplatin with radiotherapy in these patients," cautioned Hisham Mehanna, MBChB, PhD, chair of head and neck surgery at the University of Birmingham, United Kingdom, and lead investigator of the De-ESCALaTe study. He presented the results during a presidential session here at the European Society for Medical Oncology (ESMO) 2018 Congress (abstract LBA9).
"Cetuximab did not cause less toxicity and resulted in worse overall survival and more cancer recurrence than cisplatin. This was a surprise — we thought it would lead to the same survival rates but better toxicity. Patients with throat cancer who are HPV+ should be given cisplatin, and not cetuximab, where possible," Mehanna said in a statement.
Hope for Fewer Side Effects
Cetuximab with radiation is already approved by the US Food and Drug Administration for use in head and neck cancer, including oropharyngeal cancer, and is an accepted standard of care, especially for patients who cannot tolerate cisplatin.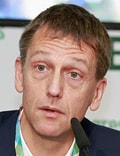 The hope behind de-escalation of therapy was that this regimen would offer similar efficacy but have fewer side effects than the standard regimen of cisplatin plus radiation.
"The side effects of treatment for patients with head and neck cancers are devastating. They experience loss of speech, loss of taste, and have trouble swallowing," explained ESMO expert Jean-Pascal Machiels, MD, PhD, head of the department of medical oncology at the Cliniques Universitaires Saint-Luc, Brussels, Belgium.
"With HPV increasing rapidly in the Western world, HPV+ head and neck cancers are typically seen in younger patients who respond well to treatment and live for three to four decades. These patients would like to live without the toxicities associated with treatment," he added.
"Based on a large study in 2006, many patients have been receiving cetuximab with radiotherapy on the assumption that it was as effective as chemotherapy with radiotherapy and caused fewer side effects," Mehanna commented. That study showed that for patients with squamous cell carcinoma of the head and neck, treatment with cetuximab and high-dose radiotherapy improved locoregional control and reduced mortality. At the same time, side effects were no worse (N Engl J Med. 2006;354:567-578).
However, until now there have been no head-to-head comparisons of the two treatment regimens.
Now there are two trials, both showing the same results — cetuximab has inferior efficacy.
Details of the De-ESCALaTE Study
The De-ESCALaTE study randomized 334 patients with HPV+ low-risk, oropharyngeal squamous cell carcinoma to receive radiotherapy (70 Gy in 35 fractions) and either cisplatin (three doses of 100 mg/m2) or cetuximab (400 mg/m2 loading dose followed by weekly 250 mg/m2).
Of the randomized patients, 80% were men and 84% had stage I/II disease, while 16% had stage III disease based on the new TNM classification.
There were no differences between the cisplatin and cetuximab groups in toxicity when it was measured as: reported mean number of overall events (5.37 vs 5.45 events per patient respectively); all grade toxicities (29% vs 30%); or grade 3-5 toxicities (4.8% for each group). However, there were significantly more serious adverse events (162 vs 95) in the cisplatin than the cetuximab group.
Cetuximab did not result in less toxicity, Mehanna said. "Quality of life was the same, and trouble swallowing was the same," Mehanna added.
In addition, overall survival was significantly worse for patients receiving cetuximab compared with those on cisplatin (hazard ratio [HR], 4.99; P = .001). Two-year overall survival rates were 89.4% for those receiving cetuximab and radiotherapy, compared with 97.5% for patients receiving cisplatin and radiotherapy.
There were 20 deaths in the cetuximab group and six deaths in the cisplatin group.
Local and distant recurrences were also worse: there were 29 recurrences with cetuximab and 10 recurrences with cisplatin. Incidence of loco-regional recurrence was 12% with cetuximab and radiotherapy and 3% with cisplatin and radiotherapy. For distant recurrences, the corresponding rates were 9% and 3%.
The 2-year recurrence rate was also significantly higher for cetuximab compared with cisplatin (16.1% vs 6.0%; HR, 3.39; P = .0007).
In a sensitivity analysis, when the investigators removed patients with stage III disease from the mix, the results were still no different.
"Cisplatin remains the standard of care in HPV+ low-risk oropharyngeal squamous cell carcinoma," Mehanna concluded.
Commenting on the study for ESMO, Branislav Bystricky, MD, head of medical and radiation oncology at the University Hospital Trencin, Slovakia, said: "It was believed that cetuximab causes less side effects and was therefore a good option for HPV+ throat cancer patients who are young and expected to survive for several decades, as well as those less able to tolerate chemotherapy."
However, he noted, "We now have two studies showing that these patients [with low-risk throat cancers] should not be given cetuximab."
"Future research should examine whether genotyping for the KRAS-variant can select a group of patients that will benefit from cetuximab treatment with radiotherapy," he added.
Mehanna has reported receiving honoraria from AstraZeneca and being on speakers bureaus for MSD, Sanofi Pasteur, and Merck. He has had travel expenses and accommodations paid for by Sanofi Pasteur, MSD, and Merck. He is also the director and a stockholder of Warwickshire Head Neck Clinic.
European Society for Medical Oncology (ESMO) 2018 Congress. Abstract LBA9.
For more from Medscape Oncology, follow us on Twitter: @MedscapeOnc
Medscape Medical News © 2018 WebMD, LLC

Send comments and news tips to news@medscape.net.
Cite this: No De-escalation of Therapy for HPV+ Throat Cancer - Medscape - Oct 26, 2018.