MUNICH — Adding immunotherapy to a targeted agent significantly improved progression-free survival (PFS) when compared with a targeted agent alone in the first-line treatment of advanced renal cell carcinoma (RCC), suggests interim results from the JAVELIN Renal 101 trial.
The combination therapy, comprised of the anti-programmed cell death ligand 1 (PD-L1) drug avelumab (Bavencio, EMD Serono) and the vascular endothelial growth factor (VEGF) tyrosine kinase inhibitor (TKI) axitinib (Inlyta, Pfizer), was pitted against the current standard of care, sunitinib (Sutent, Pfizer).
The results, presented here at the European Society of Medical Oncology 2018 annual meeting, revealed that combination therapy improved median PFS by 39% in patients who tested positive for PD-L1 expression and by 31% in the overall patient population.
The objective response rate with avelumab plus axitinib was also almost more than twice that seen with sunitinib, and the combination therapy had a favorable safety profile.
Study presenter Robert J. Motzer, MD, medical oncologist at Memorial Sloan Kettering Cancer Center, New York City, said in an ESMO press release that "the findings support the potential of avelumab plus axitinib as a new treatment approach for patients with advanced RCC."
As this was a preliminary analysis of the JAVELIN Renal 101 study, the overall survival data are immature, although there was a signal for an increase in median overall survival, at a hazard ratio at this point of 0.79 (P = .0679).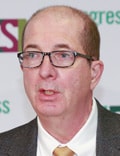 Commenting for ESMO, Thomas Powles, MD, PhD, consultant oncologist at Barts Health NHS Trust, London, UK, described the results as "eye-catching."
"The response rates are twice as good as previous standards of care, and PFS is entering into very impressive territory for a randomized trial," he said.
Adding a note of caution, however, Powles added: "This approach involves giving combinations of most active agents upfront; therefore, there is uncertainty around whether this will translate into a similarly impressive survival signal as seen with other immunotherapy combinations."
For All Patients?
"The combination benefit was shown in all subgroups of patients, by independent review as well as by investigators, and whether tumor cells stained positive for PD-L1 or not," Motzer commented.
At a press conference for the study, Motzer said that, based on their findings, "I don't believe you need to test [PD-L1] to choose patients for this therapy."
"It may be that...the hazard ratio is a little better in the PD-L1+ group, but I don't think it's required to use this medicine. I think it can be given regardless of PD-L1 status," he said.
However, the results show that although the PFS benefit with combination therapy over sunitinib was significant in the overall patient population, and in the subgroup of patients who tested PD-L1+, the improvement in PFS was not significant in patients whose tumors did not express PD-L1.
Increasing Options for Patients With Kidney Cancer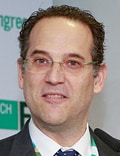 Ignacio Duran, MD, PhD, Hospital Universitario Marques de Valdecilla, Santander, Spain, who chaired the press conference, said that, 10 years ago, metastatic kidney cancer was an orphan disease with few treatments.
Now, however, there are new data "almost every year" and these new, "very interesting" results "may increase the number of options that patients have for this disease."
John Haanen, MD, PhD, head, Division of Medical Oncology, Netherlands Cancer Institute, Amsterdam, commenting for ESMO, recalled that, last year, data comparing ipilimumab (Yervoy, Bristol-Myers Squibb) plus nivolumab (Opdivo, Bristol-Myers Squibb) with sunitinib were presented at the ESMO Congress.
This showed that combination immunotherapy had better overall survival, which was "a step forward for this patient population."
Now, JAVELIN Renal 101 "is the first study of a TKI plus an anti-PD-L1 drug showing an improved PFS in this patient population," he said.
He pointed out that a press release from Merck published on October 18 indicated that the combination of axitinib plus a different anti-PD-L1 drug, pembrolizumab (Keytruda, Merck), was positive in terms of PFS and overall survival.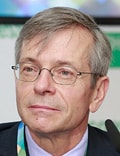 Therefore, the current results "do stand alone, and we think it's a real paradigm shift that we're now seeing in the treatment of patients with metastatic renal cell cancer," Haanen said.
Motzer agreed, saying that the data from Merck "confirms this same approach of a VEGF-TKI plus an immunotherapy showing benefit in kidney cancer patients, and I think it also really emphasizes the progress that we've made in this disease in the last 20 years, with these positive phase 3 trials showing a benefit for our patients."
Haanen nevertheless pointed out that there are some outstanding issues, such as how to treat patients who failed the combination of VEGF-TKI and immunotherapy.
"There are still a lot of questions that we need to answer but I think, for patients with this disease, this, in itself, is a real step forward," he said.
"We think that if you use the best treatment option, with the best outcome in the beginning, hopefully this will also translate into the best survival for these patients, but for that we still have to wait. The data of the JAVELIN 101 study are still not completely mature for OS."
Solange Peters, MD, PhD, ESMO scientific committee chair, and Oncology Department, Centre Hospitalier Universitaire Vaudois, Lausanne, Switzerland, told Medscape Medical News ahead of the meeting that the use of immunotherapy in RCC is, in Europe, "highly political."
She explained that, while the United States and Switzerland approved the ipilimumab/nivolumab combination for the frontline treatment of RCC, the European Medicines Agency rejected the indication, "so it means that the best combination, which really has shown some survival benefits, is still not available for patients in Europe," Peters said.
Consequently, any trial examining the impact of frontline immunotherapy "is very important to support potential actors for patients in Europe, because at the time they don't have access."
Study Details
Motzer began his presentation by noting that avelumab has been shown to have activity in advanced RCC and has been approved for the treatment of other malignancies, while axitinib, which is a highly potent VEGF-TKI, is approved for advanced RCC in the second line.
The rationale for combining the two is that, alongside its antiangiogenic effects, axitinib is an immunomodulator, increasing cell tumor infiltration and reducing immune suppressor cells, which would imply that adding an immunotherapy would result in synergistic antitumor effects.
Indeed, that has been shown in preclinical models, and preliminary data from the phase 1b JAVELIN Renal 100 study in 55 patients with advanced RCC showed that avelumab plus axitinib was associated with an objective response rate of 58% and a favorable safety profile.
For JAVELIN Renal 101, the researchers recruited treatment-naive patients with advanced RCC who had one or more measurable lesions and tumor tissue available for PD-L1 staining. The patients also had an ECOG status of 0 or 1.
The patients were randomized in a 1:1 fashion to 6-week cycles of avelumab plus axitinib or sunitinib, given as 4 weeks on and 2 weeks off therapy.
Motzer explained that axitinib was chosen to partner with avelumab, as opposed to sunitinib, because they had looked at combinations using sunitinib and checkpoint inhibitors "but the toxicity was considered prohibitive."
He said, "Sunitinib doesn't mix well with other drugs because of its gastrointestinal toxicity and other toxicities, including liver toxicity."
"The specific reason why axitinib was picked was because it has less of those toxicities, so it combines better," Motzer said, but he added that "sunitinib and axitinib are both very, very similar from an efficacy standpoint."
In all, 866 patients were randomized, of whom 560 (63%) were PD-L1+, defined as ≥ 1% expression on tumor-infiltrating immune cells. The patients were well balanced across the groups, with a median age of approximately 62 years. Around 75% were men.
Using the International Metastatic Renal Cell Carcinoma Database Consortium (IMDC) prognostic risk score, approximately 20% of were classified as having a favorable risk profile, while around 62% had an intermediate prognosis and 14% had a poor prognosis.
On the Memorial Sloan Kettering Cancer Center (MSKCC) risk score, around 21% were defined as having a favorable prognosis, approximately 66% had an intermediate prognosis, and 10% had a poor prognosis.
Median follow-up was 9.9 months in the avelumab plus axitinib arm and 8.4 months in patients treated with sunitinib.
The key primary endpoint of PFS as adjudicated by the independent review committee (IRC) in PD-L1+ patients was significantly greater with the combination therapy than sunitinib alone, at a median PFS of 13.8 months versus 7.2 months.
This translated into a stratified hazard ratio of 0.81 (P < .0001).
There was also a significant benefit with avelumab plus axitinib over sunitinib in the overall study population, at a median PFS per IRC of 13.8 months versus 8.4 months, or a stratified hazard ratio of 0.69 (P = .0001).
Similar results were seen when the team looked at PFS in the PD-L1+ and overall population as per investigator assessment.
Patients treated with combination therapy had substantially greater objective responses rates than those seen in the sunitinib arm, at 55% versus 26% in PD-L1+ patients and 51% versus 26% in the overall population.
This was primarily driven by an increase in the rate of partial responses seen in patients given avelumab plus axitinib, which were almost doubled, while those treated with sunitinib were proportionally more likely to have stable or progressive disease.
Subgroup analysis showed that, although the combination therapy was most effective in PD-L1+ patients with prior nephrectromy, there were nonsignificant improvements in patients who did not express PD-L1 and who had not undergone nephrectomy.
Stratifying patients by risk revealed that, on the MSKCC risk score, patients with an intermediate and poor prognosis experienced a significant benefit with combination therapy over sunitinib, while all risk groups on IMDC prognostic score benefited significantly with avelumab plus axitinib.
Motzer said that rates of all-grade and grade ≥ 3 treatment-related adverse events were similar between the combination and sunitinib treatment arms, with around 55% of patients in both groups experiencing more severe events.
Treatment-related adverse events leading to discontinuation of all study drugs were more common with sunitinib, however, and were seen in 8% of patients versus 4% of those given avelumab and axitinib.
Immune-related adverse events were seen in 38% of combination treatment patients, with 9% having grade ≥ 3 events. The most common immune-related adverse event was hypothyroidism, although most cases were mild in nature.
Motzer said that the next stage in terms of research will be to identify which patients benefit from which particular combination therapy.
He pointed out, however, that RCC "has a low rate of tumor mutational burden compared to other tumors."
"We've been looking at all these same parameters that predict outcomes in other cancers...but they don't seem to predict in kidney cancer."
Motzer added, "Kidney cancer is one of the most immunoresponsive cancers but doesn't seem to have this same pattern. There's something very special about kidney cancer that hasn't been identified yet."
Low Rate of Toxicities
Invited discussant Viktor Grünwald, MD, West German Cancer Center, University Hospital Essen, Germany, said after the presentation that single agents have been recommended for the treatment of advanced RCC for more than a decade.
The quality of response "really matters," but he asked, "What is the goal of therapy? Is it to achieve complete remission, or is it to use sequential therapies to control the tumor and keep patients stable?"
JAVELIN Renal 101 indicates that combination therapy is associated with a high rate of objective responses and improved PFS over sunitinib both in the overall and PD-L1+ group, which suggests that PD-L1 testing is not a way to identify those who will benefit the most.
Moreover, risk stratification could not predict a group of patients who benefited more than another in terms of prognosis.
"One of the beauties of this combination," Grünwald continued, is its tolerability, describing the low rates of toxicities as "really surprising."
However, to answer whether the combination therapy is better than sequencing treatments, he said that an overall survival benefit or quality of life benefit would have to be demonstrated, which is currently not possible with these immature data.
When looking at the current results with avelumab and axitinib, those set out in the Merck press release with pembrolizumab and axitinib, and the results presented last year with ipilimumab plus nivolumab, Grünwald said that the "landscape" of treatment for advanced RCC is changing.
Overall, he believes that the recommendations for intermediate- and high-risk patients are not changed by the current interim JAVELIN Renal 101 findings, but that the avelumab/axitinib combination could become the new standard of care for favorable-risk patients.
The study was sponsored by Pfizer and is part of an alliance between Pfizer and Merck KGaA, Darmstadt, Germany.
Motzer reports financial interests in Pfizer, Bristol Myers Squibb, Novartis, Eisai, Exelixis, Genentech/Roche, Merck. Other authors report numerous potential conflicts of interest. Duran reports compensated advisory boards for Roche, MSD, Novartis, Ipsen and Pharmacyclics, research funding from Roche Assistance, and funding to covering expenses to attend medical meetings from Ipsen and Roche. The Netherlands Cancer Institute has received financial compensation for advisory work Haanen has done with Pfizer, Bristol-Myers Squibb (BMS), MSD, Roche, and Novartis, and has received grant support from BMS, MSD, and Novartis. Grünwald discloses honoraria for speaker engagements and advisory roles with Art Tempi, AstraZeneca, Astellas, BMS, Cerulean, COCS, ClinSol, EUSA Pharma, EISAI, Ipsen, MedUpdate, Merck Serono, MSD Merck, MedKom Akademie, Novartis, New Concept Onology, Lilly, Johnson & Johnson, PharmaMar, PeerVoice, Roche, StreamedUp!, and ThinkWired! He has also received funding from BMS, Novartis, EISAI, Pfizer, MSD, AstraZeneca, Roche, Ipsen. He owns stocks and shares in AstraZeneca, BMS, and MSD.
European Association for the Study of Diabetes (EASD) 2018 Annual Meeting; October 21, 2018; Berlin, Germany. Abstract LBA6.
For more from Medscape Oncology, follow us on Twitter: @MedscapeOnc
Medscape Medical News © 2018 WebMD, LLC

Send comments and news tips to news@medscape.net.
Cite this: Immunotherapy Plus Targeted Drug in First-Line Kidney Cancer - Medscape - Oct 22, 2018.