Getting Paid for All the Pediatric Care Given
Pediatric practices devote considerable resources to collecting from patients and following up denials from insurance companies.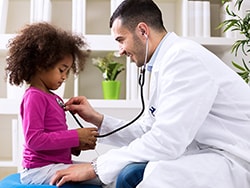 An important first step before collection activities is charging for all the services that were done by the pediatrician and other healthcare professionals in the practice. In pediatrics, there are a few services performed infrequently with high relative value unit (RVU) values and a few services performed frequently with low RVU values that are missed.
Paying attention to both is important for your practice's revenue.
In the Hospital, Don't Bill All Care as 'Normal'
Not all newborns are healthy, but sometimes, pediatricians don't use the available codes that describe caring for a sicker baby.
Codes 99460-99463 are defined as care in a calendar day for a normal newborn infant. If a newborn requires a higher level of medical care, there are two sets of codes to care for non-critically ill newborns with medical conditions.
Current Procedural Terminology (CPT) tells us to use other codes for sick neonates[1]:
For [evaluation and management] (E/M) services provided to newborns who are other than normal, see codes for hospital inpatient services (99221-99233) and neonatal intensive and critical care services (99466-99469, 99477-99480). When normal newborn services are provided by the same individual on the same date that the newborn later becomes ill and receives additional intensive or critical care services, report the appropriate E/M code with modifier 25 for these services in addition to the normal newborn code.
The first two sets of codes are initial hospital care codes (99221-99223) and subsequent hospital visit codes (99231-99233). These are used in caring for children of all ages admitted to the hospital and may be used for sick newborns, as well. Use these codes when there is a condition or diagnosis being treated in a newborn.
Some newborns develop tachypnea or mild respiratory distress or jaundice. In these situations, follow CPT instructions and do not use the normal newborn CPT codes, but report initial and subsequent hospital visit codes. Use these codes for patients with inpatient status, and assign an ICD-10 code that describes the condition being treated.
In 2008, CPT added codes for neonates who are not critically ill but require "intensive observation, frequent interventions and other intensive care."[2] These initial and continuing intensive care services fill a gap between initial/subsequent hospital visits and inpatient neonatal and pediatric critical care. These codes are defined as initial or subsequent care. Neonatal intensive care of a baby who is 28 days old or less is reported with code 99477. The subsequent days are defined by birthweight (Table).
Table. CPT Codes for Neonatal Intensive Care
CPT Code
Description
99477
Neonatal intensive care, aged 28 days or less, initial (per day)
99478
Subsequent intensive care, per day, for the evaluation and management of the recovering low-birthweight infant (present body weight < 1500 g)
99479
Subsequent intensive care, per day, for the evaluation and management of the recovering low-birthweight infant (present body weight 1500-2500 g)
99480
Subsequent intensive care, per day, for the evaluation and management of the recovering infant (present body weight 2501-5000 g)
CPT = Current Procedural Terminology
Medscape Business of Medicine © 2018 WebMD, LLC

Any views expressed above are the author's own and do not necessarily reflect the views of WebMD or Medscape.
Cite this: Betsy Nicoletti. 5 Services Pediatricians Forget to Bill For - Medscape - Nov 01, 2018.