MONTREAL — Encephaloduroarteriosynangiosis (EDAS) surgery, which involves rerouting brain arteries, showed promise in a phase 2a study of 52 patients who had had stroke or transient ischemic attack (TIA) related to intracranial atherosclerotic disease (ICAD).
Nestor Gonzalez, MD, from Cedars-Sinai Medical Center, in Los Angeles, California, presented these encouraging 1-year findings from the EDAS Revascularization for Symptomatic Intracranial Atherosclerosis (ERSIAS) trial here at the 11th World Stroke Congress (WSC) 2018.
At 1 year, 9.6% of the patients who underwent EDAS surgery had experienced recurrent stroke or had died, vs 21.2% of similar propensity-matched patients from historic cohorts who had received medical therapy alone.
The trial "showed that that the technique works...and it is important to continue now with a randomized clinical trial," Gonzalez told Medscape Medical News
It is not uncommon for patients to have a stroke or TIA related to intracranial stenosis, he noted. This affects "around 10% of the white population, but is significantly higher among African American, Asians, and Hispanics, which means that around the world, it is a very serious problem."
Currently, patients with ICAD are treated with medical therapy, which includes blood thinners; optimal therapy for hypertension, cholesterol, and diabetes (as needed); and diet and exercise advice. Previous attempts to use stenting or direct bypass intracranial surgery did not improve outcomes.
These new study findings are "exciting," session co-chair Ashfaq Shuaib, MD, professor in the Division of Neurology in the Faculty of Medicine and Dentistry, University of Alberta, in Edmonton, Canada, told Medscape Medical News.
"For the neck arteries, you can go in, open it up, and this is very effective treatment," he said. However, for intracranial lesions, "access has always been a problem."
"And as the presentation showed, they are also more aggressive; the risk of stroke approaches almost 15% to 20% every year," he said.
"In the past," Shuaib noted, "we've tried putting stents up there...to open the artery up, but it turns out that those procedures do more harm than good."
Now Gonzalez and colleagues are introducing a treatment that's been tested for many years in Japan, mostly in pediatric patients, for the condition moyamoya. In Japanese, "moyamoya" means "a puff of smoke," which is what the tangle of tiny vessels that are formed to compensate for a blocked cerebral artery look like on imaging tests.
What Gonzalez and colleagues showed "nicely," according to Shuaib, is that, "compared to what other studies have shown a decade ago, their outcomes are better.
"But the caution here is that the standard of care improves over time," he stressed, so this surgery must be compared with current medical therapy.
However, "this is a nice first step to prove that, potentially, this may work" for patients with intracranial stenosis.
Rerouting Arteries From the Scalp
As previously reported, for patients with ICAD, neither stenting in the Stenting and Aggressive Medical Management for Preventing Recurrent Stroke in Intracranial Stenosis (SAMMPRIS) trial nor direct bypass surgery in the Carotid Occlusion Surgery Study (COSS) trial led to better outcomes compared to medical therapy alone in patients with ICAD.
Currently, if a patient presents with stroke symptoms and imaging shows that the reason is intracranial arteriosclerosis, the patient needs to be treated with intensive medical management, Gonzalez explained, "but if they start failing that management, then there are no other options."
Neurosurgeons perform EDAS surgery for pediatric patients who have moyamoya, Gonzalez said, "and I thought this could be a good opportunity to extend this use."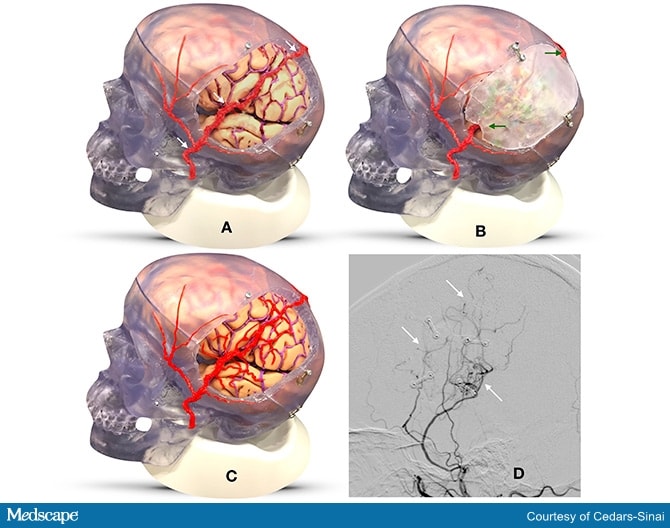 In the EDAS (encephaloduroarteriosynangiosis) operation, surgeons reroute a scalp artery and place it near the surface of the brain in need of additional blood flow (Panel A). They put the bone flap back in place (Panel B). Over time, branches grow from the artery, providing new pathways for brain circulation (Panel C). Panel D displays an angiogram of a patient's brain 6 months after the surgery, showing the new paths created (white arrows).
"In indirect bypass, like in the EDAS surgery, you maintain the artery to the scalp connected to the scalp and you reroute it...without doing an anastomosis," he explained.
ERSIAS was a single-arm, nonfutility phase 2 trial that enrolled patients with recent TIA or stroke attributed to stenosis in the intracranial carotid artery (ICA), the middle cerebral artery (MCA), or both.
Although Gonzalez presented 1-year findings, the patients in this ongoing trial are being followed for 2 years or until the primary endpoint of stroke or death within 30 days after surgery (or later stroke in the area of the qualifying artery).
The patients were matched in a 1:1 ratio with control persons from SAMPRISS and COSS. Adjustment was made for the presence of stenosis (vs occlusion), age, sex, prior stroke, and vascular risk factors.
The mean age of the participants was 53 years, and 62% were women. Two thirds had had a stroke, and the rest had had a TIA. The blockage was in the ICA (44% of cases), the MCA (37%), or both (19%).
No patients dropped out of the study.
At 1 year, five patients (9.6%) had reached the primary endpoint. The absolute risk reduction in the primary endpoint was 11.6%, which met the criterion for nonfutility and advancement to phase 3.
Moreover, 87% of the patients had good functional status (modified Rankin score, 0-2).
There was also an increase in the size and the number of vessels seen on angiography, and the patients demonstrated improvements on cognitive assessment tests.
There were no intracranial hemorrhages or other serious adverse events.
The researchers are continuing this study for 2 years. They also plan to conduct a randomized phase 3 trial at multiple centers in the United States.
Already, about 35 hospitals have expressed interest in taking part, said Gonzalez.
The study was supported by a grant from the National Institute of Neurological Disorders and Strokes of the National Institutes of Health and by the Ruth and Raymond Stotter Endowment fund.
11th World Stroke Congress (WSC) 2018. Presented October 18, 2018.
For more from Medscape Neurology, follow us on Twitter and Facebook.
Medscape Medical News © 2018

Cite this: EDAS Surgery Shows Promise for Intracranial Stenosis - Medscape - Oct 19, 2018.