Rupture of unstable nonobstructive plaque is the underlying cause of most acute coronary syndromes.[1,2] However, imaging tests to identify high-risk plaque features such as thin-cap fibroatheroma (TCFA) or spotty calcification are not practical for everyday use and have had mixed success for predicting future events.[3,4]
Farouc A. Jaffer, MD, PhD, director of cardiovascular molecular imaging at Massachusetts General Hospital in Boston told theheart.org |Medscape Cardiology that "We need to do a better job of phenotyping the artery beyond structure, plaque burden, and fibrous cap thickness."
Noninvasive Assessment of Coronary Inflammation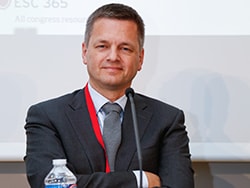 Two recent studies aim to bring vulnerable plaque identification into the cath lab routine, and trials of targeted therapies are ongoing. At the 2018 European Society of Cardiology, the CRISP-CT study[5] used the perivascular fat attenuation index (FAI)—a measure of coronary inflammation—to predict events in nearly 4000 patients undergoing CT angiography. Perivascular FAI represents the first noninvasive assessment of coronary inflammation; high values were associated with increased cardiac mortality (cut-off ≥–70.1 Hounsfield units). Stephan Achenbach, MD (Friedrich-Alexander-University, Erlangen, Bavaria, Germany), who was involved in CRISP-CT, views it as a change in thinking: "The old theory is that the fat influences the plaque. Now the Oxford researchers have turned this around, it's the plaque influencing the fat," he said in an interview.
Achenbach envisages the test having selected application in patients at high cardiovascular (CV) risk to identify those who will benefit the most from statins or PCSK9 inhibitors, and, yes, even aspirin. He sees the SCOT-HEART 5-year analysis[6] as proof of this concept. It found that patients with stable chest pain assigned to CT angiography (CTA) versus standard care alone had a lower rate of coronary artery disease mortality or myocardial infarction (MI) without undergoing more coronary interventions. "The only difference to explain the lower event rates is the fact that there was more preventive medication use in the CT group," he explained. For those skeptical that a screening test can lower events, Achenbach counters that "it's not only that more patients received statins but that the right patients received the statin."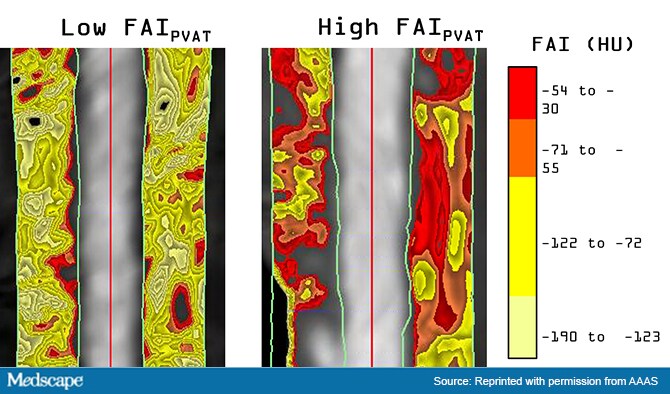 From Antonopoulos AS, et al. Sci Transl Med. 2017;9. Republished with permission from AAAS.
For now, the perivascular FAI assessment, which requires time and skill, is not commercially available. The technology is proprietary to Caristo Diagnostics, a CT image analysis spinout company of the University of Oxford in the United Kingdom, which is planning to deliver an artificial intelligence-enhanced analysis platform for clinicians in about a year. Jaffer, who was not involved in the study, commented that "It's important that other groups reproduce the methodology which is not entirely clear from the papers...it could be a tremendous opportunity to stratify risk based on pathobiology."
He made the analogy to tumor genotyping in oncology. Using the example of the CANTOS trial,[7] which showed a modest reduction in CV events with the anti-inflammatory canakinumab in patients with CVD and high hsCRP, Jaffer explained that blood levels of hsCRP are dictated by the entire body. "We would not want to take a circulating cancer biomarker and start prescribing chemotherapy." However, a direct measure of coronary inflammation could better identify patients who may benefit from canakinumab, he postulated.
Lipid Rich Plaque Color-Coded
The Lipid Rich Plaque (LRP) study,[8] presented at the Transcatheter Cardiovascular Therapeutics conference 2018 in San Diego, used near-infrared spectroscopy (NIRS) combined with intravascular ultrasound (IVUS) to detect lipid core plaque in just over 1200 patients scheduled for angiography.
The infrared spectra are acquired via a NIRS catheter placed in the artery. Results are presented as the lipid core burden index (LCBI), the fraction of valid pixels that have a probability of lipid > 0.6; the maximum 4-mm LCBI value in a scanned region is a proxy for the angular extent of lipid core.
In the LRP study, each 100-unit increase in LCBI4mm was associated with a significant increased risk for nonculprit major adverse cardiac events (MACE). There was a fourfold higher risk for nonculprit MACE at 2 years in a coronary segment with a maxLCBI4mm above 400 compared with lower levels (hazard ratio, 4.11; 95% confidence interval, 2.3-7.34). This threshold was selected based on the YELLOW study,[9] which used NIRS to assess culprit lesions in 20 patients with ST-segment elevation MI.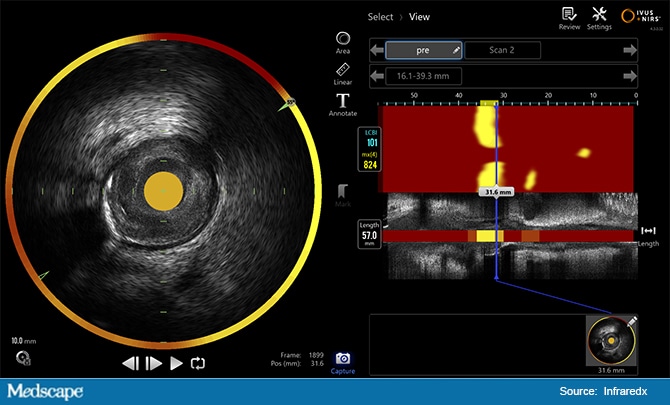 Makoto Intravascular Imaging System with IVUS and NIRS technology, and chemogram that identifies presence of lipid core plaque. Image courtesy of Infraredx, Inc.
The next step is to show that aggressively treating patients with high LCBI will stabilize the plaque and lower the risk for recurrent events. In the ongoing PACMAN-AMI trial, more than 200 patients undergoing primary percutaneous coronary intervention will be randomly assigned to the PCSK9 inhibitor alirocumab versus placebo (in addition to high-intensity statin therapy) and assessed for change in plaque volume at 52 weeks via optical coherence tomography/NIRS.
In the recently published GLAGOV trial, evolocumab was associated with a reduction in plaque burden but no significant change in plaque composition as assessed by serial virtual histology.[10] An accompanying editorial suggests that this may reflect a limitation of the imaging modality rather than the therapy.[11]
Plaque Sealing: Role for Stents?
In a session at the 2018 Transcatheter Cardiovascular Therapeutics (TCT) meeting, sponsored by Infraredx, Inc, called "The new frontier: can we finally predict and start treating vulnerable plaque," LRP study principal investigator, Ron Waksman, MD (MedStar Heart and Vascular Institute, Washington, DC), made the provocative suggestion that the LCBI4mm > 400 threshold might justify stenting the lesion. Panelist Jonathan Tobis (Ronald Reagan UCLA Medical Center) disagreed and warned that "every time we try to do intervention in people who are really asymptomatic, angioplasty fails." However, James Muller, MD (Brigham and Women's Hospital, Boston, Massachusetts), who founded Infraredx, speculated that "there will be advanced lipid plaques that are too far gone for medical therapy that will require local therapy [with stents]."
Jaffer told theheart.org | Medscape Cardiology that he would need to see that proven effective in randomized trials first. He noted that in the PROSPECT trial all three high-risk plaque features combined (high-plaque burden, TCFA, and minimal luminal area [MLA]) had a positive predictive value of only 18%.[4] "That means if you stent a lesion, five out of six times you're wrong...we need to get positive predictive values that are closer to 60%-70%." Achenbach was pessimistic about a mechanical strategy: "Every attempt to stent vulnerable plaque has failed."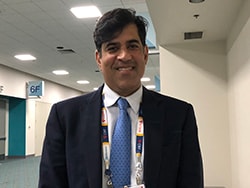 A substudy of the ongoing PROSPECT II trial will test the feasibility of plaque sealing for improving MLA. Nearly 200 patients with plaque burden >70% have been randomly assigned to the Absorb bioresorbable vascular scaffold (BVS) or medical therapy and will be reimaged at 2 years. The Absorb BVS has since been taken off the market because of safety concerns. In a press conference at TCT, Gregg Stone, MD (Columbia University Medical Center, New York City) stated that the PROSPECT ABSORB substudy has completed enrollment and the data safety monitoring board has not raised any concerns. A 2-year follow-up should be completed by the end of 2019.
The PREVENT trial will similarly randomize patients with high-risk plaque features to BVS or Xience versus medical therapy. The trial, which is about half-enrolled, will have a primary endpoint of CV death, MI, and hospitalization.
Waksman described the Makoto Intravascular Imaging System and accompanying Dualpro catheter as an easy-to-use "plug and play" system. The two can only be utilized together (labs with an existing IVUS system can't add a NIRS component) and, according to the communications officer for Infraredx, it will be comparably priced to other IVUS systems currently on the US market.
Predicting the Future and Primary Prevention
Could NIRS potentially crack the ultimate nut and prevent sudden deaths like Tim Russert's or Dave Goldberg's?
At the Infraredx-sponsored session at TCT, Ryan Madder, MD (Frederik Meijer Heart & Vascular Institute, Spectrum Health, Grand Rapids, Michigan) did not rule out a potential application for NIRS in the primary prevention arena based on a pilot study in asymptomatic patients with high-risk calcium scores (≥ 300), which yielded drastically different NIRS findings in patients with similar scores.[12]
Jaffer opposes using an invasive test in primary prevention. "I would absolutely not favor that. It's way too risky and they haven't shown that they've beaten coronary calcium score or CTA," he cautioned, adding that the NIRS test is more invasive than angiography.
CRISP-CT investigator Achenbach is against using the noninvasive perivascular FAI test for primary prevention because, "you'll scan too many healthy people." He is not a fan of serial testing either because it's unlikely to add therapeutic value: "What are you going to do if there is less plaque—take them off the statin? It was the statin that lowered the plaque, so no."
Indeed, serial imaging with various modalities has shown that vulnerable plaques can stabilize over time, although this appears to less often occur in patients presenting with acute MI.[13,14] Jaffer suspects that changes in background therapies or better management of risk factors may be at play.
He predicts that in the next 5 years there will be personalized pharmacologic therapy based on invasive signals of vulnerable plaque: "We want to make this type of process for invasive imaging (whatever technique) very much fall into the cath lab flow."
Disclosures:
Achenbach has disclosed no relevant financial relationships.
Jaffer reports receiving grant support from Siemens and Canon; consulting for Abbott Vascular, Boston Scientific, Siemens, and Philips; the FDG fluorescence test is owned and licensed by MGH and Jaffer is entitled to royalties.
Madder reports receiving grant support from Corindus Vascular Robotics, Infraredx, and TIDI products; consulting for Corindus Vascular Robotics and SpectraWave.
Waksman reports serving on advisory boards for Abbott Vascular, Amgen, Boston Scientific, Medtronic, Philips Volcano, Pi-Cardia LTD, and Cardioset; consulting for Abbott Vascular, Amgen, Biosensors, Biotronik, Boston Scientific, Medtronic, and Philips Volcano; receiving grant support from Abbott Vascular, AstraZeneca, Biosensors, Biotronik, Boston Scientific, and Chiesi; serving on the speakers bureau for AstraZeneca and Chiesi; and being an equity holder in MedAlliance, DOMed, Pi-Cardia, and Cardioset.
Muller, former founder of Infraredx, reports having equity in and receiving salary support from SpectraWave.
Follow Tricia Ward on Twitter: @_triciaward
For more Cardiology follow us on Twitter @theheartorg
© 2018 WebMD, LLC

Any views expressed above are the author's own and do not necessarily reflect the views of WebMD or Medscape.
Cite this: Vulnerable Plaque: Are Targeted Therapies Within Reach? - Medscape - Oct 25, 2018.