Medscape Editor's Key Points:
If you work in a network or group, make sure that other clinicians don't become directly involved in your patients' services contrary to your wishes.

No matter the size of the practice, you should know about all encounters that involve your patients or where to find that information.

At staff meetings, periodically review practice processes so you can learn about patient care taking place that you may not know about.
Know the Ins and Outs of Your Practice
Sometimes, physicians within an Individual Practice Association (IPA) may need to make sure that the IPA has not become involved in directing patient services that are contrary to a physician's wishes.
Fourteen-year-old Kari R (not her real name) began seeing Dr. FM, a specialist in family medicine, for complaints of acid reflux, chronic tiredness, and lack of energy. Per her mother's history, Kari had been diagnosed a year earlier with fructose intolerance and acid reflux but had been found negative for gluten intolerance, Giardia, and H pylori.
Dr. FM ordered labs and referred Kari to a pediatric dietitian and the pediatric GI clinic at the nearby medical center. Several months later, Dr. FM referred Kari to an allergist, who diagnosed allergic rhinitis, chronic sinusitis, nasal congestion, and allergic bronchial asthma. The allergist ordered a series of immunotherapy injections. These injections were given in Dr. FM's office by several medical assistants (MAs) and a nurse practitioner via antigen packets provided to Kari by the allergist and cold-stored in Dr. FM's office.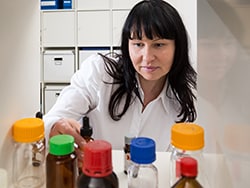 On her seventh visit for her allergy injections, the young patient developed an acute rash reaction at the injection site and began to cough and complain of chest tightening. Dr. EE, who was Dr. FM's employee and in the office during the MA's injection of the patient, responded by administering oxygen via nasal cannula, Benadryl, and epinephrine.
Dr. EE also gave the patient a nebulizer treatment of Xopenex. A call to the allergist resulted in instructions similar to the treatment that Dr. EE had by then administered. The patient rested in the medical office for several more hours.
While the patient recovered from the incident, Dr. EE told Kari's mother that her daughter had received the antigen of a different patient, also a "Kari R." Evidently, the antigen packets of the various patients listed full patient names in very small type, with the first name and last initial printed much more prominently. Both "Kari Rs" were taking the same antigen for cat allergies, though the other patient's antigen was a stronger concentration.
The patient visited her allergist's office later that day and received prescriptions for albuterol, Zyrtec, and a Medrol Dosepak. That evening, she went to the urgent care center for hives, which continued off and on for the next day.
The patient sued Dr. FM for negligence and later added the MA as a defendant. Prior to receiving a call from Dr. EE after the event, Dr. FM did not know that MAs were administering allergy injections in the office. In fact, Dr. FM had told her IPA before the incident that she was not willing to have allergy injections administered in her office because of the liability exposure.
After the event, Dr. FM's office manager told her that the IPA had instructed the MAs (MA was an employee of the IPA) to continue the injections. Because these patient encounters were not on the physicians' schedules, and because there had been no direct physician involvement before Dr. EE's aid to Kari, Dr. FM was not aware of the injections.
After the incident, Dr. FM stopped the practice in her office. Dr. FM was eventually dismissed from the case while the MA and the family resolved the matter informally.
No doubt, physicians can be challenged to know in detail all of the activities occurring within a busy medical practice. However, something as basic as occasionally checking what medications are stored in the refrigerator can be a good place to start.
This case comes from Medicine on Trial, originally published by Cooperative of American Physicians, Inc., to provide risk management lessons from litigated case histories. The article was originally titled "Do You Know All That's Going on in Your Office?"
© 2018 Cooperative of American Physicians, Inc.

This case comes from Medicine on Trial, originally published by Cooperative of American Physicians, Inc., to provide risk management lessons from litigated case histories.
Cite this: Gordon T. Ownby. Malpractice Case: Staff Activities That Could Lead to Problems - Medscape - Nov 16, 2018.