Pressure and Isolation Lead to Tragedy
John Dietl, father of then-26-year-old Kevin Dietl, a fourth-year medical resident who committed suicide in 2015, brushes aside his tears when he talks about his deceased son.
"Kevin thought he was all alone in feeling the way he did," Dietl told Medscape. "Looking back, he was very isolated. All he did was study. He had no time to keep up with friends."
"Our son thought he was the only one. He had a psychotic break. He felt very isolated and felt no other way out," said Dietl.
Kevin's mother, Michele Dietl, added, "When Kevin came home, he seemed down, but he didn't talk about anything being wrong, and we didn't want to probe. Others said, 'Well, everyone goes through this in medical school,' and we felt that he would get past it and feel better."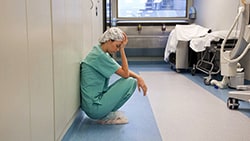 But Kevin's depression didn't lift. His gunshot suicide destroyed his family's world.
John and Michele appear in the new movie Do No Harm: Exposing the Hippocratic Hoax, a powerful documentary about medical resident suicide, by Emmy award–winning writer/producer/director Robyn Symon. I met the Dietls and Symon at the recent New York screening of the movie. The theater was sold out on both nights of the screening and was packed with residents, med students, attendings, and other practicing physicians, many of whom I knew from other venues.
The movie also tells the story of another former resident, Hawkins Mecham, who had attempted suicide by slitting his wrists. He survived and now cares for patients. It was wonderful to see him smiling and happy at the movie screening.
"I come from a family of physicians, but we never spoke about the depression, disillusionment, sleep deprivation, and the inability to seek emotional help," says Symon. "Four years ago, someone sent me an article about two young doctors who jumped from the roofs of their buildings in New York. I was shocked. I wanted to know what would cause them to feel so desperate."
The climate that creates depressed and burned-out physicians can also lead them to make unintentional errors when caring for patients. "When I linked those conditions in our medical culture that patients don't see to the alarming rate of medical errors, I realized that this is a subject that impacts everyone," says Symon.
Medscape Business of Medicine © 2018 WebMD, LLC

Any views expressed above are the author's own and do not necessarily reflect the views of WebMD or Medscape.
Cite this: Leslie Kane. Resident Suicide: A Tragedy, and What Can Help? - Medscape - Sep 19, 2018.