An internationally renowned breast cancer expert who failed to disclose millions of dollars that he received in payments from the pharmaceutical industry has resigned from his post at a top cancer center.
José Baselga, MD, PhD, currently physician-in-chief and chief medical officer at Memorial Sloan Kettering Cancer Center (MSKCC) in New York City, resigned on September 14, just days after revelations by the New York Times (NYT) and ProPublica about his failure to disclose financial ties to industry.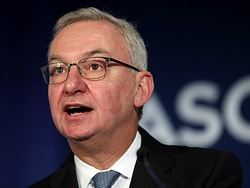 "I take full responsibility for failing to make appropriate disclosures in scientific and medical journals and at professional meetings. I have already updated disclosures in medical journals and will continue to do so until the record is complete," Baselga wrote in his resignation letter, which was published in the New York Times.
He wrote that he offers his resignation "with regret" but "unfortunately, I fear my continued role leading clinical care and research will become too much of a distraction to the hospital and its remarkable team of physicians, researchers and staff."
As reported earlier, the NYT/ProPublica investigation found that Baselga received nearly $3.5 million from nine companies from August 2013 through 2017, according to the federal Open Payments database, which compiles disclosures filed by drug and device companies.
In addition, he has disclosed other investments and advisory roles in biotech start-up companies but has declined to provide detailed information about those interests, the report notes. If a product has not yet received regulatory approval, manufacturers do not have to disclose the payments that they made to physicians.
The NYT/ProPublica report also notes that Baselga was paid more than $1.5 million in compensation by MSKCC in 2016, according to the hospital's latest available tax disclosures.
An analysis of Baselga's publications in medical journals since 2013, the year he joined MSKCC, showed that he failed to declare his disclosures in over 100 publications, or about 60% of the time.
In 2017, he failed to list any potential conflicts of interest in 87% of the articles that he wrote or coauthored, the report maintains.
The report notes that Baselga did not dispute his relationships with at least a dozen companies, and that he stated that the disclosure lapses were unintentional. He has also said he would correct his lack of disclosures for 17 articles, including those published in the New England Journal of Medicine, the Lancet, and Cancer Discovery, but that he did not believe disclosure was required for dozens of other articles reporting early research.
Career Path
A native of Spain, Baselga received his MD and PhD degrees from the Autonomous University of Barcelona in 1982 and completed a fellowship in medical oncology at MSKCC. From 1996 to 2010, he was chairman of the Medical Oncology Service and founding director of the Vall d'Hebron Institute of Oncology at the Vall d'Hebron University Hospital in Barcelona.
Relocating to the United States, he then served as the chief of the Division of Hematology/Oncology and associate director of the Massachusetts General Hospital Cancer Center in Boston from 2010 to 2012 before his appointment at MSKCC in 2013.
His research at MSKCC focused on identifying mechanisms that limit the sensitivity to targeted therapy in solid tumors, in particular, to PI3K/Akt/mammalian target of rapamycin inhibitors and antihuman epidermal growth factor receptor 2 agents.
Baselga made "numerous" contributions to MSKCC, patients, and cancer treatment, the hospital's chief executive, Craig Thompson, MD, wrote in an email to staff following the resignation.
The resignation was effective immediately, and Baselga will have no continuing role at the cancer center, although he will stay for 2 weeks to ease the transition, an MSKCC spokesperson told the NYT.
Lisa DeAngelis, MD, chair of the Department of Neurology, will take over as acting physician-in-chief until Baselga's successor is hired.
Disclosure Is Serious
Earlier in the week, after the revelations first appeared, Thompson wrote to all MSKCC staff to emphasize that the "matter of disclosure is serious" and that everyone must do "a better job" on this issue.
The chief executive also wrote, "We encourage industry collaboration, as it is a driving force that has led to the approval of novel life-saving cancer treatments for countless patients across the globe.
"The issues surrounding author disclosure are complex, as there are nebulous guidelines about how and when to make voluntary disclosures," he said.
The "issue of disclosure extends well beyond the world of oncology," he noted.
Indeed, the issue of disclosing relationships with industry crosses all medical specialties. It received wide attention and spurred congressional action about 10 years ago, when top psychiatrists made the news for failure to disclose industry payments.
For more from Medscape Oncology, follow us on Twitter: @MedscapeOnc
Medscape Medical News © 2018

Cite this: Top Cancer Expert Resigns After Not Disclosing Industry Ties - Medscape - Sep 14, 2018.