T. Michael Redmond, PhD, chief of the National Eye Institute (NEI) Laboratory of Retinal Cell and Molecular Biology, has received the 2018 António Champalimaud Vision Award — one of the world's most prestigious awards in vision science — for his role in developing gene therapy for a form of the blinding disorder Leber congenital amaurosis (LCA).
LCA is a rare, inherited genetic disorder in which children with severe mutations of a gene can be born blind. Those with less severe mutations may have some vision at birth but often become blind as young adults.
Mandeep Singh, MD, PhD, assistant professor of ophthalmology at Wilmer Eye Institute at Johns Hopkins University School of Medicine in Baltimore, Maryland, told Medscape Medical News, "In the vision research community, it's among the most prestigious recognitions that we have. It's conferred by peers to some of the most important, pivotal discoveries in eye research."
Santa J. Tumminia, PhD, deputy director of the NEI in Bethesda, Maryland, told Medscape Medical News that Redmond's gene therapy is "the first and only pharmacologic treatment for an inherited retinal disease."
She said that research by Redmond, whom she described as "extremely humble," focused on the retinal pigment epithelium (RPE), a single layer of cells crucial for keeping light-sensing photoreceptors healthy.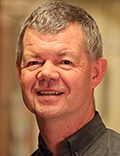 Tumminia said Redmond's determination to understand the biology of RPE led to his discovery of the RPE65 gene, which led to the finding that "the RPE65 protein is essential for generating 11-cis retinal and thus powering phototransduction and the visual cycle."
She said Redmond then participated in global efforts that pegged lack of the RPE65 protein as a likely cause of LCA.
FDA Approved Drug
Mouse models and then trials with larger animals led to three human clinical trials that "ultimately led to the first directly administered gene therapy approved in the US that targets a disease caused by mutations in a specific gene," Tumminia said.
According to a National Institutes of Health (NIH) press release, "Within weeks of treatment, most patients reported having brighter and clearer vision, and retinal studies showed improvements in sensitivity to light."
The US Food and Drug Administration approved the gene therapy voretigene neparvovec-rzyl (Luxturna, Spark Therapeutics) in 2017 for the treatment of patients with RPE65 mutation–associated retinal dystrophy, a group of disorders that includes LCA.
Singh said the development of a treatment for RPE65-associated LCA, "really holds great promise in improving the lives of these young people affected by these conditions and the numerous adults who have lived with it all their lives."
He said some will likely do better than others with the treatment.
"Anyone who is genetically confirmed to have this mutation causing the condition can be eligible for the treatment, provided that their retina has viable retinal cells still present. In some cases, the retinal cells degenerate and the number of viable cells has decreased to the point that treatment may not be as effective as we expect. This can be determined by the physician," Singh said.
In addition to Redmond, four other NEI-supported researchers shared the prize: Jean Bennett, MD, PhD, Albert M. Maguire, MD, and Samuel Jacobson, MD, PhD, from the Perelman School of Medicine at the University of Pennsylvania in Philadelphia; and William W. Hauswirth, PhD, from the University of Florida College of Medicine in Gainesville.
Also recognized were Robin Ali, PhD, and James Bainbridge, MD, PhD, Institute of Ophthalmology of the University College London and Moorfields Eye Hospital, United Kingdom.
The Champalimaud Vision Award originated in 2006. According to the NIH press release, in even-numbered years, it is given to researchers in basic and clinical science, and in odd-numbered years, it is given to institutions in recognition of efforts to prevent and cure blindness and vision disorders, primarily in developing countries. The Champalimaud Foundation is based in Lisbon, Portugal. It was established by the late entrepreneur António de Sommer Champalimaud.
Medscape Medical News © 2018

Cite this: NIH Vision Researcher Among Seven to Receive Top Global Award - Medscape - Sep 05, 2018.