Hydrocodone Bitartrate and Homatropine Methylbromide (Hycodan)
For more on this Drug Safety Labeling Change, click here.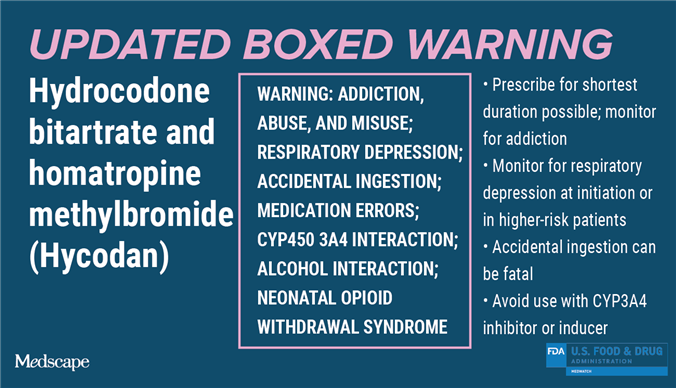 Updated Boxed Warning
WARNING: ADDICTION, ABUSE, AND MISUSE; LIFE-THREATENING RESPIRATORY DEPRESSION; ACCIDENTAL INGESTION; MEDICATION ERRORS; CYTOCHROME P450 3A4 INTERACTION; CONCOMITANT USE WITH BENZODIAZEPINES OR OTHER CNS DEPRESSANTS; INTERACTION WITH ALCOHOL; NEONATAL OPIOID WITHDRAWAL SYNDROME
Addiction, Abuse, and Misuse
HYCODAN exposes patients and other users to the risks of opioid addiction, abuse, and misuse, which can lead to overdose and death. Reserve HYCODAN for use in adult patients for whom the benefits of cough suppression are expected to outweigh the risks, and in whom an adequate assessment of the etiology of the cough has been made. Assess each patient's risk prior to prescribing HYCODAN, prescribe HYCODAN for the shortest duration that is consistent with individual patient treatment goals, monitor all patients regularly for the development of addition or abuse, and refill only after reevaluation of the need for continued treatment [see Warnings and Precautions (5.1)].
Life-Threatening Respiratory Depression
Serious, life-threatening, or fatal respiratory depression may occur with use of HYCODAN. Monitor for respiratory depression, especially during initiation of HYCODAN therapy or when used in patients at higher risk [see Warnings and Precautions (5.2)].
Accidental Ingestion
Accidental ingestion of even one dose of HYCODAN, especially by children, can result in a fatal overdose of hydrocodone [see Warnings and Precautions (5.2)].
Risk of Medication Errors
Ensure accuracy when prescribing, dispensing, and administering HYCODAN. Dosing errors can result in accidental overdose and death. Always use an accurate milliliter measuring device when measuring and administering HYCODAN [see Dosage and Administration (2.1), Warnings and Precautions (5.5)].
Cytochrome P450 3A4 Interaction
The concomitant use of HYCODAN with all cytochrome P450 3A4 inhibitors may result in an increase in hydrocodone plasma concentrations, which could increase or prolong adverse drug effects and may cause potentially fatal respiratory depression. In addition, discontinuation of a concomitantly used cytochrome P450 3A4 inducer may result in an increase in hydrocodone plasma concentration. Avoid the use of HYCODAN in patients taking a CYP3A4 inhibitor or inducer [see Warnings and Precautions (5.7), Drug Interactions (7.2,7.3)].
Risks from Concomitant Use with Benzodiazepines or Other CNS Depressants
Concomitant use of opioids with benzodiazepines or other central nervous system (CNS) depressants, including alcohol, may result in profound sedation, respiratory depression, coma, and death. Avoid the use of HYCODAN in patients taking benzodiazepines, other CNS depressants, or alcohol [see Warning and Precautions (5.8), Drug Interactions (7.5)].
Interaction with Alcohol
Instruct patients not to consume alcoholic beverages or use prescription or nonprescription products that contain alcohol while taking HYCODAN. The co-ingestion of alcohol with HYCODAN may result in increased plasma levels and a potentially fatal overdose of hydrocodone [see Warnings and Precautions (5.8) and Drug Interactions (7.1)].
Neonatal Opioid Withdrawal Syndrome
HYCODAN is not recommended for use in pregnant women [see Use in Specific Populations (8.1)]. Prolonged use of HYCODAN during pregnancy can result in neonatal opioid withdrawal syndrome, which may be life-threatening if not recognized and treated, and requires management according to protocols developed by neonatology experts. If HYCODAN is used for a prolonged period in a pregnant woman, advise the patient of the risk of neonatal opioid withdrawal syndrome and ensure that appropriate treatment will be available [see Warnings and Precautions (5.13)].
Public Information from the FDA and Medscape
Information provided by FDA and/or its employees on this website is for educational purposes only, and does not constitute medical advice. Any statement or advice given by an FDA employee on this website does not represent the formal position of FDA. FDA and/or any FDA employee will not be liable for injury or other damages resulting to any individuals who view FDA-related materials on this website.
Cite this: Drug Safety Warnings and Updates: April-June 2018 - Medscape - Sep 10, 2018.