Tacrolimus (Prograf)
For more on this Drug Safety Labeling Change, click here and here.
For full prescribing information, click here.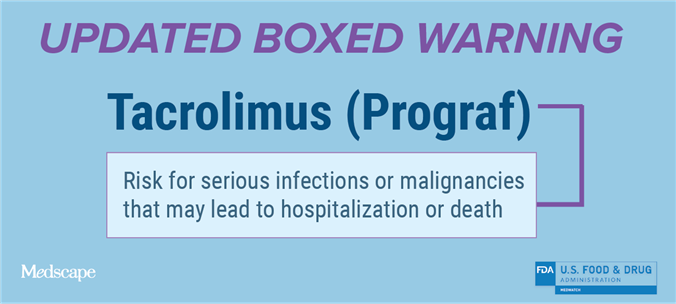 Updated Boxed Warning
Increased risk for developing serious infections and malignancies with PROGRAF or other immunosuppressants that may lead to hospitalization or death [(see Warnings and Precautions 5.1, 5.2)].
Public Information from the FDA and Medscape
Information provided by FDA and/or its employees on this website is for educational purposes only, and does not constitute medical advice. Any statement or advice given by an FDA employee on this website does not represent the formal position of FDA. FDA and/or any FDA employee will not be liable for injury or other damages resulting to any individuals who view FDA-related materials on this website.
Cite this: Drug Safety Warnings and Updates: April-June 2018 - Medscape - Sep 10, 2018.