Preliminary data indicate that rates of three sexually transmitted diseases (STDs) — Chlamydia infection, gonorrhea, and syphilis — hit an all-time high in 2017, according to the US Centers for Disease Control and Prevention (CDC).
The CDC said that the United States is on track to have 1.7 million cases of Chlamydia infection (up from 1.59 million in 2016), 555,608 cases of gonorrhea, and 30,644 cases of primary and secondary syphilis in 2017. Overall, that's 200,000 more cases of the three reportable STDs than in 2016, and it's the fourth year in a row that the United States has had a significant increase in those conditions.
The early data indicate that from 2013 to 2017, the number of gonorrhea cases increased by 67% and syphilis cases nearly doubled, said Gail Bolan, MD, director of the CDC's Division of STD Prevention, in a call with reporters. A significant number of the syphilis cases — 17,736 — were in men who have sex with men. The figures are alarming, said Bolan and other officials who participated in the call.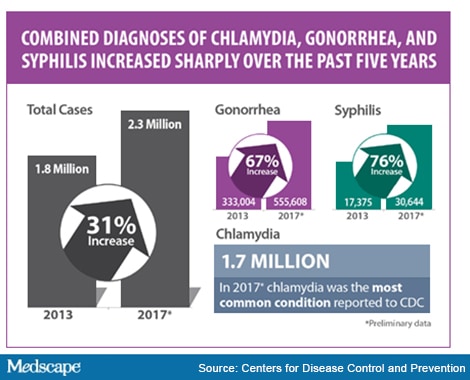 "After decades of declining STDs, in recent years we've been sliding backwards," she said.
"The United States continues to have the highest STD rates in the industrialized world," said David Harvey, executive director of the National Coalition of STD Directors (NCSD), on the call. Harvey said STDs lead to $16 billion in preventable healthcare costs each year.
"We are in the midst of an absolute STD public health crisis. The American public and members of Congress need to know that the explosion in STDs comes on the heels of years of cutbacks in federal funding," he said.
Harvey and others who spoke on the call cited several reasons for the steady increase in sexually transmitted infections, among them: a lack of education about and awareness of sexual health and STDs; a lack of screening by physicians; patients not asking for screening or treatment; and decades of underfunding of public health efforts to prevent, diagnose, and treat the conditions.
Michael Fraser, PhD, CAE, FCPP, executive director of the Association of State and Territorial Health Officials, said that the public health infrastructure has been eroding for years. But unlike bridges and roads — where a lack of upkeep is visible — "you don't always see a crumbling public health infrastructure," he said. He noted that "a lot of folks don't even know what public health does."
Regarding STDs, public health disease investigators talk with people who may have the infections to try to convince them to change behaviors; they may also track down recent contacts in the hopes of preventing spread. That work is effective, but expensive, said Fraser. "We know what works with STD prevention — we just don't necessarily want to pay for all of it."
The NCSD estimates that an additional $70 million is needed for state and local STD programs, which would bring total funding to $227 million in fiscal 2019, said Harvey. "Congress has the opportunity right now to do something about this as they debate the [fiscal year] 2019 appropriations bill and decide how to allocate new funding to address these very serious life-threatening diseases."
Clinicians bear some of the blame by not taking sexual histories or offering screening to patients, as recommended in many guidelines, said the experts on the call. Physicians may have a hard time accomplishing everything that is recommended during a patient visit, said Edward (Ned) Hook III, MD, scientific committee chair, University of Alabama School of Medicine, Birmingham. But, he added, another issue is that "providers and patients sometimes are a little bit reticent to start the conversation."
Opioid Crisis: "Sex for Drugs"
The opioid crisis is playing a role in the rising rates of STDs, said Harvey and Bolan. "We know today that some of what is driving congenital syphilis are women who are trading sex for drugs," said Harvey, adding that the behavior explains some of the infections in babies.
"As the Trump administration continues to do good work to battle opioid misuse in America, we cannot forget the infectious disease consequences, which include STDs," he said.
Bolan noted that "injection drug use itself does not seem to be causing sexually transmitted infections." But she said that drug use of any kind puts people at higher risk for STDs — a fact that has been known for years.
The CDC also has data indicating that 15- to 24-year-olds who injected drugs within the past year were more likely to be diagnosed with Chlamydia infection, syphilis, and gonorrhea, she said. Injecting drugs was also associated with higher rates of forced sex, sex in exchange for money, and sex with other people who inject drugs. "All of these factors can lead to increases in STDs," said Bolan.
The CDC has also been concerned about the rise of gonorrhea that may be resistant to the one therapy — ceftriaxone (Rocephin, Hoffmann La Roche) — that still eradicates the infection. The agency has recommended since 2015 that clinicians administer a single shot of that antibiotic accompanied by an oral dose of azithromycin (multiple brands). The azithromycin is needed to help shield the ceftriaxone from resistance.
"That approach seems to be working," said Bolan, noting that emerging resistance has not been seen and that there has not been a confirmed treatment failure in the United States.
New CDC data indicate that a small but growing fraction of gonorrhea laboratory specimens are now showing emerging resistance to azithromycin, she said. That raises the concern that azithromycin-resistant genes in some strains of gonorrhea may cross over into strains with reduced susceptibility to ceftriaxone, said Bolan.
"A strain of gonorrhea may someday surface that does not respond to ceftriaxone," she said.
Medscape Medical News © 2018

Cite this: Three STDs Hit All-Time High in 2017, New CDC Data Show - Medscape - Aug 28, 2018.