MUNICH — The largest and longest placebo-controlled randomized trial of omega-3 fatty acid (as found in fish oil) supplementation has found no effect on serious vascular events, cancer, or mortality.
This analysis from the 2 × 2 factorial ASCEND trial was presented here at the European Society of Cardiology (ESC) 2018 Congress and simultaneously published in the New England Journal of Medicine.
"On the basis of these results I believe that there is no justification for using a 1-g dose of omega-3 fatty acids for the prevention of cardiovascular disease and that the current guideline recommendations should be reconsidered," concluded co-lead investigator, Louise Bowman, MD, associate professor at the clinical trial service unit of the University of Oxford, United Kingdom.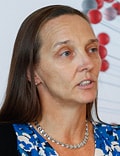 Bowman noted that fish oil supplements are widely used amidst claims of benefits on the heart, brain, weight, vision, inflammation, skin, pregnancy, liver fat, depression, childhood behavior, mental decline, allergies, and bones, and the global market for these products was valued at $31 billion in 2015.
She noted that previous research has suggested that higher fish intake is associated with lower cardiovascular risk and that omega-3 fatty acid supplements are recommended for secondary prevention of heart disease based on trials done in 1980s and 1990s, whereas increased fish intake is recommended for primary prevention. However, recent meta-analyses of randomized trials have not shown benefits of omega-3 fatty acids in primary or secondary prevention.
The ASCEND trial looked specifically at diabetic primary prevention patients, a group considered to be at high risk of developing vascular disease.
The study included 15,480 UK diabetic patients (age ≥ 40 years) without prior cardiovascular disease who were randomly assigned to omega-3 fatty acids, 1-g capsule/day, or placebo.
Patients were followed for a mean of 7.4 years, with an average adherence to omega-3 capsules of 77%.
Results showed no difference in the primary efficacy outcome — serious vascular events (myocardial infarction, nonhemorrhagic stroke, or transient ischemic attack, or cardiovascular death) — or in the secondary endpoint when revascularization was added.
Table. ASCEND: Endpoint Results for Omega-3 Fatty Acids vs Placebo
| Endpoint | Fish Oil (%) | Placebo (%) | Rate Ratio (95% Confidence Interval) |
| --- | --- | --- | --- |
| Serious vascular events | 8.9 | 9.2 | 0.97 (0.87 - 1.08) |
| Serious vascular events or revascularization | 11.4 | 11.5 | 1.00 (0.91 - 1.09) |
Mortality also did not differ between the two groups, although Bowman pointed out a "tantalizing result" for vascular death, which was significantly reduced in the fish oil group: –2.5% vs 3.1%; rate ratio, 0.82 (95% confidence interval, 0.68 - 0.98).
However, she said she would be cautious in interpreting this result because of the multiple comparisons and the lack of an effect on nonfatal events.
Discussant of the trial at the ESC Hotline session, Christopher Cannon, MD, Brigham and Women's Hospital, Boston, Massachusetts, pointed out that a previous meta-analysis of fish oil trials has also suggested a benefit of fish oil on vascular death. He said that because of this, "I am looking forward to the results of another large trial investigating 1 g of fish oil (VITAL) to be reported later this year."
The major outstanding question on fish oil appears to be on the dose, with suggestions that higher doses may be better.
On this issue, Bowman said, "We chose the 1-g dose based on earlier studies which had shown promise. Yes, the question remains as to whether a higher dose of 2 to 4 g dally would show an effect as these doses have a greater effect on reducing triglycerides, but there could be a possible tolerability issue with such high doses."
Two other large trials of higher doses of fish oil (REDUCE-IT and STRENGTH) with the goal of reducing triglyceride levels are also set to report soon, and it will be interesting to see whether they show different results, Cannon noted.
On the type of product used, Bowman said, "We used the prescription version of high-strength purified omega-3 fatty acids. This is the one that has been recommended in the guidelines for secondary prevention. It is likely that the nonprescription versions contain lower doses of the omega-3 fatty acids and would be even less likely to have an effect."
Should We Stop Eating Fish?
Asked what effect this trial has on the advice to eat fish regularly, Bowman noted that the positive findings supporting eating fish come from observational dietary studies that have "many difficulties."
"But for sure a fish oil capsule is not a fish, and if you're eating a fish you're probably not eating a 10-ounce steak, so that in itself is different, and trying to tease out that confounding in observational studies is very difficult," she said. "I would certainly not recommend removing fish from the diet because having a diet high in fish is probably more beneficial than having a diet high in rib eye steak, but we can't really say anything about that from this trial."
Another point raised was that the placebo used in the trial was olive oil, which itself could have some benefits, but Bowman said, "in a modern day UK population, an additional 1 g of olive oil is unlikely to have any impact."
She noted that the guidelines at present differ slightly from country to country, but there is a sense that for secondary prevention omega-3 fatty acids should certainly be considered.
"You can argue that this was a primary prevention trial, but when you add it in to all the other data that has accumulated in recent years there is a consistent message that we are not getting any evidence of any benefit. So I would say it is not unreasonable to extrapolate it to the secondary prevention population in the context of all the available data."
She described the marketing clout behind the supplement industry as "quite phenomenal." She continued: "There are whole stores dedicated to selling these products, but we are struggling to find a benefit on health of any of these supplements — folic acid, vitamins, as well as fish oil."
On other possible effects of fish oil, Bowman said, "While the study wasn't designed to address other therapeutic areas specifically, we did look at other disease categories and didn't find any that appeared to benefit from fish oil supplementation."
Asked if there were any effects on cognition in the study, Bowman said they did include a cognitive function test at the end of the study, but the results were still being analyzed.
Commenting for theheart.org | Medscape Cardiology, Ileana Piña, MD, professor of medicine and associate chief of cardiology at Albert Einstein College of Medicine, Montefiore Medical Center, Bronx, New York, said, "I have so many patients who want to buy fish oil supplements. I tell them to save their money and eat fish two or three times a week. This trial reinforces that view. I think there is a big difference between a fish oil capsule and eating fish, which is part of the Mediterranean diet, for which there is evidence of benefit."
ASCEND was a 2 × 2 factorial study that also investigated the effect of aspirin on vascular events in diabetic patients. Results are reported in a separate Medscape Medical News article.
The ASCEND trial was supported by grants to the University of Oxford from the British Heart Foundation. Solvay, Abbott, and Mylan provided the omega-3 fatty acids and placebo.
European Society of Cardiology (ESC) 2018 Congress. Presented August 26, 2018.
N Engl J Med. Published online August 26, 2018. Abstract
For more from theheart.org | Medscape Cardiology, follow us on Twitter and Facebook
Medscape Medical News © 2018 WebMD, LLC

Send comments and news tips to news@medscape.net.
Cite this: Omega-3 Supplements: No Effect on Vascular Events in ASCEND - Medscape - Aug 27, 2018.