Many Physicians Are Cut Out
Narrow networks, which seem ready to spread to new markets, can be alarming for physicians because these insurance products typically cut out large swaths of doctors and hospitals so that they can deliver a reduced premium.
For example, narrow networks run by Medicare Advantage plans typically exclude almost one half of physicians,[1] and a widely used definition of "narrow" is that at least 30% of hospitals are excluded.[2]
The usual goal is to deliver big savings for patients in terms of premiums and out-of-pocket costs. In a recent study, narrow networks were 16% cheaper than other offerings in state health insurance exchanges.[3] And in Massachusetts, some narrow networks in the group insurance market have been priced a staggering 30%-40% less than standard networks.[4]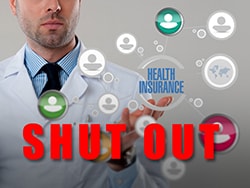 So far, however, narrow networks have not substantially affected many physicians. That's because they are still mostly limited to Medicaid plans, policies on the insurance exchanges, and Medicare Advantage plans—and they generally can't be found in the huge employer-based market.
That may be changing, however. There are signs that employers are beginning to embrace narrow as a better alternative to the other major cost-saving approach, high-deductible plans, which many patients despise.
Meanwhile, insurers are launching narrow plans in exclusive relationships with large health systems or accountable care organizations (ACOs), and try to produce shared savings by applying value-based principles.
Pitfalls for Physicians
When large numbers of physicians are excluded from an insurance network, things can go wrong. Physicians may not be told they are excluded, and if they are told, they may not be told why, or get any data to dispute their exclusion.
Many narrow plans do not pay out-of-network physicians or even tell these physicians that they are out-of-network. In these cases, physicians may unknowingly treat a patient in a narrow network and find out they won't be reimbursed at all.
Some insurers use a somewhat less onerous variation of narrow networks called "tiered networks." Physicians who are deemed more costly are relegated to a higher-cost tier. Since patients have to pay more to see these doctors, they are much less likely to choose them, so the tiered network operates much like a narrow network.
Narrow plans often insist that they put quality first, but in many cases, their main goal is reducing costs. A 2015 report by the Robert Wood Johnson Foundation found that "price was the determining factor for whether a provider was included or excluded from most networks."[5]
What's more, plans' evaluations of physicians, based on the costs they generate, are often flawed. According to a 2010 study of plans, nearly one quarter of all physicians were misclassified on their use of resources, and that figure rose to two thirds in some specialties.[6]
When physicians know the patient's status in advance, they often may be able to request prior authorization to get paid, but this involves a great deal of red tape.
Medscape Business of Medicine © 2018 WebMD, LLC

Any views expressed above are the author's own and do not necessarily reflect the views of WebMD or Medscape.
Cite this: Leigh Page. Insurers May Cut Out More Physicians: What Are Your Options? - Medscape - Aug 14, 2018.